NexStar 8i SE XLT and Accessories:
A New Owner's Perspective
By John F Smith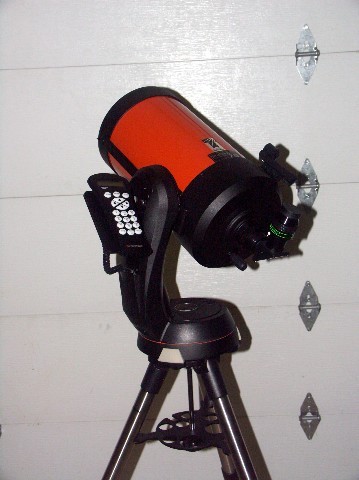 February 7, 2006
Background
I've been involved in astronomy all my life. I was one of the few kids who wasn't put off by their department store telescope. I just learned to use it with low power only and tried to ignore the coma. Next came a hiatus in high school, after which I did my observing with a Celestron 8 in the late 1970's on loan from the Physics department at college. Some more time went by and I spent many, many hours starhopping with my Coulter Odyssey in the late 1980's through mid 90's.
At this point in my life, I wanted a lightweight, easy to use scope that was appropriate for my semi-urban environment here in central Oregon, so I chose to buy the Celestron NexStar 8i SE XLT with a 24mm Televue Panoptic eyepiece and three Radians ? 14mm, 10mm, and 8mm.
This Observing Session
Well, after waiting since December 18th (when I received my Nexstar 8i SE), I finally had a clear night last evening and was able to take it out for a test drive. In short, I was thrilled with the scope, it's mounting, and new Televue eyepieces. Details follow:
My goals last night were pretty modest. First, I wanted to learn to use the SkyAlign feature and evaluate its accuracy. Second, I wanted to check out the performance of my eyepieces. Finally, I wanted to see what the overall performance of the scope seemed to be in my relatively urban environment. I live in Eugene, OR which is a community of about 115,000 and I would rate general transparency at about magnitude 4 to 4.5.
SkyAlign Performance
So, in order. SkyAlign is wonderfully easy to use and is extremely accurate. I had looked up the Lat/long of my driveway using Google Earth earlier in the day and had entered them into the scope so I didn't have to reenter that data, just the date and time. Unless one were traveling a lot with this scope to different locations, I can't imagine why anyone would need GPS because the data entry is so quick and easy. I performed the alignment using Sirius, Polaris, and (deliberately, to check the claims of *any* three bright objects) Saturn. Using it for the first time took no more than 5 minutes to set up and align; the hand control guides you all the way through the process. After alignment, I slewed to Saturn, the Moon, Mars, M42, M36, M37, and M38. All objects showed up dead center in the 24mm Panoptic eyepiece. No problems with the tracking, either. Objects stayed dead center in the field for as long as I looked at them. I haven't yet done any adjustments to the slewing directions or backlash adjustments, yet. I can only guess that if I follow Mr. Swanson's advice (in his book or on his NexStar Site) relative to those items that things will only get better, if that's possible.
Mount and Vibration
I can't say enough about how lightweight and easy to handle this scope is. It truly is an 8" "grab and go". I had considered buying the CPC 8" but was deterred by its considerably bigger heft, and I am very glad I did not buy it.
Star testing on the collimation showed no need for adjustment from the factory settings as it was shipped to me. Airy disks on both side of the focus were circular and well defined.
I had concerns about the relatively lightweight mount, but that turned out not to be a problem. Vibrations, when I knocked on the scope, damped out in 2 seconds or less. I can't comment on its performance in wind, because there was no wind last night. Focusing, however, was a major pain primarily due to the location of the knob immediately *beneath* the diagonal rather than beside it as in the CPC series. The scope was fairly jumpy during focusing. I think that a JMI motofocus united may be in my future. The folks at Astronomics tell me that the JMI unit will clear the base at the zenith and that the Celestron motorfocus will not.
Viewing
Saturn as absolutely magnificent viewed through my 14mm and 10mm Radian eyepieces. I could clearly see the Cassini division and hints of cloud banding on the planet. I didn't try the 8mm Radian on Saturn since it was relatively low in the sky and I didn't think that the seeing would accommodate that much power. I did use the 8mm on the Moon and found that the focus was relatively easy to achieve and that the resolution was excellent. All in all, I am very impressed with the Radian eyepieces.
I can't say enough good things about the 24mm Panoptic. The wide field views were superb. M42 was a beautiful glowing cloud which filled the eyepiece with a petite and distinct Trapezium in the center. Gorgeous. The Panoptic worked well on the 3 open clusters in Auriga as well. Resolution was excellent, with M37 particularly well resolved into many dozens of faint stars. The other clusters were excellent as well with tack sharp images to the edge of the field. I have to admit that star clusters have, for many years, been my favorite DSOs.
Mars, at its current distance, and so long after opposition, was nothing more than a featureless ruddy pinhead. I didn't push the power because the seeing wasn't all that great.
Additional Comments
For all the debate about the relative merits of GOTO, I have to say that in an urban environment, it is a great feature to have. Star hopping, as I did for many years with a Dob in an urban sky, would be too difficult for me to want to do.
Some comments about some accessories that I want to include with this report. The unit power finder supplied with the scope is *awful*. It was difficult and unwieldy to use and gave a false dot when viewed slightly off center. There is a Telrad in my very near future.
Two accessories which I had already bought deserve special mention. I had already decided that trying to use the hand controller while mounted on the side of the arm would be difficult. I had read about an accessory made by S&S Optika in Englewood CO called the "Wing Thing". It is basically a plastic cradle which mounts inside the arm where the hand controller fits and allows the hand controller to sit at a nice right angle to the arm which makes for easy use while at the eyepiece (You can clearly see it in the photo). A serendipity was that it also provided a solid back to the controller while pushing buttons. If I remember correctly, the price was 29.95 plus shipping. You can find them on the web using a Google search.
I also fell in love with the fanny pack for eyepieces made by Orion. Talk about a convenient and safe way to handle eyepieces while at the scope! It's very comfortable to wear and keeps the eyepieces right at hand.
A Family Affair
I'll also mention that my wife came outside for a brief time to look at Saturn. She fell in love with the view. I also persuaded her to stick around for a brief minute while the scope slewed to M37 so that she could see an open cluster. She couldn't get over the view and as she kept looking saw more and more stars resolved in the field. "Like looking at diamonds on black velvet" was her comment. I better watch out╔.could be competition in the future.