Home / Swift Audubon 8.5x44 model 804
by Mark Vints 03/16/07 | Email Author

Voice your opinion about this topic in the forums




The Swift Audubon 8.5x44 model 804
Mark Vints

When I bought my Swift 10x50 SP over 15 years ago, the Swift sales brochure clearly described the Audubon 8.5x44 (model 804) as a superior product that very much appealed to me. At twice the cost it was unfortunately out of my reach at the time. However I was lucky enough to find one in a close-out sale now almost 10 years ago, and didn't have to think twice about buying it.

By that time I had become aware of the good reputation these binoculars had. In my first forays on the internet this name kept coming up in discussions on optics for birding (which at the time was just about the only context binoculars were discussed in on the internet - or at least the part of it I managed to find). Even today you can go to betterviewdesired.com or to birdforum.net and read about the 8.5x44 porro model. Also here on the CN binoculars forum and the Cloudy Days forum, the Swift Audubon has a loyal following, and I would count myself as one of those.

So what is so special about the Swift 8.5x44 porro- In two words: specifications and performance. For details, read on.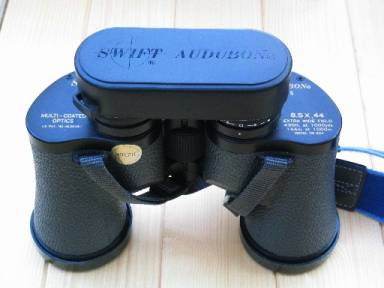 Even on paper its specifications stand out. The 8.5x magnification is not common to say the least (though increasing in popularity in recent years). The 8.2 degree true field of view (TFOV) give it a 70 degree apparent field of view (AFOV) which is truly wide. A view this wide is something that has to be experienced - it changes your perspective of the night sky. This is 90% more area of sky than what a 6 degree TFOV would show you. Sweeping along the Milky Way is a superb experience - it is so too in my 20x80s, but it's a different type of viewing: overview versus depth. And the wide AFOV gives as close a spacewalk experience as I've come across in binoculars.

For me the 8.5 times magnification is the sweet spot for hand-held use. Not surprisingly this is where these binoculars see probably 95% of their use. I can and do hand-hold 10x50s, even larger binoculars, but shaking affects the viewing experience. On the other hand the image scale of a 7x binocular is noticeably smaller. When I bought these Swift Audubons I felt they were giving me the view of a 10x50 with the steadiness of a 7x50. To a large extent that's still how I feel about them today.

Other relevant specifications are as follows:

- BAK-4 prisms and multi-coated optics (not fully multicoated)
- IPD labelled 60-70 mm, measured 56-70.5
- eye relief 15 mm (not verified) - people wearing glasses could find this too short
- weight 815 grams without caps and straps

I consider these binoculars light-weight, compact and small. This is one area where a typical birder's description of this binocular will fundamentally differ. The handling is excellent, although for my liking the hinge connecting the two barrels moves a bit too lightly. For this reason I normally set them at widest IPD even though that's just a touch above what my eyes have. I have found that with IPD set in this way, and eyecups placed where they best seem to fit my eyes, there is some spiking and flaring on brighter stars. For hand-held use I normally can live with that though.

Sometimes I do put these on a tripod, and take care to set the correct IPD and place my eyes in just the right position against the eyecups. On those occasions it is as if they become another set of optics altogether. With careful focussing they are TACK SHARP. Stars focus to true pinpoints, and only the very brightest stars show some minor spiking. These are the one pair of binoculars where I could contemplate looking for double stars so tight that they just show as elongated.

To quantify this sharpness somewhat, I decided to look at a few double stars. I started out with the nice double in the heart of open cluster NGC 1502. The two mag 6.9 components are 17.8 arc seconds apart. In 8.5 power glass this gives 151 arc seconds of apparent separation - if resolved... I was expecting this double to be at the limit of my resolving abilities. I thought I remembered reading that 150 arc seconds is a typical value for good visual acuity at night. Well anyway this double is nowhere near the limit of resolution for me: the two components are cleanly split with plenty of black space between them.

I then went for 59 Andromedae. Its mag 6.1 / 6.7 components are separated by 16.5 arc seconds to give 140 arc seconds of apparent separation. The result was basically identical: a clean split with ample space between the two components. Of course I did notice these were a bit closer. Quite a bit closer at 96 arc seconds apparent separation, STF401 in Taurus would best be described as "almost split": two small dots of light just barely touching. I think I have to give some credit to my eyes, but either way these are sharp optics. I've not seen equal in other binoculars yet (but I keep looking...).

So with the Swift Audubon 8.5x44 we have a pair of binoculars that is well built, is perfect for hand-held use, has sufficient performance on the night sky to be interesting for astronomy, has a picture-window 70 degree apparent field of view, and when put on a tripod is tack sharp. And yet these binoculars also have a serious if not FATAL FLAW and that is ... their edge sharpness.

When looking through these binoculars it is immediately apparent that the outer edge of the field of view has some serious problems. Even to the extent that I was thinking my particular sample of these binoculars is a lemon - until others reported seeing the same. It is nothing new to me that bright stars at the edge of view can look something like seagulls. And as such this should not be so much of a problem since the edge of a 70 degree AFOV is normally not looked at directly. But here the edge fuzziness is such that it creates a ring of diffuse light all around the perimeter of the FOV. This really attracts the attention and destroys the aesthetics of the superbly crisp view in the center of the FOV. I notice this much less with the binoculars tripod-mounted, maybe because of more precise eye placement. This is however no solution for a binocular mostly used hand-held...

And so it is that this flaw in the outer area of the FOV is downgrading my overall impression and enjoyment of an otherwise quite excellent piece of optics. I really have to wonder why Swift (or rather whoever was producing this for them) couldn't have put a field stop in just the right place and made this a 60 degree AFOV binocular that is excellent without any reservations.

I have also tried to quantify the edge sharpness by observations of suitable double stars. For this purpose they are put near the field edge and their position is noted when no longer resolved.

The nice double star 74 Pisci (also labelled Psi 1) was my first target. Its components are mag 5.3 and 5.45, and they are separated by 30 arc seconds. This provides a measure for determining where in the FOV the apparent resolution drops below 255 arc seconds. I found this limit to be at 1 degree from the edge. At this point there is some field curvature noticeable, as refocusing pushes the limit of resolution a bit further towards the edge.

Next I took the two brightest stars at the core of NGC 869 - the right cluster in the Perseus Double Cluster. These mag 6.6 and 6.7 stars are 144 arc seconds apart. Their apparent separation therefore is 20 arc minutes, but still I cannot resolve them within less than 30 to 45 arc minutes of the field edge.

I've found a much easier alternative testing method which gives a simple yes/no answer to the question if the view is acceptably sharp or not at any distance to the field edge. Just look at the Full Moon and place it as close to the edge as you can without making part of it go "out of focus". Then compare the distance to the field edge with the Moon's known half-degree diameter, and that's it! With my Swift Audubons the Moon needs to be at least two diameters away from the edge, i.e. the outer 1 degree is unsharp.

Some minor points to add:

- the soft padded case these come in are a definite step below the hard cases that came with my other Swift binoculars;
- the single large cap covering both eyepieces is OK but means you have to reset IPD at the start of every session. The two objective caps are definitely too loose - I can never get these binoculars out of their soft case without at least one cap remaining inside;
- the eyecups are a rather stiff rubber that you need to fold down for use with glasses. On the right eyepiece doing so without changing the dioptre setting is next to impossible;
- when looking at the Moon there is some glare and internal reflections - not bad, just there. The most obvious reflection is actually between the outer eyepiece lens and the eye;
- something inside protrudes a tiny bit into the light path and results in a very small clipping of the otherwise round exit pupil;
- on the positive side, build quality is excellent and I've really had not one issue with them in the 10 years that I use them.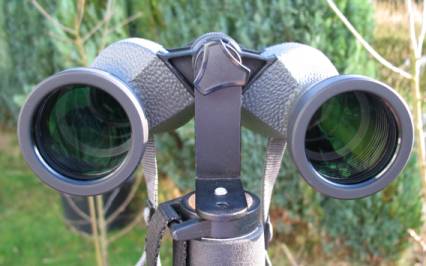 As an overall comment on their use for astronomy, I'd have to first come back to their outstanding center sharpness. This binocular manages to resolve things not otherwise expected in this size instrument. For example, during the March 2007 total lunar eclipse I happened to wander over to nearby Saturn. After carefully adjusting IPD and eye position, I had the cleanest sharpest view of the ringed planet imaginable at this magnification: a beautiful well-defined little oval. Likewise when viewing open clusters this instrument is capable of resolving stars from the background glow where you'd normally expect to need more magnification. They've also given me my best ever view of the crescent of Venus during bright twilight.

The edge sharpness problems of the Swift 8.5x44 are not normally limiting its potential on most celestial targets. One notable exception would be M36 + M37 + M38 together in the same FOV. The two outer clusters M37 and M38 are really affected by the edge fuzz. My TS 7x50 MX with their smaller 7.5 degree TFOV give a superior view of this threesome simply because of very much improved edge sharpness.

I've never been much of a nebulosity observer (mainly due to my local viewing conditions) but under the best skies this instrument is showing excellent views of difficult targets such as the Veil or Rosette nebulae, or the (to me) difficult galaxies like M101. Back home under my mag 5.5 backyard skies I can pick out M81 and M82 easily enough, but normally for such targets I'd choose my 20x80s.

The strength of any pair of hand-held binoculars for astronomy is not in giving the best view of individual targets. It is in the overview on the celestial scenery it provides and in the way it naturally extends my vision and connects me to the sky. For this activity which I would call stargazing rather than astronomical observation, my Swift Audubon 8.5x44 has given me many moments of joy and I expect it will continue to do so for years to come.


Mark Vints, March 2007.