TRIA Image Processing Software from Quarktet
Software User Review by Joel Schmid
Disclaimer
I am in no way affiliated with Quarktet.com or acting as any kind of spokesperson for any Quarktet.com product.
Introduction
It is the bane of every astro-photographer from raw beginner to seasoned veteran – Focus.
Sometimes no matter what precautions you have taken to ensure an object is in focus before starting an imaging run the end result is slightly less than perfect. Whether it's due to mirror shift, changing temperatures, atmospheric seeing conditions, etc …. Some or all of your results end up out of focus. Normally the fuzzy shots are tossed, or you just try to make the best of them.
But what if you could actually do something to improve those poorly focused shots so that you could use them instead of tossing them?
The sophisticated deconvolution capabilities of Tria imaging software from Quarktet just might be the answer!
Deconvolution is the process of removing the blur from the photograph by analyzing the image and developing a point spread function (PSF) for it. The PSF is used to measure how much the light from a star has been spread around the central point due to poor focus. The softer the focus of an image becomes, the greater the PSF. The image processing in Tria can measure the PSF of an image in three different ways, and then be used to reduce the amount of PSF in a new version of the image.
The result?
A sharper, more clearly defined photo in place of the original blurry one!
I had never heard of anything that could be used to fix poorly focused or soft images before until I was contacted by Jim Caron of Quarktet.com with an offer to give his Tria image processing software a try. Since I seem to have a treasure trove of fuzzy shots I wished I could pull out of the junk drawer and get some results out of, Jim's offer was quite timely.
Installation
The Tria image processing software package is comprised of a small zip file download, plus a small USB security key that you plug into an open USB slot on your PC. The security key unlocks the program's ability to save your results and removes a grid from an open image that discourages software piracy.
Installation is fast and fairly straightforward. I tested TRIA on a HP 2.5 GHZ desktop PC running Windows XP SP3. The installation required me to download and install Microsofts .NET version 3.55sp1 before continuing with the main install, but this presented no issues, and the installation completed smoothly.
Tria is listed as compatible with Windows 2000, XP, and Vista. The security key works on both 32 bit and 64 bit machines.
Program features
Tria can open a variety of image format types – including JPEG, bitmaps, TIFF files, and FITS files. Tria can also convert a color image to greyscale, and save color images to bitmaps, JPEG, FITS and TIFF.
Tria can handle a fairly decent size image, provided the PC has enough RAM. On my test PC, which has 1 gigabyte of RAM, I found that attempting to work with an image larger than 2000 X 3000 pixels resulted in very slow deconvolution operations. Reducing the image size in photoshop to something like 1024 x 800 pix solved the problem. I suspect that working with a larger image would require a PC with more RAM. This was not a major issue however, as I could simply bring the image back into photoshop after cleaning it up in Tria and re-sizing back to its original dimensions.
Tria contains the standard set of functions for an image processing application, including resizing, rotating, cropping, contrast adjustments, etc. It also contains the main attraction of the program with the three different deconvolution methods, along with two more I had never seen before – Fourier transform and image math.
The Fourier Transform converts an image into a complex image that shows the distribution of spatial frequencies in the image. This allows you to see how much dark sky background is in the image along with how much fine detail representing stars and nebula are in the image.
The math operations add/subtract/multiply/divide images pixel by pixel, or an image and a number. I was not able to fully understand the purpose of the math function in an astro image, but Jim Caron of Quarktet explained it me like so:
"There are many uses, but here is an example on how it might be handy. Let's say you have a 16-bit image, it has a noise floor of 1000 or so, signal that goes from 1000 to 2000, and then saturated stars at 16000. Your goal is to save it as a 8-bit image. So you may use the MATH to first subtract off the 1000 noise floor, and then divide by 4 so the signal you want to keep is between 0 and 255 counts. Then convert it to 8-bit using the Convert function."
Deconvolution
Since Trias' main feature is correcting poorly focused images, I set out straight away to see if it could work any magic on a few of my worst offenders.
Tria offers three different ways to improve a poorly focused image. The regular Decon method requires that the user provide a PSF for the program to work with. The best way to do this is to give Tria a properly focused image to use for extracting the PSF (point source function) . Tria will use the extracted PSF from the good image to improve the fuzzy one. Of course you will need to have a well focused reference image on-hand, which may not always be possible, for example if you are trying to fix a shot taken at a once in a lifetime trip to a dark sky site. Not to worry though, as Tria has a deconvolution method that will work without any reference image at all.
The second method available in Tria is the SeDDaRA method, which stands for "Self-Deconvolving Data Reconstruction Algorithm."
Say THAT five times fast.
Pronounced 'Sa-DARE-ah', it was developed by Jim Caron of Quarktet.com as a fast and simple way of using a PSF from a properly focused image to fix up a poorly focused one.
The SeDDaRA method also requires a reference image that will be used to extract the PSF for use in the blurred image.
The third way to deconvolute a blurry shot is by far the easiest and simplest method as far as I can see.
CARon Blind Deconvolution works without the need for any reference at all. Instead, it approximates the PSF in the image and assigns a value to it from 0 to 1. Selecting any decimal number between these two values will apply a mild deconvolution for a value close to 0 (ie 0.01) to a much more aggressive deconvolution for a value closer to 1 (ie 0.75) You can experiment on an image by just entering a number for the "alpha" setting in the CARon decon dialog box and then click on the "GO!" button and see how it looks.
Example Image
So let's see if Tria can fix up one of my example images of the "trap" area in good old M42. Here is the original image BEFORE applying the CARon Blind Deconvolution: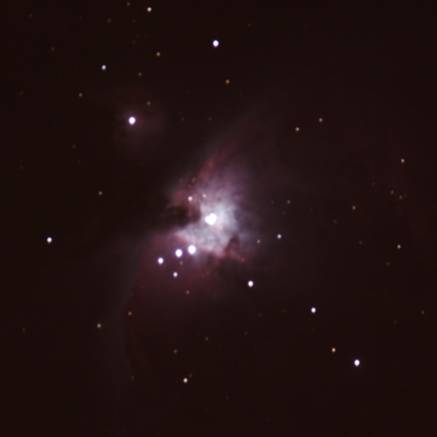 Pretty typical, right? I though I had the focus nailed, but after a few hours the SCT mirror had shifted enough to start producing shots like this.
Let's see if Tria can do anything for me here.
Here is the same image after applying a CARon Blind Decon with an alpha setting of .35 :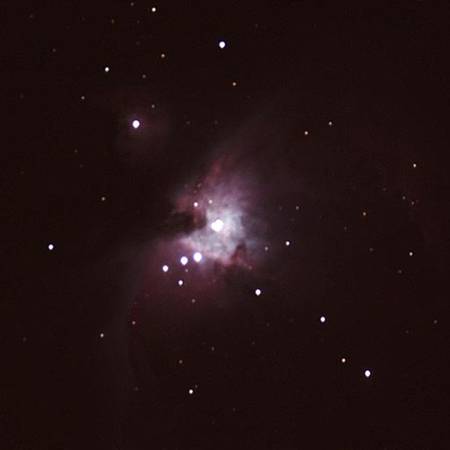 Not too shabby! Tria was able to tighten up the stars in the trap, and pull out the missing detail and contrast in the nebula as well as the "ribbon" that normally runs diagonally between the trap and the three stars in a row.
Now let's see what Tria can do if I give it a nicely focused reference image and select the SeDDaRa decon method. Here again is my poorly focused image :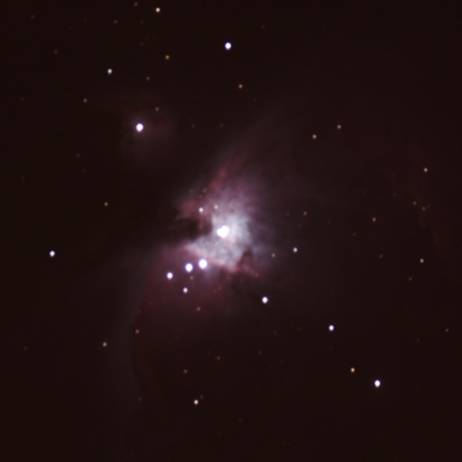 And here is the reference image I gave Tria to use for deconvolution with SeDDaRa: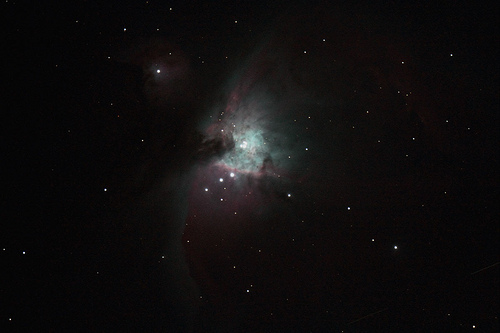 The reference image was from earlier in the night when I really did have the focus nailed.
In the deconvolution dialog box I set the two variables as suggested by Tria's HELP file examples and then click the GO! button. Here is the result: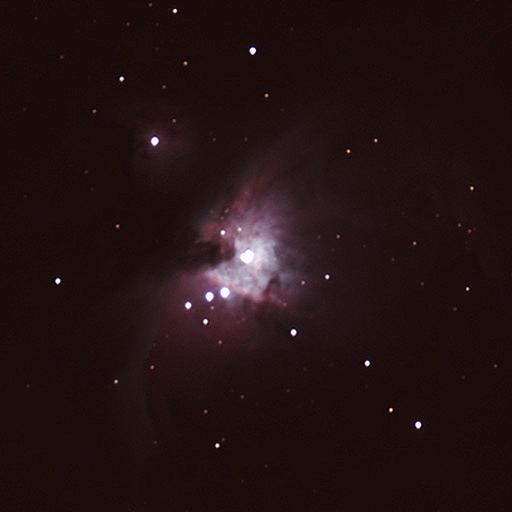 This is very similar to the CARon method above. The advantage of the SeDDaRa function is that it tends to work better on images that have more complicated blurring going on. Usually it takes a little experimenting to determine which method yields the best results. Using Tria's compare function is a good way to compare two deconvoluted images to see which one looks better. You could try the CARon blind decon and save that as one result, then try the SeDDaRa and save that as a second image. Then just open both in Tria and click compare.
After seeing these results, I began to wonder if I couldn't do the same thing with an unsharp mask in photoshop. So I loaded my test image in PS CS4 and gave it a run through various unsharp mask settings.
Nope!
No matter what settings I tried in photoshop, I could not get the same improvements to the focus of the image that Tria was able to accomplish.
I guess I've been schooled!
A few things to note…
While testing Tria I did run into a few minor issues while working with my test images:
Tria cannot open Canon raw cr2 files. If you want to fix an entire nights worth of poorly focused images, you will need to stack and align them first and save them as a .tiff or Fits file. You can then use Tria to improve focus.
Before you attempt to run a decon method on tiff file, you will need to save the image without the alpha channels. This shows up as a little checkbox in photoshop SAVE dialog window that must be unchecked before saving the tiff file.
When performing a decon, Tria leaves the decon dialog window open on top of the final deconned image results. This makes it difficult to know when Tria has completed its work. I expected the dialog window to close when the operation was completed.
The HELP files for Tria are also the users manual. A few of Trias features are not well covered by the HELP topics as they should be. There are also a few places were Trias ability to work on a color image is contradicted by statements indicating an operation can only be performed on a grayscale image. Quarktet hopes to revise the HELP documentation to fix all these issues in the near future.
There are of course limits to how fuzzy an image Tria can fix. There is no substitute for good sharp focus in the first place. Tria is best at fixing mildly out of focus photos. It should not be used for a shot that looks like a bunch of amorphous blobs in a sea of black.
The Verdict!
So what do I think of Tria?
Is it the grand savoir of all things soft and fuzzy in Astro-Photo land?
Well, if you have a bunch of shots that would otherwise be throw-aways because your mirror shifted or the temperature changed while taking the shots, Tria can give you a noticeable improvement in the final stacked file. After spending all the time and effort to capture an astro-object, that makes it worth the price of admission!
Want to give Tria a try?
You can checkout Quarktet's latest version at http://www.quarktet.com/TriaDemo
You can download the free demo version and see what it can do on your own images. If you decide that Tria is for you, you can purchase a full version and a USB key for $360.00.
Future upgrades for Tria are free.