Book Review: Deep-Sky Wonders by Sue French
By Fred Rayworth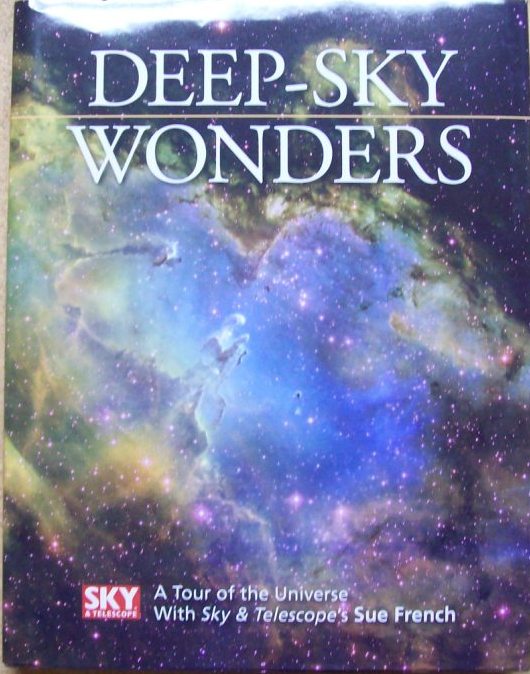 Figure 1.
Ever since the demise of Gleanings for ATMs, the one feature I've consistently read over the past many years in Sky & Telescope has been Sue French's Deep-Sky Wonders. Being a deep-sky observer myself, I've always found her articles not only fun to read, but informative and usually with a surprise or two. With that in mind, this tome combines many years of her articles, laid out by season and month into an absolutely wonderful collection of deep-sky objects. Profusely illustrated along with her extensive notes, it gives the reader an elaborate tour of the night sky.
There's a little bit for everyone, from the binocular viewer up through those with larger back yard telescopes. Rather than just a collection of "tourist objects" as I like to call them, which are just the brighter Messiers and a few others that are the fodder of astronomy outreach programs, she delves into the night sky. She's not afraid to dig deeper, providing the reader and potential observer with some of the more obscure objects that you're not likely to find on any regular observing list. That's what makes this book unique. It covers plenty of essentials, but also throws in some challenges to keep even the most hardy observer on his or her toes.
This book isn't overly-saturated with pretty pictures to dazzle the eye (which one can get from any number of books), though it is profusely illustrated, it's mostly text, describing the objects and how to find them. Told in her breezy and poetic style, she guides you there in a way that makes it fun. She also gives you some perspective on whether you should or shouldn't try for said object with a given telescope. Her advice is sound and can save the amateur a lot of frustration.
As I alluded to earlier, the book is broken down, month by month. To further describe things, she starts with the seasons, winter, spring, summer and autumn. Winter contains the months of January, February and March. Spring is April, May and June. Summer has July, August and September. Finally there is Autumn with October, November and December.
Each month contains between eight and nine constellations, or rather chunks of the sky with titles such as Auriga's Riches, The Towering Eagle, or A Whale of a Tale. Within each of these sections is the chart of target objects, a mini-star chart and maybe some photos or drawings.
At the back of the book is a set of standard Sky & Telescope centerfold star charts for the northern hemisphere. Finally, beyond that is the part that satisfies my OCD, the index that lists all the objects she mentions in the text. Not only does she list all the NGC, IC and Messier objects (Note: she doesn't cover them all), but she also lists a healthy sampling of double stars, Barnard dark nebulae and other objects I'd never even heard of until now.
This is a gorgeous book, well constructed and something that would be fine in any observer's library. At the same time, it's not something I'd take into the field. Then again, at the cheap price of $25, it would not be that much of a stretch to see it in someone's eyepiece case. For me, I plan to one day create a Sue French observing list in my Megastar database. There are some objects I'm sure would give me a run for my money, even with my 16" LightBridge.
Highly recommended.