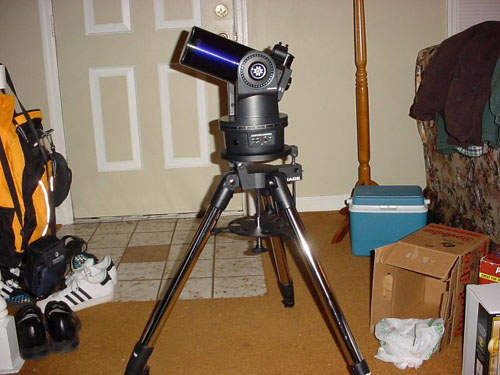 January 2, 2003.
I decided to take the plunge and order something new. I've got a ST80 & a flimsy tripod, a 76mm Celestron Newt, and a couple of sets of binocs. The newt was an impulse buy many years ago. It's served it's purpose, period. The ST80 (Apogee flavor), is great, but I need another tripod for it. Besides the fact that the tripod that came with it is sort of wobbly, that tripod now holds my aluminum binoc mount I built. I've been researching tripods for a while and almost took the plunge a while back, but decided not to, after all. Back to the story, the something new that I ordered is a Meade LX-90. I figured I couldn't beat the eyepiece deal coupled with what others have called "The best telescope for the money, today."
February 23, 2003.
With still no delivery date set for my LX-90, I'm anxious. I really want something new! Looking around, Meade has just upped the anty on their current eyepiece deal by offering the ETX's with a free Autostar and Deluxe Field Tripod. Basically, a $495 ETX-90 EC comes with $650 worth of eyepieces and $350 worth of accessories for a grand total of ~ $587, after discounts, tax, shipping, etc. I couldn't pass it up. The ETX's have always been eye catching for me. I need a scope that's portable and quick to go along with my LX-90 (when it arrives), even though I already have one that just needs a tripod. This will be great for quick looks on the planets while the ST80 will be great for quick looks at DSO's. It's a new gadget. It comes with electronics, accessories..... The list I used to justify the purchase to my conscience goes on and on....
February 27, 2003.
Tracking the shipment all day from work in anticipation of arrival/delivery, at 11am, I'm disappointed. I needed a signature for delivery and obviously, I wasn't at home. When I got home, I phoned UPS and they said that the truck with my new toy was due back at the hub at 6:50pm. I could and would go pick it up then.
Upon arriving home with 3 boxes, I, without knowing, was pretty sure I knew what was in each one. First, out comes the tripod. The #884 Deluxe Field Tripod is really nice. Better than my other flimsy thing, anyway. It's heavier than it needs to be for the ETX-90, which is absolutely wonderful. The case/bag for the tripod is very nice and there isn't very much plastic involved in the #884, it's almost all metal. After I unpacked it, it was set up in less than 2 mins.
Next the Autostar. The controller for the Autostar is larger than I'd imagined, but still not too big for my hands. Looking through the book, it seems very straight forward and will be easy to locate things.
Finally the ETX. Opening the packing box and seeing the box for the 90 was awesome. I felt like I did, many years ago, as a child at Christmas when I opened the present to see my Atari 2600 or my first 60mm refractor, so long ago. It was beautiful, so beautiful, I didn't even get it out first. The first items to come out were the hand controller, then the finderscope (it is really small and dinky), and the supplied 26mm eyepiece (comparing this eyepiece to my GTO 25mm, just physically, I'm really impressed with the Meade). Finally the 90 comes out of it's carton and I immediately mount it to the already setup tripod (total setup time for scope and tripod when it's all packed is less than 5 minutes). It's beautiful, now I just hope it works. Having read many problems with lots of the Meade lines, especially lately with the LXD55 series, plus the customer service nightmares some people are having, I didn't want to have to send my new acquisition back to Meade.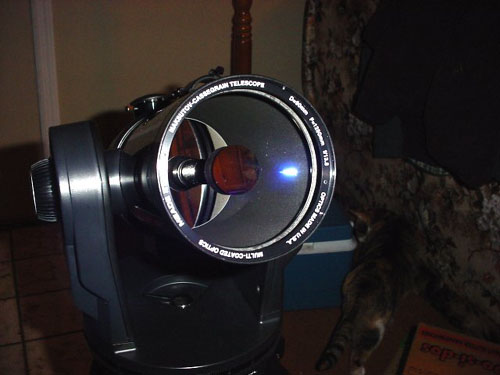 Upon taking the dust cover off the front, the whole front corrector assembly was turning! I quickly dislodged the over tightened cover from it and tightened it back. Crisis averted, I think. I inspected the optics and they looked wonderful. No smudges, no prints, no trash, no nothing but clearness, with the exception of the internal baffle. there appears to be glue or grease all the way up it, but until it gives me a problem, I'm not complaining. Heck, if anything gets into the tube, perhaps it'd stick to that stuff before it sticks to my glass. Checking the rear of the scope, at first the focuser was really, really stiff. Then it popped and became really, really loose. There was no resistance at all. After spinning it around for about 2 or 3 minutes I decided this wasn't correct and tried taking the focus knob off with the supplied allan wrench. Everything looked fine, so back on it went, but I tightened it down really well and havn't had a problem since.
Using a portable 12v power source and the 12v power cable I got free from Meade by accident a month ago, I plugged in the Electronic Conroller and off I went there in my living room. All seemed to work properly, according to the manual, except there's some backlash in the RA motors. I focused on a clock in the other room and it all looked good with the 26mm ep. I decided that I'd had enough of the EC and wanted to get down with some Autostar. There were clouds outside, but that wouldn't stop me from simulating my session inside, training my drives, and becoming familiar with the Autostar system.
Being eager to "get to it," rather than train the drives, I just dove into the Autostar system with my simulated observing session. I aligned, performed some goto's and all worked well. No problems at all. The Autostar system, for me, was rather easy to navigate, but that could be my Computer Science background and intuition working for me.
February 28, 2003.
When I got home after work, the sky looked like it might just cooperate for a little while, so I trained my drives, per the manual and waited for darkness.
First light came around 8:10pm. I aligned the tripod roughly (read as: "eyeballed to the best of my memory") to magnetic north and chose a 1 star alignment with Rigel, just to see what would happen. I immediately slewed to Saturn and it was just out of the FOV, but that's more than acceptable considering the rough alignment I did. When I centered it, the view was crisp and the stability was something I was not used to. The tripod is the key to this whole system being successful for me.
Next was Jupiter. It didn't come up in the FOV of the 26mm, but wasn't far off, it was just outside the edge. With the 26mm, I resolved 2 belts and what appeared to be a break in one of the belts. I havn't confirmed that this was the GRS, but I'm speculating it was. I upped to the power with a 10mm GTO plossl and the view was really nice, but the scope hadn't cooled totally, so sharp focus wasn't achieved.
Putting the 26mm back in and slewing to M42, dead center. Perfect, probably because I aligned with Rigel. The contrast wasn't the same as I remember with my ST80, but it's been a long time, so I could be wrong about that. Otherwise, though, I could see 4 stars in the trapezium.
I packed up and called it a successful first light.
March 10, 2003.
After more than a week, the sky's clear and I actually have time to observe. Tonight, I headed to a pseudo-dark sky about 10 miles away from home. I remembered to pack everything except a star chart, a flashlight, a notebook, and a hat. The star chart was sort of on purpose. I don't know names of stars very well, yet, but I wanted to see if what I read about aligning Autostar using the brightest star in the "area" would hold true.
At 7:45pm, I arrived at my location with my stuff. (Note that the location I put in Autostar is for my closest city, Augusta, GA, which, from this location, is about 25 miles, almost due East, and I "rough" pointed north, again even though Polaris was visible this time. I also didn't level the tripod, but sat it on some ground that looked 'level enough'.) My easy align was with Sirius, which I know, and Regulus, which I didn't. Both were relatively easy to find, but not quite as easy as they would have been if I actually had the finderscope mounted and aligned, I suspect.
First target was Jupiter. In my 32mm plossl, it was very close to center. I won't get into specifics about the view, just note that it was in view and that I didn't have to adjust the scope's pointing for my 10mm plossl. Next was Saturn. Not as close as Jupiter, but still in the FOV. Finally I checked Orion's Nebula and the goto was spot on. I could easily split the trapezium with the 32mm plossl and the Meade provided 26mm did an even better job.
The rest of the evening I took the 'Tonight's Best' tour and viewed more in the span of the next hour than I ever had in my entire life. I didn't study the objects as much as I just located them & verified that goto was working right. Of the regular objects to view I was only unable to resolve 2, M32 and NGC3377. Not knowing exactly what I was looking for may have been a factor, but I'm guessing a larger factor was that I was battling a 1/4 moon.
Summary.
Overall the ETX-90 EC will suite my needs, I think. For the price I paid for the scope and the accessories, it was a great deal. The optics are great, but just as important to me, I can track without a polar align (since Polaris isn't visible from my home) and the tripod is like a rock. Using this as my ultra portable scope, or along side of my LX-90 when it arrives should be fine. If I get into imaging with my LX-90, like I plan, this scope will be nice to use to get some scope observing in while the images are being taken. My personal pro's and con's are listed below: (Although there are more con's listed than pro's the pro's outweigh the con's for me.)
Autostar crashed on me at the end of my March 10 session. That could've been caused by a number of things, though.
Backlash in the RA assembly is frustrating since the scope is 'unresponsive' for a second or so, depending on what speed you're slewing in.
The spreader bar on the tripod doesn't hold 1 1/4" ep's. The holes are a little smaller probably because of paint, I'll be gently sanding or filing the insides of those holes out.
I don't know if paying $495 (scope) + $200 (tripod) + $150 (Autostar) would be worth it. To me, $845 could be better spent on a scope with greater light grasp.
The finderscope is a joke. I was already exploring other options before my scope arrived. Add to that that it doesn't even come with endcaps!
Field is narrow for looking at many star clusters, but it's f/13.8, c'mon.
Accurate goto's & good tracking with minimal attention paid to setup & north orientation. At least for me.

Nice resolution for 90mm. The images are crisp and detailed as long as you don't overdo the magnification.

Rock solid tripod. Anyone with a flimsy tripod will tell you that this is the key to enjoying your time with a scope and wanting to throw it out the window on the way home.

Light & portable. I can leave it set up in my front room and take it outside in one piece. It will probably get used more than my LX-90 (3x cost) and my dob may have seen it's last 'quick look' day.

Ease of use. The Autostar system is very easy to use
Addendum 11/14/03
Well, I've had the little ETX for a while now and I'm happy to say that it still performs very, very well, though now that my LX90 has come in, it doesn't see as much use as it did before. Now I use it primarily where portability is a large concern and sticky fingers abound. I've bought several accessories, most of them ėrun of the mill so I won't comment on them, but one I will focus on is the Meade ABS Hardcase.
I actually got the model (#773) (retail $60) made for the ETX70 since they're essentially the same, save the metal clasps that keep it closed. The model for the 70 has plastic clasps, which work fine. The case specifically for the 90 retails for $99 (#776). I got my case on Ebay for under $40, so for me, it was a great deal. It's got space for 4 eyepieces, my solar filter, my dew shield, the Autostar with cables, the power cables, the scope (which fits perfectly) and other odds and ends. If you're in the market, save yourself $60 and go with the #774.Back to the scope, with the ėMars Craze of 2003 ending it'll be appropriate to discuss my Mars experience with the ETX90.
In August, just before the close approach, a local college and a couple of clubs had a public star party for everyone, mainly school children. At the event were a Tak Mewlon, a C14, a couple of reflectors, a LXD55 AR6, a couple of 8ī SC's, and my ETX90. With about 500+ in attendance that night and 7 or 8 telescopes to go around, lines were forming at the big guns, but my 90 didn't have very much idle time. There were a number of visitors who were able to sit at my scope for several minutes studying Mars, while on the larger scopes, looks were limited to a few seconds. The ETX held it's own and with the muggy atmosphere here in the south, mars was boiling in the larger aperatures, but in the 90 it was pretty well stable. Some surface features & the polar cap were easily seen.I'll be updating this review again, eventually, when my delve into astrophotography happens, as I'll start out pushing the little 90 to see what it and I can do on some film.