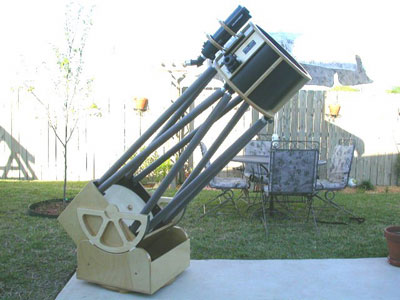 After a few years of observing and enjoying the hobby I made the decision to purchase a Meade 16" Dobsonian with the original intent of moving the optics to a truss. The dob worked ok with some mods but the tube was cumbersome and heavy due to its size as one might expect. So, I purchased the book "The Dobsonian Telescope" by David Kreiege and Richard Berry and did some reading and planning for a truss tube scope.
During this time and after attending several star parties at Canyon of the Eagles close to Burnet, Texas I met Miguel Betancourt and his wife Maria. Later that evening Miguel shared his plans about his truss dob that he was building for himself. A couple star parties went by and during that time I was able to check out some commercial truss dobs that were new on the field. The following star party Miguel was there with his new 16" scope. After chatting with him for a while and getting a good-guided tour of his scope and seeing how it was constructed, I knew his design and excellent craftsmanship was for me.
Miguel had just opened his company "Spacewalk Telescopes" in Georgetown, Texas. So and order was placed. One of the first things we talked about was any modification or additions that I desired. I wanted to use my 16" mirror and a 3.1" secondary. My scope was also to be configured with a JMI NGF-DX3 focuser and a Celestron Short Tube 80 for a finder. I had looked at several commercial rings for the ST80 but didn't see anything that I really liked. Miguel assured me that rings for the ST80 would not be a problem.
During the construction phase of my scope I was invited over to observe Miguel's work. Due to my close proximity to his business I gladly accepted. Several things I noticed right away was the use of quality materials, and an organized detailed plan of construction. On hand were specialty tools and jigs for doing things right.
A few weeks passed and I received a call from Miguel that the scope was ready. So a trip to Georgetown was in order. Upon arrival, Miguel ran me through the assembly and disassembly of the scope since I had never owned a truss dob before.
So my new scope was rolled up in the back of my truck and off it went for home. First light was the next weekend. The scope was rolled out of the garage and assembled in minutes. The truss poles were all cut the same length. No need to worry which one goes where. Also the wheely bar handles are usable on either side of the scope so no fiddling with that in the middle of the night, another example of quality craftsmanship.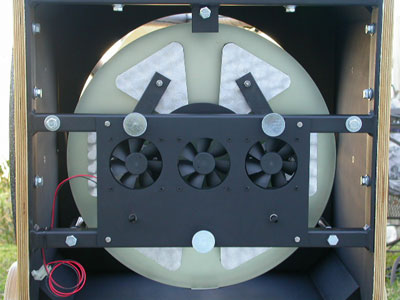 Collimation was easy and obtained in minutes without the need for tools other than a collimator. The views were excellent and the most enjoyable experience was finally using a quality instrument that you didn't have to keep tinkering with
Here's a list of some of the things I really like about my scope.
Solid Baltic birch construction with tight tolerances in construction and no exterior screws showing. There were no errors in drilling or filled holes.

No tools such as Allen wrenches or screwdrivers are required for collimation of the secondary mirror due to his use of AstroSystems spider, and diagonal holder. No tools are required for adjusting primary collimation either. Also the collimation once set stays. No tinkering with this through the night.

Use of large Altitude bearings by AstroSystems.

No tools are needed to install or remove the secondary cage and truss poles. Also no worries about pieces falling off or getting lost in the middle of the night due to the use of "Moonlight's" clamp set.

Future encoder installation for digital setting circles already engineered into the design.

Expertly crafted tailgate and mirror cell with active primary mirror cooling built in.

Custom made Baltic birch adjustable rings for ST80 with brass inserts. The ring set is easily detachable from the secondary cage at the end of your viewing session.

When the scope is moved in both axis of travel it doesn't stick or drag. When the desired position of the scope was achieved it stayed without a need to add counter weights to achieve balance.

Baltic birch cover over the primary mirror cell. This may seem standard but the cover also includes clips underneath to assure the cover does not blow off or get loose in transit. Something you don't want to have happen going down the highway.

Lastly all my eyepieces come to focus.
To sum things up I am very pleased with my telescope it works perfectly and exceeds all my expectations. If I ever desire another scope SpaceWalk telescopes will defiantly get my business.