0
The ATT: Europes Biggest Astronomy Forum
Discuss this article in our forums
The ATT: Europe's Biggest Astronomy Forum
Fred Hissink
More than 2500 amateurs from the Netherlands, Germany, Belgium and France visited the ATT in Germany on the 13th of may, Europe's biggest astro show. 120 exibitors (60 professionals and 60 private participants) showed everything they could offer to fill the stomachs of hungry observers and photographers.
The ATT is an activity organized by the "Verein fur volkstumliche Astronomie Essen e.V'. In the beginning of 2006 the association in Essen merged with the "Walther-Hohmann-Sternwarte Essen e.V.'. Nothing changed for the organisation of the ATT; the realization of the 22th edition has been a great success and the high number of visitors reflects the importance of the ATT.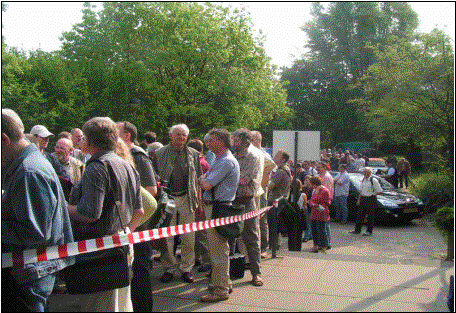 It's a well-known picture: hundreds of nervous amateurs waiting in line for the doors to be opened" A lot of them are carrying lists with astro-wanna-haves'. A astro-show like the ATT is very good for your hobby, but a nightmare for your wallet (and spouse" ) Honey, I shrunk my wallet!
The ATT is held at a very large school which has a giant basement. Normally, this place is filled with students, but today eager amateurs are spread all over the place looking for astro stuff and discounts.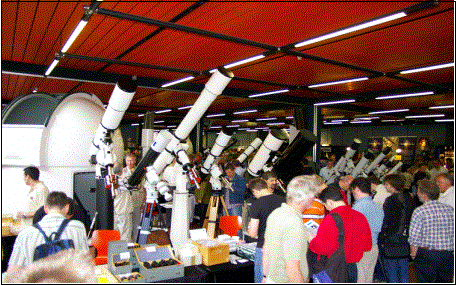 The lure of glossy white tubes" Large telescopes aimed at the sky and at the wallet of the visitors! This picture was taken at lunch time, normally you can hardly reach the booths and sometimes there are two or three rows! Every exhibitor has attractive discounts; especially eyepieces, filters and other small accessories are very popular.
Daniel Da Pont and Kris Chiang from William Optics were present to meet and greet their customers and dealers. WO has a very good relationship with both, so being at the ATT reflects the commitment of the company.
Pictures: Daniel Da Pont and Kris Chiang; the author holding the ZS80 II ED APO; Kris and Daniel unpacking the van; Kris talking at the booth to a customer
.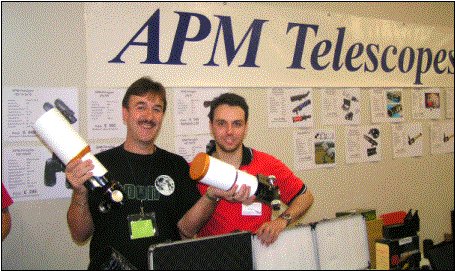 There's no ATT without the presence of Markus Ludes (APM Telescopes) Daniel showed him the new Megrez 90mm FD APO (holding the telescope in his right hand, left on the picture) The Megrez 90 has an integrated two speed-focuser.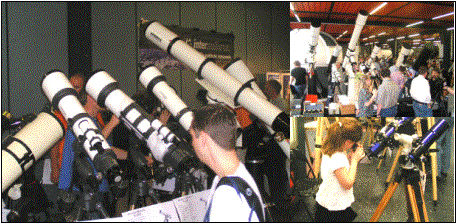 Like a child in a candy store" Everything you've dreamed of, you find it on the ATT! But, the ATT has another important function besides being the largest European astronomical forum: it's also a social 'get-together' for amateurs who want to meet and talk about astro stuff. Sharing experiences makes up an important part of the hobby!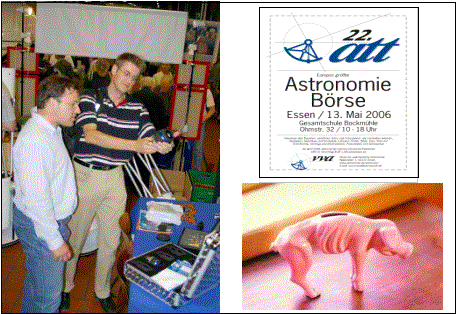 Picture left
: "Wow, what an eyepiece! I need an extra counterweight with this one! Something nice to put on display in our living room when not in use, but" I think my spouse has a different meaning of "nice'"'.
Picture right
: the official announcement of the ATT.
Picture right below:
the bad condition of your piggy bank after the ATT.
Article: The ATT: Europes Biggest Astronomy Forum