7
User Reviews

I've printed on metallic paper, and with other metal printing companies, but have yet to find anything that is as stunning as the metal print presentation at Bay Photo. Most people that walk into my office immediately say, "WOW!". My AP photos are my own, not perfect, not veteran level perfect, just my own with my personal touch to the editing and presentation. I love the color that is out there, and I strive to show it in my photos.
Read story →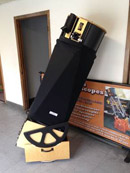 I could blame my observing partner Jim Kvasnicka for this. We often observe together and look forward to the Nebraska Star Party each year. At NSP 2014, Jim announced that he was going to buy a new premium 16 inch telescope. That got me to start looking at the different options.
So, after Jim's announcement, I asked the Cloudy Nights forum participants if I'd be happy with upgrading my 12" Lightbridge by getting the mirror refigured and coated, getting a new plywood base and a Moonlite focuser, or should I go with Jim and get a new scope from a premium telescope maker. Consensus was that I'd be happiest with a premium scope if I could afford it.
Read story →






Are the Vixen Ascot 10x50 the final answer to wide field astronomy?
Although the wide field is thrilling, I am disappointed by Vixen's lack of quality control on the Chinese optics. One pair had a blurry upper half, and the second pair could not focus sharply. I would be reluctant to buy a pair without looking through them first.
Read story →






I think what Coulter did was remarkable. They made the best they could with what they had, and brought large apertures to the public at an unheard-of price.
All things considered, I am thrilled with my Odyssey.
Read story →






Would I recommend the ONAG? Absolutely. The benefits of near-infrared guiding on-axis are not simply theoretical, you can see them right there in your guide camera images and in the results that you take home at dawn.
Read story →






In summation, if you're like me and get the shakes taking your expensive glass into the bush, then you can do much worse than the C80 Regal.
Read story →






For those of you starting out in astronomy, or simply looking for a small portable telescope for quick looks and travel, the C90 deserves further investigation. Indeed, at the price, it is difficult to justify not buying one!
Read story →






Wow, it's a match made in heaven! I can observe at the zenith without compromising the controls or OT or going into contortions. As a unit it's light enough to carry in and out of the house or for reasonable distances. It's solid, stable and can fit in my car when broken down.
Read story →






Lessons from the Masters: Current Concepts in Astronomical Image Processing (Springer, 2013.) edited by Robert Gendler is an essential addition to library of every serious astrophotographer. Gendler, who edited this 387 page work is himself a Master of the art and science of astrophotography with a rich portfolio of astrophoto accolades and achievements, including 107 NASA APOD selections. Gendler is a physician by profession and therefore technically an "amateur" astronomer. However he routinely teams with the world's leading professional observatories to create masterful images from their exquisite data sets.
Read story →






I had the opportunity to observe the sky with this spotting scope during my holidays last Summer. My Father in law happened to own the Celestron Ultima 80 for nature watching and shooting sport and had left the scope at his holiday house near the seaside where I spent my holidays with my family. The sky there is pretty good so you can see 5.0-5.5 magnitude stars with the unaided eye at the zenith.
Read story →