7
User Reviews

The AT111EDT is a doubly haunted scope. Haunted by the tragic, premature death of the illustrious designer of its optical group, and haunted also by the turbulent financial times into which it was born. Will there be another run of this fabulous instrument? I certainly hope so, but telescopes are a tough business, and the landscape of the refractor market in particular changes quickly.
Read story →





How much do I love my NexStar 5? It could be the best scope I have ever owned. The SCT 5" in my opinion is the size of scope that gives good Planetary views, and DSO's start to be able to be studied in detail. It is also a nice non pain in the back weight wise.
Read story →






Would I purchase this scope again? Yes, I would. Would I recommend it to a friend? Yes, I would. As I wrote earlier, the main reason I bought this scope was to step up my grab and go kit. Often there just isn't time between the clouds to open up the observatory. This scope will be parked on an alt-az mount, at the ready for the quick viewing slot that happens so much of the time here in western Pennsylvania.
Read story →






I've printed on metallic paper, and with other metal printing companies, but have yet to find anything that is as stunning as the metal print presentation at Bay Photo. Most people that walk into my office immediately say, "WOW!". My AP photos are my own, not perfect, not veteran level perfect, just my own with my personal touch to the editing and presentation. I love the color that is out there, and I strive to show it in my photos.
Read story →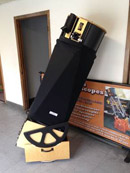 I could blame my observing partner Jim Kvasnicka for this. We often observe together and look forward to the Nebraska Star Party each year. At NSP 2014, Jim announced that he was going to buy a new premium 16 inch telescope. That got me to start looking at the different options.
So, after Jim's announcement, I asked the Cloudy Nights forum participants if I'd be happy with upgrading my 12" Lightbridge by getting the mirror refigured and coated, getting a new plywood base and a Moonlite focuser, or should I go with Jim and get a new scope from a premium telescope maker. Consensus was that I'd be happiest with a premium scope if I could afford it.
Read story →






Are the Vixen Ascot 10x50 the final answer to wide field astronomy?
Although the wide field is thrilling, I am disappointed by Vixen's lack of quality control on the Chinese optics. One pair had a blurry upper half, and the second pair could not focus sharply. I would be reluctant to buy a pair without looking through them first.
Read story →






I think what Coulter did was remarkable. They made the best they could with what they had, and brought large apertures to the public at an unheard-of price.
All things considered, I am thrilled with my Odyssey.
Read story →






Would I recommend the ONAG? Absolutely. The benefits of near-infrared guiding on-axis are not simply theoretical, you can see them right there in your guide camera images and in the results that you take home at dawn.
Read story →






In summation, if you're like me and get the shakes taking your expensive glass into the bush, then you can do much worse than the C80 Regal.
Read story →






For those of you starting out in astronomy, or simply looking for a small portable telescope for quick looks and travel, the C90 deserves further investigation. Indeed, at the price, it is difficult to justify not buying one!
Read story →