7
User Reviews

About a year ago I decided to get back into astronomy after a 7 year hiatus. I live in the Portland OR metro area, where the weather can be astronomically gloomy for long stretches of time. Previously I had concentrated primarily on Astrophotography (published in Sky & Tel and Astronomy magazines), and have owned a wide variety of scopes and mounts
Read story →






Morpheus, in Greek mythology known as the god of dreams, and now the new Baader Planetarium entry in the field of high-performance wide fields. In field tests, Morpheus eyepieces proved themselves to be a very sizable step up in both performance and ergonomics compared to the older Hyperion line.
Read story →





Anyone who reads Jim Chung's book will want to have a look at their existing astronomy gear and wonder what they can do to make their hobby better. The book shows how any amateur astronomer can modify or make astronomy gear from readily available parts, or by recycling parts while being mindful of costs. The broad spectrum of subject matter is written well and detailed, and balances nicely with the right amount of material and illustrations.
Read story →






Overall I am extremely pleased with the performance of the ASTF. It exceeded my expectations and provided a white light solar view that was brighter and more detailed than the standard full aperture glass filter I have could provide.
Read story →






The LOA-21s and the new technology they introduce to astronomical observing has provided that long awaited next leap I have been eagerly looking for in visual astronomy.
Read story →






The AT111EDT is a doubly haunted scope. Haunted by the tragic, premature death of the illustrious designer of its optical group, and haunted also by the turbulent financial times into which it was born. Will there be another run of this fabulous instrument? I certainly hope so, but telescopes are a tough business, and the landscape of the refractor market in particular changes quickly.
Read story →





How much do I love my NexStar 5? It could be the best scope I have ever owned. The SCT 5" in my opinion is the size of scope that gives good Planetary views, and DSO's start to be able to be studied in detail. It is also a nice non pain in the back weight wise.
Read story →






Would I purchase this scope again? Yes, I would. Would I recommend it to a friend? Yes, I would. As I wrote earlier, the main reason I bought this scope was to step up my grab and go kit. Often there just isn't time between the clouds to open up the observatory. This scope will be parked on an alt-az mount, at the ready for the quick viewing slot that happens so much of the time here in western Pennsylvania.
Read story →






I've printed on metallic paper, and with other metal printing companies, but have yet to find anything that is as stunning as the metal print presentation at Bay Photo. Most people that walk into my office immediately say, "WOW!". My AP photos are my own, not perfect, not veteran level perfect, just my own with my personal touch to the editing and presentation. I love the color that is out there, and I strive to show it in my photos.
Read story →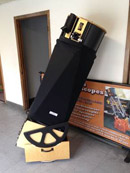 I could blame my observing partner Jim Kvasnicka for this. We often observe together and look forward to the Nebraska Star Party each year. At NSP 2014, Jim announced that he was going to buy a new premium 16 inch telescope. That got me to start looking at the different options.
So, after Jim's announcement, I asked the Cloudy Nights forum participants if I'd be happy with upgrading my 12" Lightbridge by getting the mirror refigured and coated, getting a new plywood base and a Moonlite focuser, or should I go with Jim and get a new scope from a premium telescope maker. Consensus was that I'd be happiest with a premium scope if I could afford it.
Read story →