0
GSO 50mm SuperView Eyepiece
Discuss this article in our forums
I use it mostly with my 10" Meade LX50, with no distortion and a very flat field from edge to edge. Chromatic aberration is minimal with colors faithful to nature. (Verified on terrestrial objects.)
This is a heavy eyepiece, but easily balanced on my SCT. Large enough to interfere with the forks, I always use it with a 98% Agena Astro diagonal. Although it produces only about 36x on the SCT it's wonderful for viewing large objects like Orion and the Pleiades.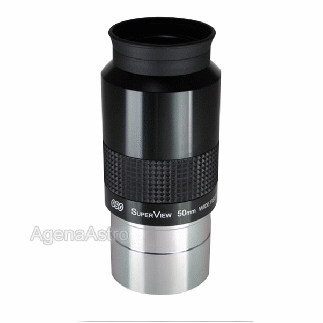 While this eyepiece is great for wide angle viewing through a 10" SCT, this is not a great eyepiece for use with my 80mm StellarView AT1010 refractor. There is significant color distortion and curvature across the field. It also requires an extension tube for proper focusing. This said, I still use it for low power terrestrial viewing with this scope.
Eye relief is quite good, as required by my glasses, and the eyecup is soft and pliable even in sub-freezing temperatures.
Article: GSO 50mm SuperView Eyepiece