CNers have asked about a donation box for Cloudy Nights over the years, so here you go. Donation is not required by any means, so please enjoy your stay.


0
Intes Micro Maksutov Newtonian MN 56 review
Discuss this article in our forums
Intes Micro Maksutov Newtonian MN 56 review
By Sergio Rinella
This is a quick back-of-the-envelope review of the Intes Micro Maksutov Newtonian MN 56 telescope I purchased new from Teton Telescopes and received early this year. First let me provide a little info about my amateur astronomy background and experience. It all started some 25 years ago when my wife purchased a pair of cheap 8x35 binoculars and I made the "mistake" of pointing them at the starry sky. Wow! I was hooked. The binos were soon followed by a Meade model 390 90 mm Achromat telescope on an equatorial mount. It threw a decent image of the moon, albeit with lots of violet and purple fringe colors. I kept it for a season and then quickly got rid of it.
A few years later and after much perusal through Sky & Telescope and Astronomy magazines at the local library, I purchased a Meade LX 50 8" SCT. This telescope was a pleasure to use. It was very stable, compact, sturdy, and threw a pleasing image of the moon. No matter where it was pointed, the eyepiece was easy to reach allowing for comfortable viewing while seated. Nevertheless, I had a couple of gripes. One issue that bothered me was the moon. It never did snap into focus, and the image, though bright, never really appeared sharp. The other issue was the electronic mother board. It went belly-up on the fourth year. Although Meade was willing to fix it, I simply didn't want to incur the cost. I sold the scope a month later.
I did not purchase another telescope till nearly 10 years latter upon retirement. This time I was armed with a little experience and lots of info. Because my interest is primarily planetary and mostly lunar (I excel at making truly horrible sketches of lunar features), I decided on an Intes Micro MN56 with an 8x50 finder. I also purchased a Vixen GPDX equatorial head with RA drive, and a Berlebach wood tripod. Complementing this package at this time are 27mm Panoptic and 10 mm radian eyepieces. The Vixen head is well engineered and the wooden tripod is simply a work of art. The TV eyepieces are superb and throw images that are sharp edge to edge.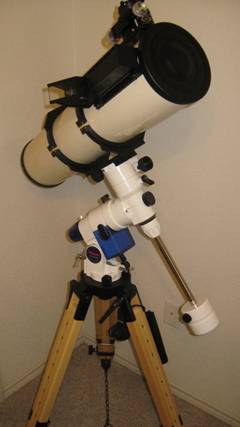 Figure 1.
By the way, I live in a small New Mexico town at 4500' elevation. The sky is delightfully dark and I estimate it at about 5th mag. Maybe better. So then, how does the MN56 perform? Is it on par with an APO refractor costing lots more? Unfortunately I have no idea because I've never seen an APO refractor, let alone observed through one. But I'll say this, I've never ever seen the moon in such amazing and contrasty relief. Features are razor sharp, craters have craters in them, and the sky is absolutely ink black to the very limb's edge. Truly a magnificent desolation. The provided JMI focuser is superb and a joy to use and focus simply snaps. The OTA is light and easy to carry with a good to excellent overall fit and finish, and superb baffling. You can read more about MN telescopes in general in "Starware", 4th edition, by P. Harrington, and also a more detailed review of the MN56 in particular in other websites (Ed Ting for one).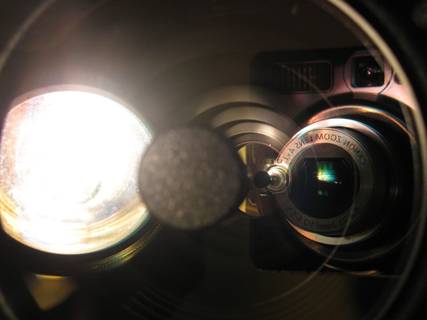 Figure 2.
One other thing. The telescope came with a technical certificate by Intes Micro documenting system wave front errors for this unit of Lambda/6.1 PTV, and Lambda/31 RMS. According to "The Backyard Astronomer's Guide", by T. Dickinson and A. Dyer, 4th edition (telescope myths #6 and #7 on pages 93 and 94, and PTV and RMS errors explanations on page 269), these values indicate superb optical quality. This certificate is in my opinion evidence of a quality product that sets Intes Micro apart and, therefore, instills great confidence for the prospective buyer.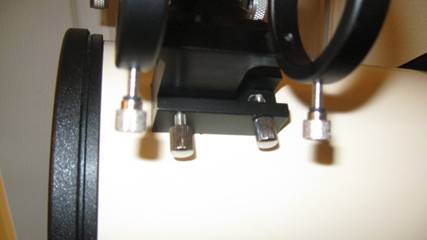 Figure 3.
Now having said all of that let me also say this. I do have a few gripes about this telescope, albeit minor ones. First the provided red dot finder base is too short and won't engage both set screws on the mating OTA bracket. In fact, the 8x50 finder has the same exact problem (I've been promised a new re-designed bracket from the vendor to fix the problem). The slightest bump will cause either finder to go out of alignment. In remedy, I removed one of the brackets from the OTA (easy to do), and chuck it and the red dot finder into the woods. I then installed a Telrad. It's a much nicer set up. I can't use the 8x50 finder. The second nit-pick is that the optics were delivered with some dust and fibers on their surfaces. A few swipes with a camel hair brush got the outside of the corrector plate nice and clean. I'm going to live with the dust on the primary though I'm tempted to remove it & clean it as well. The last "gripe" is more an observation than anything else. Two sides of the JMI focuser housing are undercut and therefore do not sit flush with the flat base. This introduces roughly a ¼"x2" air gap on each of the two sides in direct air communication with the inside of the OTA when the focuser barrel is retracted (worst case).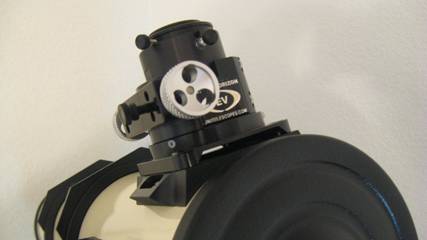 Figure 4.
I hope this helps…
Article: Intes Micro Maksutov Newtonian MN 56 review