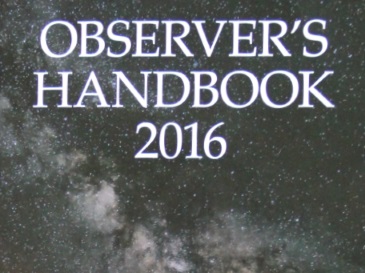 By Tom Trusock
Tom Trusock takes a look at the 2016 edition of the RASC Observer's Handbook.
Wireless Control of Canon EOS DSLRs with DSLR Controller and TP-Link MR3040 Wireless Router

Sep 26 2016 06:57 PM by emag

When doing astrophotography, most of us use a laptop for camera control, autoguiding and image display. At public outreach stargazes we often just want to take a single time exposure in order to show visitors what 'that fuzzy blob' they see in the eyepiece really looks like, it's often not at all convenient to set up a laptop. A tablet is an excellent tool for image display, but there's still the problem of a USB cable from the tablet to the camera. Many tablets don't even have a full size USB connection or require a special adapter or cable, but they all have WiFi. That's great if you're using a camera that has WiFi capability but what about those DSLRs that don't? Enter the TP-Link MR3040 Wireless Router.

Review of the 18" f/5 Otte binodobson

Sep 28 2016 04:38 PM by peter-nexstar

Sometimes, aperture fever can lead to a severe case of brain damage. The kind that compels you to make a purchase that by all acceptable standards would be considered insane. Such is the case for those who decide to buy a gigantic binoscope. Already much has been said about the huge disadvantages of the binodobson. After all, there must be a reason why almost no telescope manufacturing company offers them. But are these prejudices true or are they merely based on assumptions without any real experience to back them up? In order to find out, me and my friends of the astronomical society of Trentino in northern Italy have put my new 18" binodobson to the test.

Further Comments on the Lunt 152mm ED APO Refractor

Sep 26 2016 06:38 PM by zubiriman

This scope has been reviewed at great length in a comprehensive essay by William Paolini (http://www.cloudynights.com/page/articles/cat/user-reviews/first-impressions-of-the-lunt-152mm-f8-ed-apo-r2889), and I strongly recommend that prospective buyers study his excellent article. I will not repeat what he said except to emphasize that the scope has great optics, and nice fit and finish. It gives razor sharp views with no hint of false color. Definitely this is a great scope for visual or photographic purposes! Using this scope is fairly intuitive for anyone familiar with common telescopes. Unfortunately the scope does not come with any sort of manual, so there are a few items that may not be obvious when you take delivery of it. Here I wish to bring up two matters that may be of interest to prospective buyers.
Imaging/Sketching Contest
19 Oct 2016
Please join me in congratulating DismalScientist for winning the site-wide Imaging/Sketching contest for September 2016. He represented the Solar System Imaging & Processing forum with his superb image of Mars. DismalScientist S...
Full topic ›
10 Oct 2016
Welcome to the September 2016 Cloudy Nights Imaging/Sketching Contest! Over the years, we've noticed we have exceptional talent in our forums, and we've decided that we would like to show it off. Each month the best images selected from the...
Full topic ›
16 Sep 2016
Please join me in congratulating jlandy (John Landreneau) for winning the site-wide Imaging/Sketching contest for August 2016. He represented the Beginning and Intermediate Imaging forum with his fantastic image of the Eastern Veil in Cygnus....
Full topic ›
Cloudy Nights Home