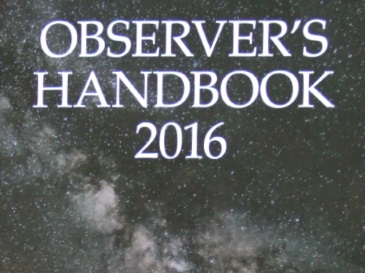 By Tom Trusock
Tom Trusock takes a look at the 2016 edition of the RASC Observer's Handbook.
A System of Binoviewing

Yesterday, 02:09 PM by 18UCinVa

What is a System of Binoviewing? An assembly of common observing equipment that's powerful, portable, easy to use, effective, and fun to use. In my experience Binoviewers enhance the observation of Targets of Excess Light (moon, safe solar, and planets) I believe that given a half-decent telescope, most amateurs will see a much greater benefit from Binoviewing than upgrading any single optical component.

Telescope Making for the Relatively Unskilled

Dec 07 2016 11:33 AM by xrayvizhen

I've received several private messages from a few people on CN who have seen some pictures I've posted of the telescope I made, which is also my icon picture, and asked if I had a build thread. I didn't. But all along I had an idea of writing this article because while I have seen many pictures and build threads of outstanding scopes built by people who are obviously either machinists, carpenters or engineers or just very experienced builders with a full suite of shop tools, I am none of those and I only have a couple of hand tools and minimal skills & experience. But I built this thing and it's outstanding, so I figure that maybe there are folks out in the world who would like give telescope making a try but might be a little intimidated by some of the beautiful work displayed, especially on the DIY forum. This is NOT another "How to Build a Telescope" article. Rather, it's more of an idea on why I built what I did, some of the planning and thought processes involved and how to get around the lack of tools or skills. (Hint – subcontract the hard stuff.)
Imaging/Sketching Contest
17 Feb 2017
Please join me in congratulating MattC867 for winning the site-wide Astrophotography/Sketching contest for January 2017. He represented the CCD Imaging & Processing forum with his stunning mosaic image of the Heart Nebula. Click...
Full topic ›
10 Feb 2017
Welcome to the January 2017 Cloudy Nights Imaging/Sketching Contest! Over the years, we've noticed we have exceptional talent in our forums, and we've decided that we would like to show it off. Each month the best images selected from the i...
Full topic ›
Cloudy Nights Home