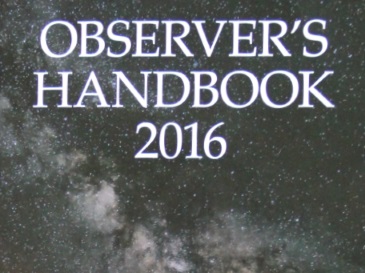 By Tom Trusock
Tom Trusock takes a look at the 2016 edition of the RASC Observer's Handbook.
The Dark Sky Experience

Aug 29 2016 04:13 PM by wapaolini

More than four decades ago I happened upon dark skies quite by accident while on a cross country trip with my good friend Mike. The memory of that experience that has remained all these years is how the common Messier Objects and other DSO were all apparent with the naked eye, looking like bright fuzzy patches against the dark sky. Since then, my observing has primarily been only from suburban sites where the Milky Way is only rarely detectable. Today, I like many others, wonder what it would be like to observe at a truly dark site. We also wonder about what equipment we should take, whether it would be a waste to take such a trip and not acquire and bring the largest aperture telescope possible, and of course we wonder just how different the celestial objects we observe will appear at these darker skies.

Hello Dolly!

Jul 07 2016 10:39 PM by jjackson

This spring's favorable placement of three major planets got me to thinking about how to put my scope on wheels. I was getting tired of lifting that awkward monster a few inches off the pavement and going umph-unk-umph-unk all the way up the driveway, hoping I wouldn't snag a tripod foot between a pair of paving bricks (there is no such thing as flat ground in my suburb, par for the course around Denver).

A 160 mm (6.3") f/6.5 binocular telescope

Jul 07 2016 10:23 PM by ThomasM

Here I describe a 160mm apochromatic binocular telescope complemented by a mount and tripod aiming at a well-balanced compromise between optical performance, size and weight. I started the project already several years ago, the first version is described here at Cloudy Nights. Meanwhile a new, lighter and stiffer mount and tripod are finished and I think it is the right moment for describing the whole instrument.
Imaging/Sketching Contest
17 Sep 2016
Please join me in congratulating jlandy (John Landreneau) for winning the site-wide Imaging/Sketching contest for August 2016. He represented the Beginning and Intermediate Imaging forum with his fantastic image of the Eastern Veil in Cygnus....
Full topic ›
12 Sep 2016
After vigorous discussion, we have renamed our Variable Star Observing & Radio Astronomy forum to Observational Astrophysics to better describe the discussions that are taking place there. We've also changed the forum description to: A...
Full topic ›
11 Sep 2016
The Electronically Assisted Astronomy Forum (EAA) has evolved as rapidly as the capability and diversity of the equipment used by its members. The forum developed into both a place to discuss EAA equipment and a place to discuss the application of...
Full topic ›
Cloudy Nights Home