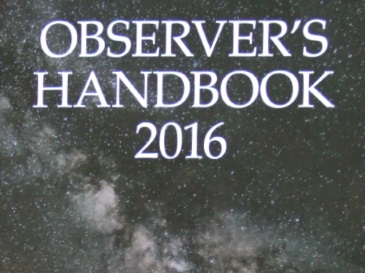 By Tom Trusock
Tom Trusock takes a look at the 2016 edition of the RASC Observer's Handbook.
Interferometrically Testing Two Celestron C14 Edge Telescopes

Feb 26 2017 02:12 PM by jhayes_tucson

I've wanted to interferometrically test the two C14s that I have in my shop to get some good data on their optical quality for some time but gathering all of the equipment needed for such a test isn't easy and I was hesitant to take my scope out of action when the skies were clear. Since it would probably be cloudy for months on end in winter, December seemed like a good time to try to get it done.

Stardust Gallery LED Lightbox and Metallic Print Review

Feb 25 2017 04:47 PM by ctron

The owner of Stardust Gallery, Craig, was looking for volunteers to review an LED backlit lightbox containing either a Hubble image or an image of user choice. Since I had what I felt were fairly decent Milky Way images acquired from a session at a dark sky site late last Fall, I thought one of the somewhat processed images might be a good candidate to display inside one of the Stardust Gallery backlit lightboxes, and eagerly forwarded the image to the website.

Rayox Saddle Review

Feb 25 2017 03:49 PM by dawong

The Rayox dovetail saddle (regular price $449 with adapter through Woodland Hills Telescope, with an initial discount for Cloud Nights members) is a breakthrough product that has significant advantages compared to existing systems, especially when working with heavy equipment. If this system had been available earlier, I could have avoided some potentially dangerous situations…
Imaging/Sketching Contest
17 Feb 2017
Please join me in congratulating MattC867 for winning the site-wide Astrophotography/Sketching contest for January 2017. He represented the CCD Imaging & Processing forum with his stunning mosaic image of the Heart Nebula. Click...
Full topic ›
10 Feb 2017
Welcome to the January 2017 Cloudy Nights Imaging/Sketching Contest! Over the years, we've noticed we have exceptional talent in our forums, and we've decided that we would like to show it off. Each month the best images selected from the i...
Full topic ›
Cloudy Nights Home