Heya all....finally got some good results since a successful image last year lol...
Here's a still frame from the movie. The shuttle is attached at the bottom of the structure.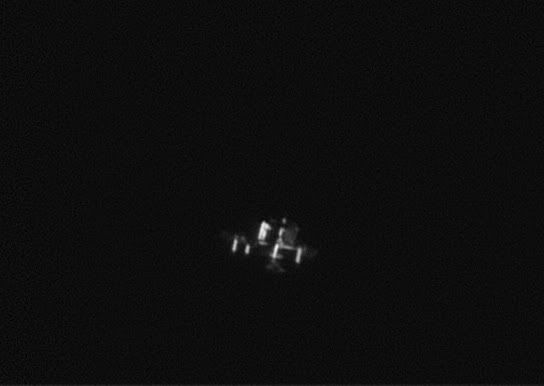 Here's a mini preview of the full 1.4MB movie:
The full size MOVIE is here:
http://i213.photobuc...-Originallg.gif
The ISS flew into my imagers' FOV 21 times, each time, I stacked the images in that small interval. The entire avi was >6000 frames and I chose to pick frames in the FOV that were at least 100 frames apart in order to preserve as much fluid motion as possible so, taking those 6000 frames and picking FOV passes at least 100 frames apart, I ended with the 21 frames to animate with PS Imageready.
Stacking was done with the new Registax 5.0...somehow, my settings now align the final stacks so after stacking, when I layered them all in PS, i didn't have to align them by hand...which is a great new plus.
Scope was an 80mm ED, 2x shorty barlow, and a DMK monochrome cam
The ISS ranged from around 700km to 370km at its epogee (°74)
Thanks for looking!