Hi Everyone,
I've been browsing this Sketching forum for a while, reading the tutorials and practising sketching at my scope. This is a great forum and I wanted to say thank you to everyone who posts here. I've learned so much from all of you that it's amazing. Thank you all.

I have a Zhumell Z12 and I observe from moderately heavy light pollution. My limiting magnitude is about 4.5 at zenith typically, and degrades toward the horizon. I made this sketch a few nights ago of M3. This is not my first sketch, but it is my first sketch of a globular cluster. (If I can get on the scanner, I'll make a post my first sketch, but it isn't going to be pretty.

) I found "Globular Cluster Sketching Tutorial" by Eric Graff immensely helpful. Thank you Eric.

I've thought about sketching M3 a number of times, but every time I got it in the eye piece I think to myself, "Forget it. There's just too many stars." Last week we had such a clear night and M3 looked so bright and steady, I went for it.
Here's an inverted scan-in of my sketch. The only processing I've done to it is to mask off the FOV circle.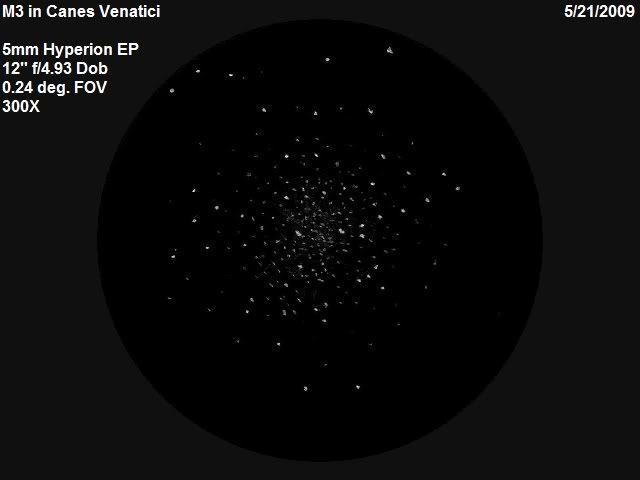 I discovered Paint.NET and went back over the scan-in to clean it up a bit and get the background unresolved haze of stars to come out. I remembered the haze in toward the core of this cluster looked like it had cracks or breaks running through it and I tried to capture that in the rendering.
Here's the cleaned-up version.
In a way, it's almost like the cleaned-up version is too clean. But on the other hand, it is more accurate to what I saw in the eye piece (except maybe brighter).
Any tips or suggestions?