I mentioned in another recent thread that I was ordering
this
to replace the heavy steel tube the extension is made from. The intent was to lessen the weight and with a shorter length hopefully mitigate the rather bad jiggle resonance the original extension has with my particular combo of equipment.
The length ordered was 8", cost was very reasonable. I was a bit concerned when it arrived in a package not much bigger than the tubing itself, but it survived shipping without being crushed out-of-round, fortunately. The tubing wall thickness is 1/8". The ends were cut square, I just had to drill screw holes, a bit fussy but not super-difficult job. This is industrial tubing so would need a bit of sprucing-up to give a more finished appearance.
Certainly the weight issue was much improved, weight, including the end caps, went from 12-13 lbs to 3.5lbs.
The 8" length was good since I like to use my tripod with legs extended to get the eyepiece tray and lower homebuilt tray at a more comfortable height.
Unfortunately, the jiggle problem, though certainly better than the original extension, will not go away with my scope. I've tried many things, including smoothing the tripod top surface for flatter contact with the bottom of the extension. Have tried differing numbers of counterweights in different locations on the bar. I've tried it with the tripod legs fully-retracted. Nothing makes much difference. The jiggling takes longer to dampen out and does this weird 90-degree direction change partway through it is decays. It makes focusing a chore, even with a fine-focus knob.
So, up into the attic it goes until some other part of the puzzle, scope, mount, or tripod, changes. If you are having no such issues with the original extension it seems likely you'll be fine with something like this too though.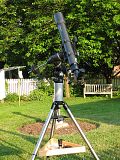 Mike