I just wanted to share this with the group. I was out Sunday night (11/15) into Monday morning (11/16) and was attempting to sketch the Double Cluster. I started around 10:30pm and by 1:30am and I had only finished NGC 869! I packed it in. The other half, NGC 884, would have to wait. I got my chance to finish the sketch on Tuesday night (11/17) into Wednesday morning (11/18) and I was just about finished with NGC 884 when clouds came in and ended the session.

NGC 884 came out a little bit sparse as a result.
I was using a Zhumell Z12 12" F/5 Dob with a 17mm Hyperion EP (0.8 deg. FOV at 88x). Naturally, I couldn't fit the entire Double Cluster into one FOV, so I sketched them separately and stitched them together using Paint .NET. In my pencil sketch, I had added some shading at the center of each cluster to give it that dense star field look, but it was too light for the scanner to pick up, so I added it back in in the processing.
Well, anyway, here it is (NGC 884 on the left and NGC 869 on the right)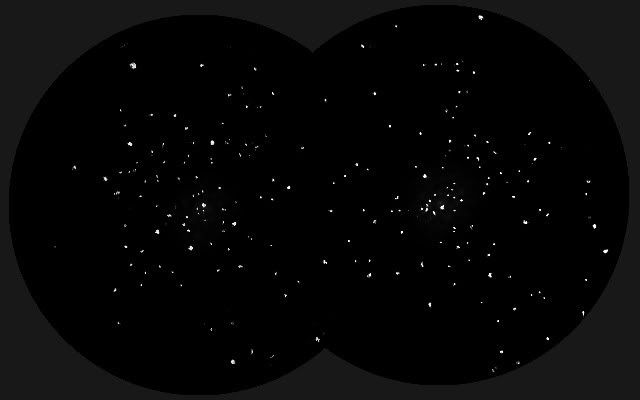 Here is the original unmodified pencil sketch. I lightly circled one star in both sketches knowing that they were the same star, so that when I merged the two, I used that star as the merge point. Then, I eliminated duplicate stars that were in slightly different positions due to sketching errors.
Thank you, and I hope you like 'em.
-Slartibartfast