Hi everyone,
I got the chance to measure my G11's periodic error with a copy of PemPro. I first aligned my mount and then calibrated the software for my image scale and camera orientation. While the theoretical image scale was 2.7, the actual came out to be ~2.9.
I did about 5 runs and the error only once went above 5". The average peak to peak error came out to be only ~7". Here's an image of the run:
PemPro calculated the following curve fit: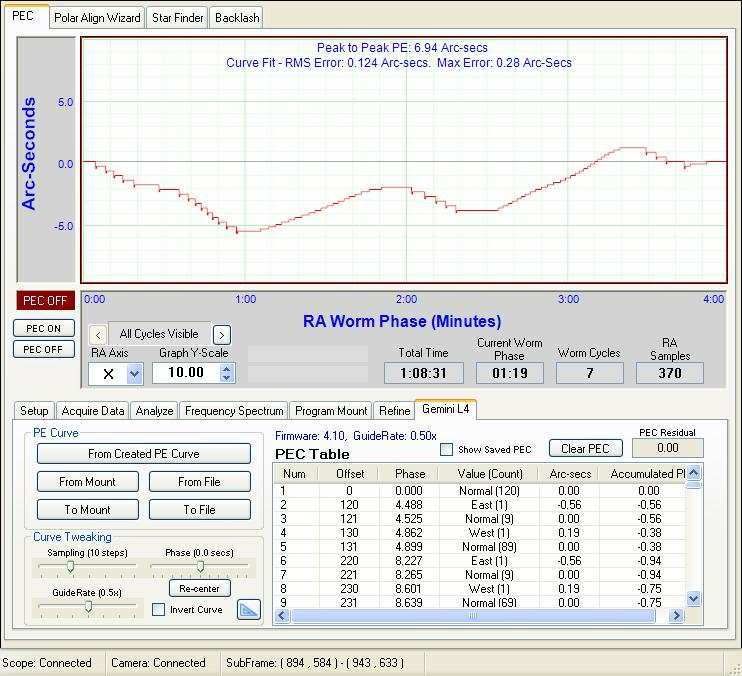 PEC Curve:
http://i115.photobuc...st/PECCurve.jpg
For some reason, however, when I uploaded the curve the periodic error actually increased to about 8" pk-to-pk. Should I not use PEC with this mount? I have to say, I heard some horror stories related to the G11 and the dreaded 76s error. The frequency spectrum showed some error at 76s in my mount. Not sure how bad it is.
In general however, is a PE of 6" pk-to-pk considered good for this class of mount? Is the error smooth and can it be guided out? I am a beginner but I need this mount to last me a long time and I eventually want to do imaging at about ~1800mm FL. (image scale of about 1")