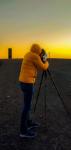 Sun AR11076 Thursday
Started by
rerun
,
Jun 05 2010 02:00 PM
Posted 05 June 2010 - 02:00 PM
Hallo.
another sunspot sketch.On day before the sunspot looks a little different.
CS
Markus
---
Posted 05 June 2010 - 04:08 PM
Markus,

An excellent observation of the sunspot group AR11076. You have captured the umbra and penumbra very nicely. Thank you for sharing it with us all.

Carlos

---
Posted 05 June 2010 - 04:36 PM
Markus,
Nice to see white light sunspot again - very good.


Frank

---
---
CNers have asked about a donation box for Cloudy Nights over the years, so here you go. Donation is not required by any means, so please enjoy your stay.