Who has brought us the best Markarian's Chain? Vote for your favorite from the following entries:
oldstargazer
Thought I would give it a shot, hope I got it framed right. Used C8 with focal reducer on CG5-GTa unguided.
Stock canon T3i. Total time for stack of 11 frames is 42 minutes and 26 seconds at ISO 1600.
ozgurunat
Markarian's Chain
WO Megrez 72mm f/6 and Celestron CG5 Mount
Canon 450D (not modified)
47 exposures of 65 seconds each
Calibrated with 10 dark frames
Taken in a small village close to Bursa-Turkey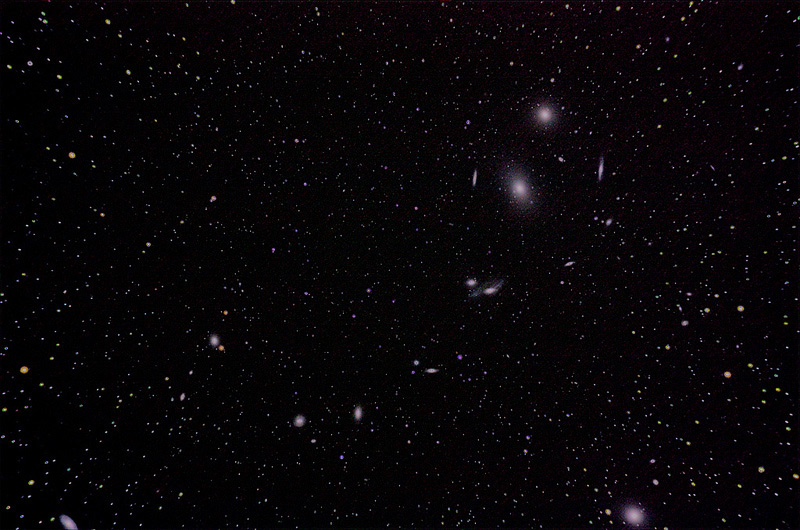 InIt4TheImaging
Sweden 2012-03-02
Astro Profesional ED80
Guided
Canon 450 modified
NEQ6
Astronomik CLS CCD ClipIn
TS flattner
8x180sec
ISO 1600
Software: PHD DSS PS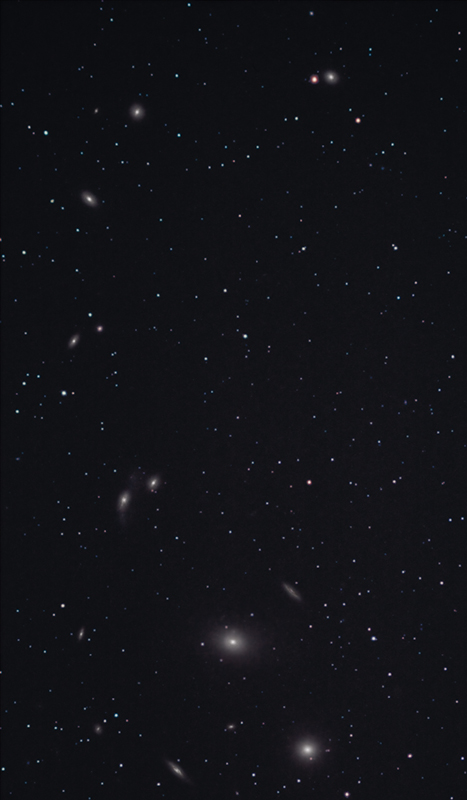 WarmWeatherGuy
This is obviously not a winner. It was taken in my driveway under bright street lights inside Orlando city limits. I used an Orion Starshoot Pro V2 Color camera mounted on a CGEM and using an AT72ED with ATFF. I autoguided with the Celestron NexGuide hooked up to a C5. There were 5 pictures each 5 minutes long and 3 darks. The image is cropped to 800x800 but not resized any. North is up.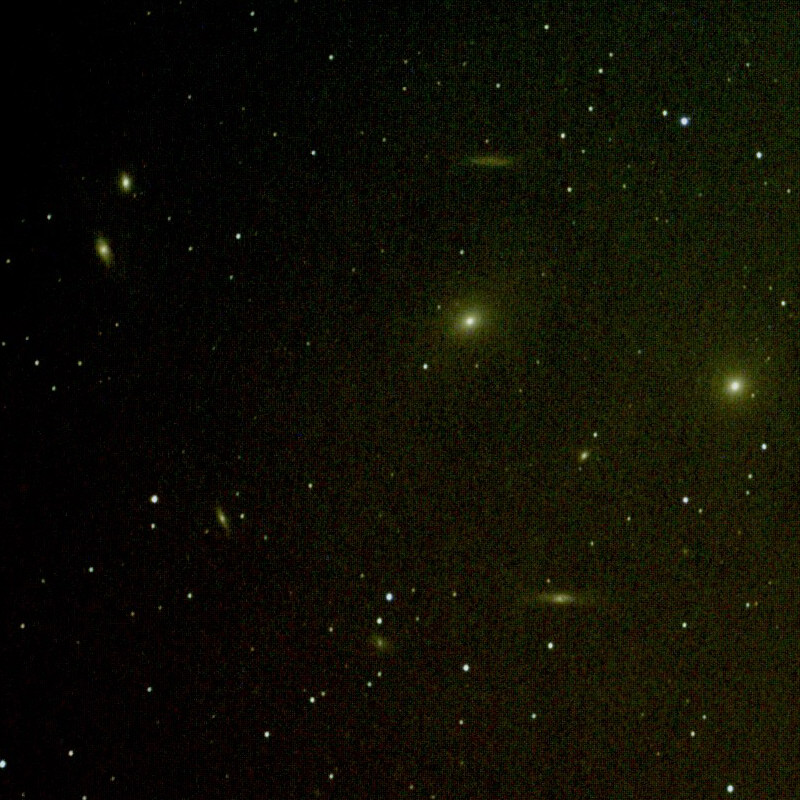 Dustin S
Location: Cadillac MI,
Date: 20/21 of May 2012
Scope: AT65EDQ
Guiding? SSAG with Orion Mag 50mm
Camera: Unmodded Canon 1100D (T3)
Mount: CG-5
10min x 25 @ ISO 800
Software: DSS, PS CS4
Full Resolution Link:
http://www.flickr.co...in/photostream/
stephen63
Taken 29 Mar 12
Scotland, Pa
TMB92SS
CGEM
Mini Borg 50
QSI 583wsg
R,G,B: 6x300sec each, Binned 1x1
Acquisition with Nebulosity/PHD
Cal, registered, normalized, data reject, stacking with CCDStack 2
Color combined, final processing with CS5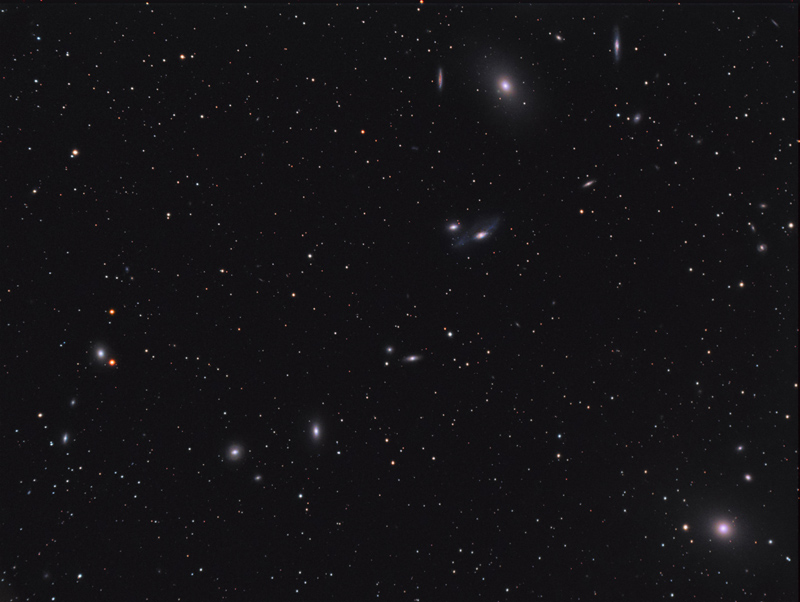 Vladimir Elvov
Imaging telescopes or lenses: Celestron CPC 1100 GPS
Imaging cameras: Canon 1100D, SXVR-M25C
Mounts: Celestron HD Pro Wedge
Guiding cameras: Orion Star Shoot Planetary Imager & Autoguider
Focal reducers: Starizona HyperStar3
Software: Stark Labs PHD , Pleiades Astrophoto PixInsight , Adobe Photoshop , Images Plus
Filters: Hutech IDAS LPS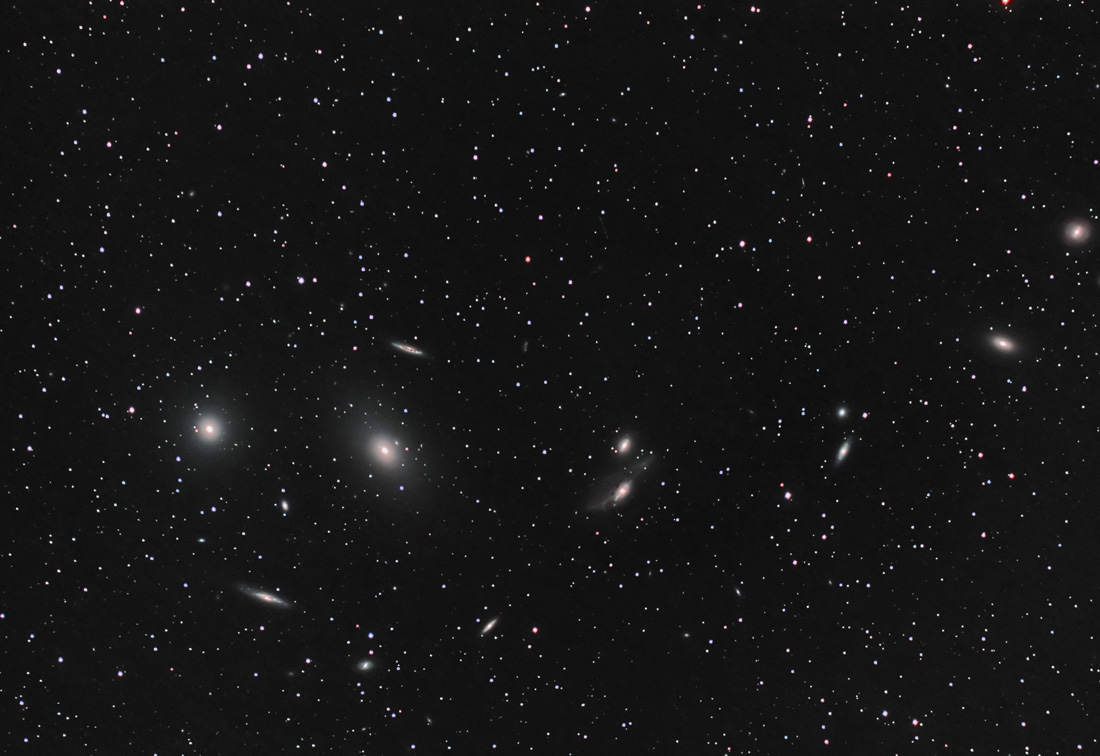 SMigol
Markarian's Chain in Virgo
by
S Migol
, on Flickr
Taken with the Full spectrum modified Pentax K10D camera.
Main scope: Stellarvue SV 4 with flattener and Baader Moon and Skyglow filter
Guided by SSAG on SV70ED with Maxim DL
Location: Montebello OSP, Los Trancos Woods, CA, USA
Lights taken on April 28, 2012
Stack of 13 lights: 10 minutes at 400 ISO
8 Matched Darks
Stacked with DSS 3.3.3 beta 45
Processed in PI with DBE, Masked stretch, Histograms, Curves. Exported to LR 3 for final touches before upload.
Difficult time removing amp noise at the edge of the frame. Tried using cold darks as Bias frames to help control the glow with marginal success.
Good Luck to all our entrants!

Charlie

&nbsp