Who has brought us the best M27? Vote for your favorite from the following entries:
oldstargazer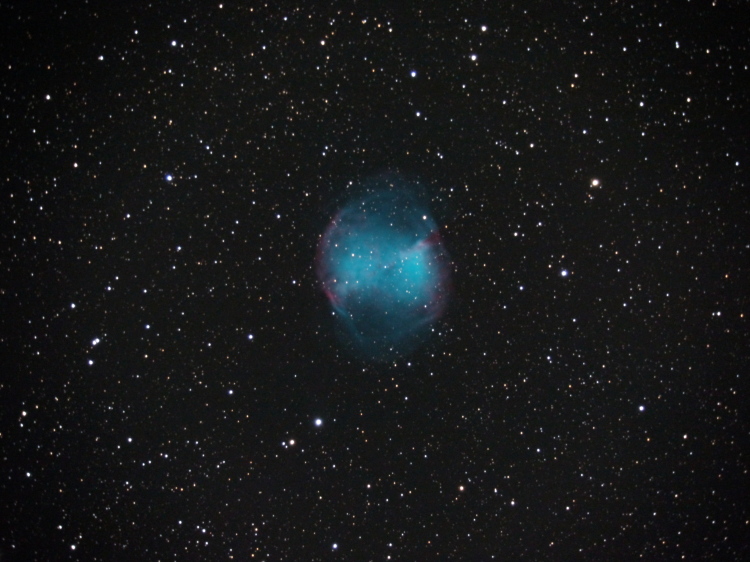 Taken in CPC 1100 with T3i with focal reducer.
Total time 52 minutes stacked in DSS.
A. Viegas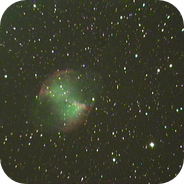 My second ever first real DSO image! Yay!

Equipment:
Celestar C8 - on CG5 --> Shooting at ~F/4.5
Mallincam Extreme
MFR5 - focal reducer with 10mm spacer
Lumicon Deepsky Filter
1 snapshot for 28 seconds
No post processing. No stacking. No nada.
Mallincam Extreme Capture software running through basic Dazzle 100 USB capture device off S-video feed.

Al
Mike7Mak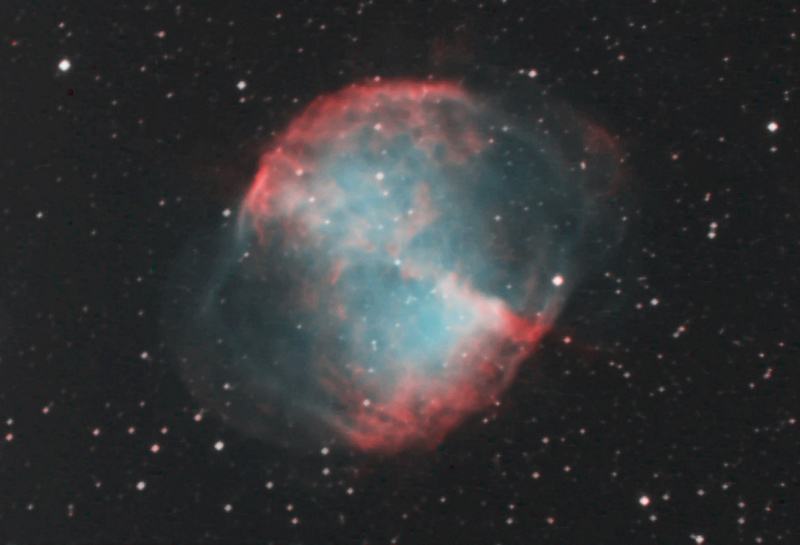 uly 24-25 2012
Dutchess county, New York
SBIG ST-402me
LX200gps 7" Mak w/.7 Antares reducer
Capture and preprocess with Nebulosity 3
Post process Photoshop 6
All frames binned 2x2 and Drizzled up 2x
32 x 2 minutes L
8 each x 5 minutes Ha + O3
M 27 in LHOO
neptun2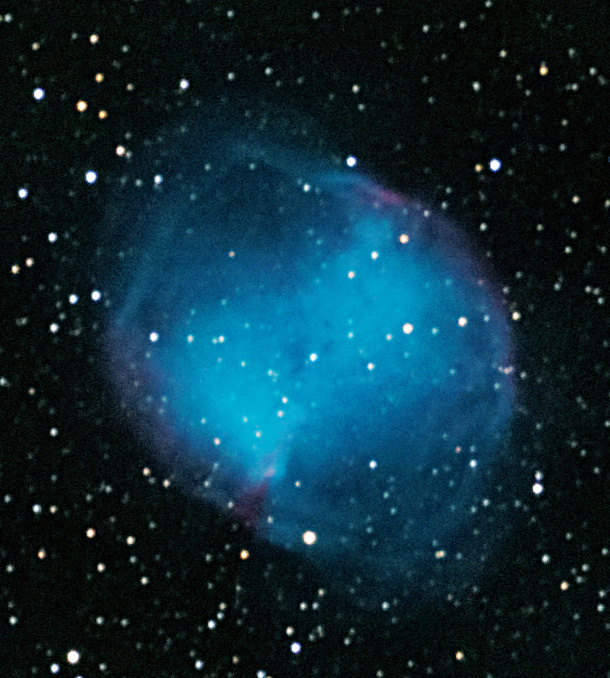 Well let's add one more entry for the olympics principle. Here is my try. It is taken with:
Skywatcher explorer 200p 8" f/5 newtonian reflector + paracorr coma corrector
HEQ5 Pro mount
Sony NEX-5N camera
Guiding with skywatcher 80mm f/5 refractor , meade dsi 2 pro camera and PHD
Location - Rozhen , Bulgaria 21.07.2012
Processing - Convert RAW files to TIFF with DXO , stack in MaximDL and final processing in Photoshop CS6
Stack of 7 frames 1.5 min ISO 1600
StoneasRock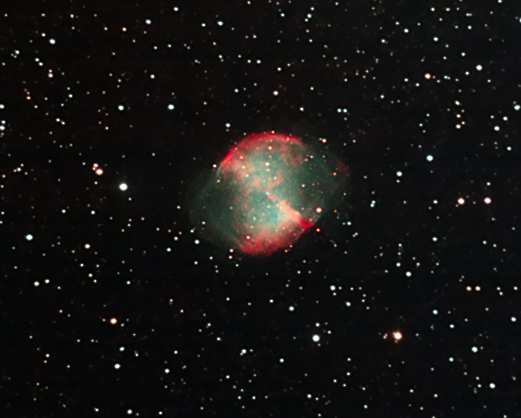 here's my cut
SkyWatcher 5" FL650mm reflector with stock 1.25 focuser
LXD 75
Stock Canon 40D
Modded finder scope with SSAG
125 X 2 minute shot in a red zone
BackyardEOS+DSS+CS5
darbyvet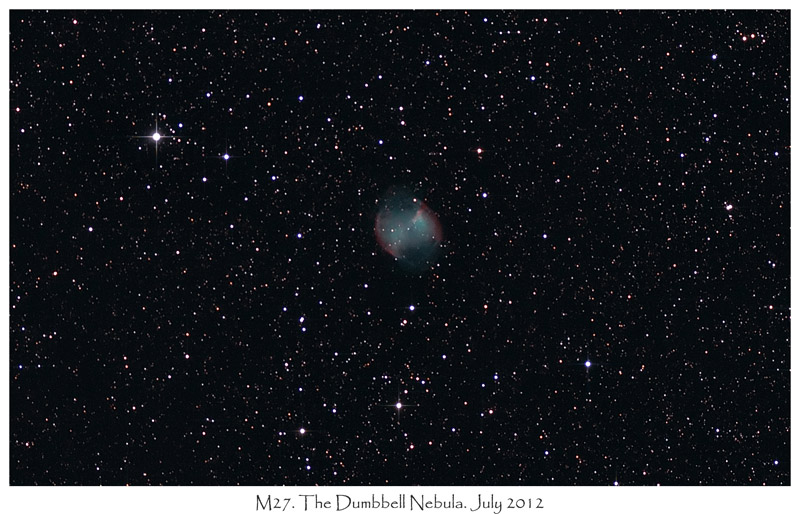 M27
Explore scientific 80mm triplet APO
Cgem mount
Autoguided Orion autoguider
Canon Digital Rebel XS umodded camera
Astrotech field flattener
Baader skyglow LP filter
240secondsx20subs
Image captured with Backyard EOS, stacked with DSS, processed photoshop CS5.
Basak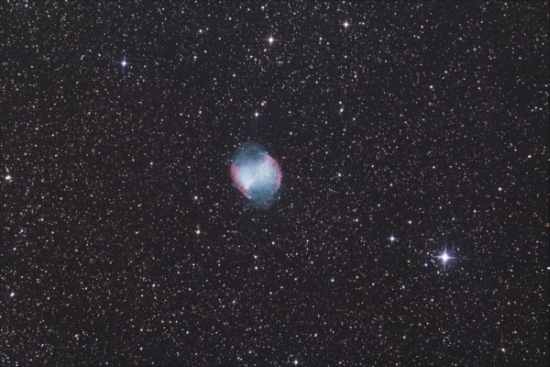 M27
Orion 10" Newt.
Orion Atlas Mount
Canon 550d Hutech Modified
20x300" iso 800
guided with orion st 80 mm/orion ssag
30 dark, 30 flat
Dss, Ps cs5
SMigol
M27 - June 2012 - 500 minutes
by
S Migol
, on Flickr
Here's what I produced from a collection of testing images when I was trying to figure out some tracking issues back in June.
Scope: Orion 127mm Maksutov Cassegrain
Camera: Full-spectrum modified Pentax K10D cooled with external peltier device and Baader Moon and Skyglow filter
Mount: Losmandy GM8
Stack of 51 subs at 10 minutes at 400 ISO, 144 temperature matched darks covering range of 12C to 17C.
DSS 3.3.3 beta 47 with 2x custom frame and drizzle, PI for DBE and stretches, LR3 for final white balance and upload.
telescopemullet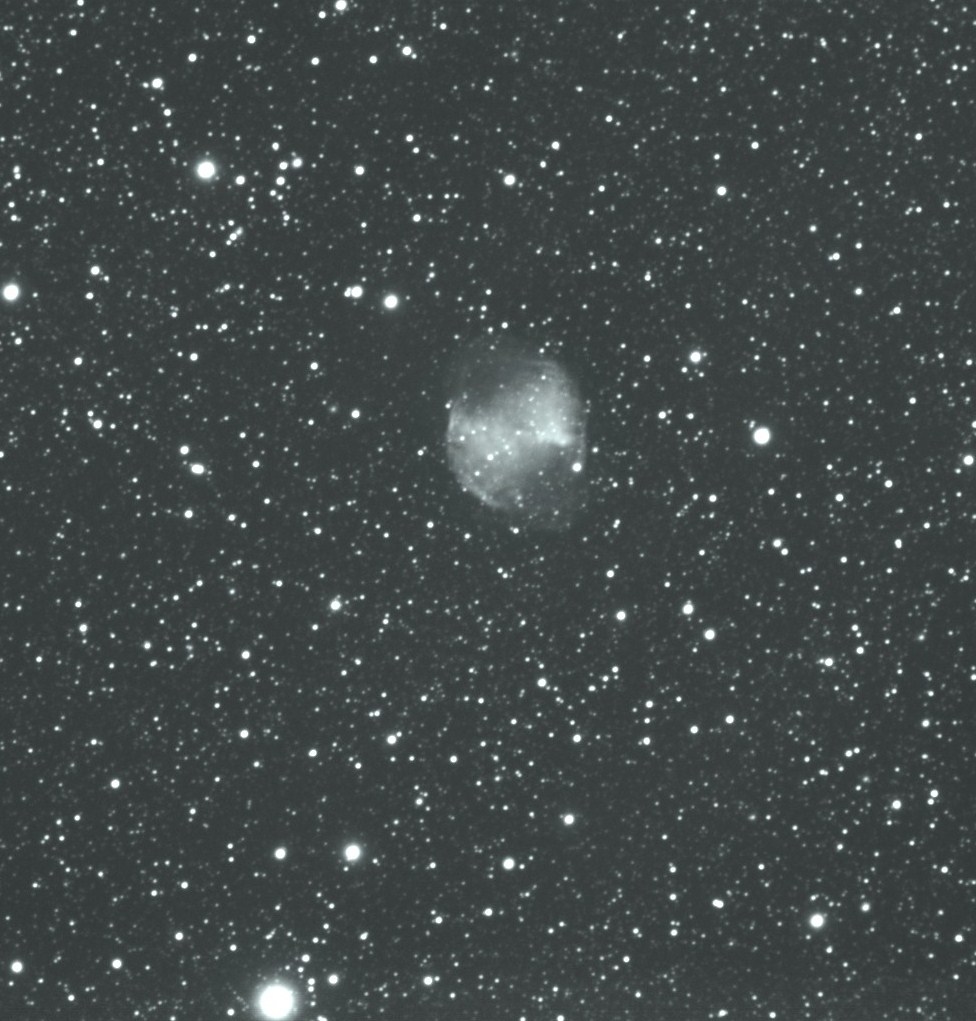 5hrs 38 mins:
SV 70mm atop a CPC on a wedge
ATIK 314
no processing besides brightness/contrast
Derryk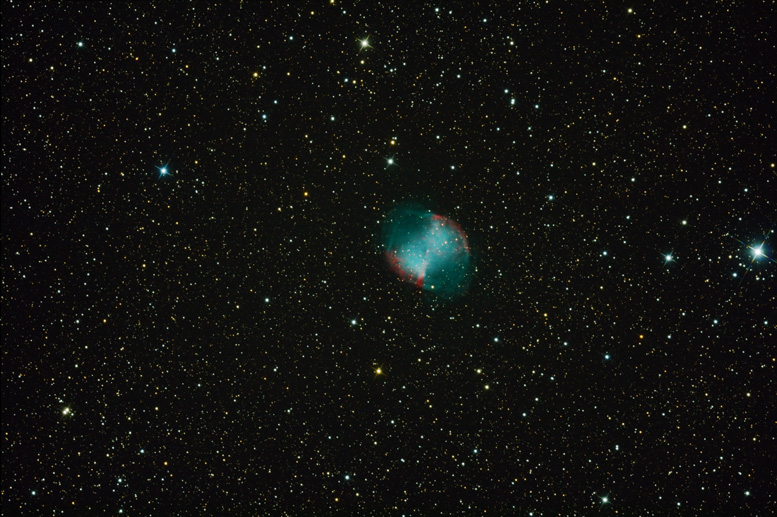 Here is my first post and image for the challenge. Still working and practicing on my post processing.

Taken July 20-21, 2012 from Lake San Antonio, CA, USA. Full uncropped image.

Details, Equipment, & Software:

Telescope: Astro-Tech AT6RC w/ AT2FF (FL1370mm f/9)

Camera: Canon T2i (stock)

Mount: Orion Atlas EQ-G

Guide: Orion ST80 w/ SSAG

Capture: Backyard EOS (30x300s lights / 50x darks temperature matched)

Stacking: Nebulosity 3

Final Processing: Photoshop CS5

High res image:

M27 - The Dumbbell Nebula Wembley2000 http://www.cloudynig...s3CroppedRS.jpg

Here is my Submission:

Meade 10" LX200 with Meade.63 Focal Reducer

Guided with AT72ED and SSAG - PHD

Canon 400D Unmodded - BYEOS

Meade Super Wedge

11x300 Sec subs, Stacked in DSS, final processing in PS CS5

High Res -

Astrobin

Wem

bigdeal http://www.cloudynig...-contestm27.jpg

Baader modified canon 450d

Celestron c9.25 sct with 6.3 reducer

Losmandy g11 mount

Astronomic cls filter

meade 50mm mini guidescope/costar guider

800iso, 11 @ 360s - 7 @ 600s(+darks/flats/darkflats)

Captured with Backyard EOS Stacked in DSS and processed with pixinsight

Waxhaw, NC

http://s3.amazonaws....4b32c_thumb.png Ugmul http://www.cloudynig...800iso-crop.jpg

M27 15x180" 800ISO

Meade 8" SCT on Atlas EQ-g

Self-Modded Canon T2I Full Spectrum

Celestron F/6.3 Focal Reducer

Meade 911n Narrowband Filter

Orion SSAG + Guide Scope

Backyard EOS, Pixinsight.

http://astrob.in/16252/ Orionis91 http://www.cloudynig...dit 2 small.jpg

Here is my go at M27.

Taken with Canon T1i through Celestron C8 XLT sct at F10

Guided through Spectra guide OAG with a Meade DSI Pro

One 5min and one 7min for 12mins of exposure time. + 3 darks added. Stacked in DSS. Processed in GIMP

Dave

mikewayne3 http://www.cloudynig...-workingM27.jpg

Here's mine

it's 60 @ 60 sec.

Good Luck to all our entrants!

Charlie

&nbsp