We are very pleased and proud to present the August 2012 CCD Imaging Semi-Finalists in the Cloudy Nights Imaging/Sketching Contest.
David Rosenthal: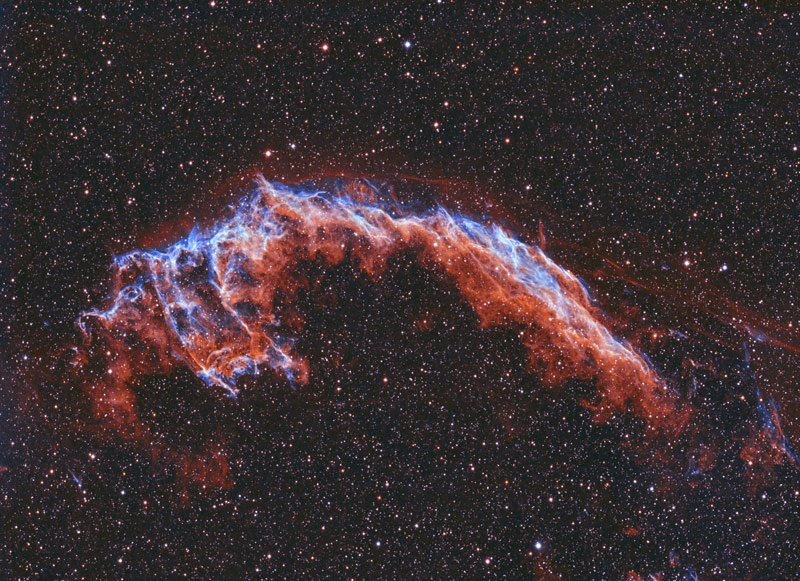 Here is my submission for August: NGC6992 The Network Nebula
This is a RGB = Ha (Ha*OIII) OIII Bi-Color process shot over 4 August nights from my LP'ed back yard in Northern NJ.
12*1200 seconds 5nm Ha [ 4 Hours ]
16*1200 seconds 5nm OIII [ 5.33 Hours ]
Borg/Pentax 125SD with Oasis #7878 Tripplet FR/FF
Losmandy G11 Gemini AP Wood Tripod
AstroDon 5nm Ha and OIII Filters
SXVR-H18 / SX Wheel / SX OAG / SX ExView Guide Camera
Mount Control, Guiding, Capture, Calibration and DDP in MaximDL
Processed in PSCS5 X64 with Noel Carboni's Actions and GXT
Mike Wiles: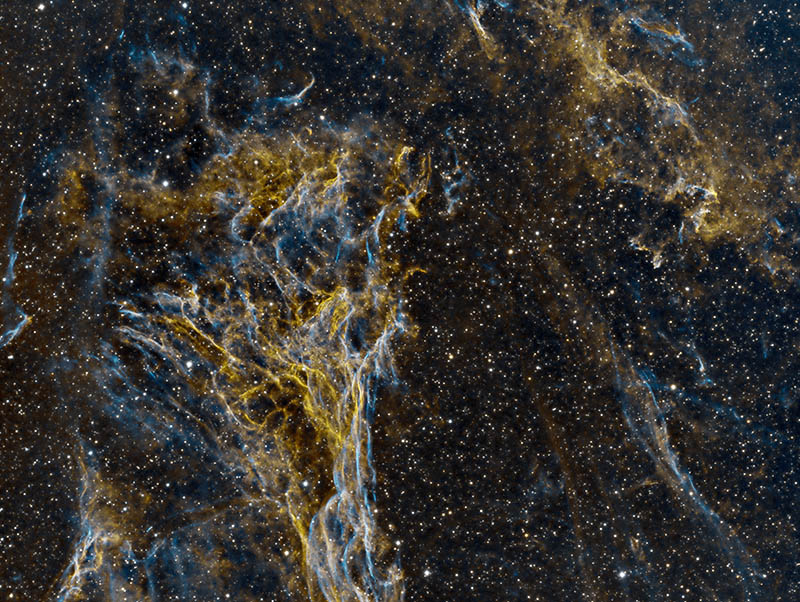 Date: August 2012
Location: Goodyear, Arizona
Sky Quality Suburban Light Pollution - ZLM 5.2
Telescope: Explore Scientific ED127CF Refractor - 127mm f/7.5 Carbon Fiber Triplet
Mount: Astro-Physics AP900GTO CP3
Camera: SBIG ST-8300m and SBIG FW8-8300 filter wheel
Guiding: SBIG ST-i Mono and SBIG OAG-8300 off-axis guider
Exposure: 7 hours
(Ha: 7 x 30 min, OIII 7 x 30 min)
Capture: Maxim DL 5.18
Calibration & Processing: PixInsight 1.7
Looks like it's Veil Nebula month.

At this summer's Grand Canyon Star Party a friend and I were looking at Pickering's Triangle around midnight from the veranda of the North Rim Lodge through a 20" Obsession. I was so blown away by the detail in the background around Pickering's Triangle that I knew I had to image it soon. This is the result of that effort. Image was shot as a bi-color narrowband by mapping H-Alpha to the Red Channel, OIII to the blue channel and then H-Alpha and OIII were blended at a ratio of 50%/50% to generate a synthetic green channel. Processed entirely in PixInsight. A larger image can be seen at

Astrobin

.

Please note that voting will conclude on September 8th at Midnight EST.

Many thanks to all who took part in the contest!

*

&nbsp