Who has brought us the best Andromeda Galaxy? Vote for your favorite from the following entries:
Magellan
m31-10x180s-30m-iso1600-NOFLATS-SatBoost-DBEx5
by
AstroJeff
, on Flickr
Object: M31 (Andromeda Galaxy)
Location: Shediac, NB Canada
Camera: Full Spectrum Honis Modified Canon XSi / 450D with MPCC
Filter: Baader 2" UV/IR Filter
Scope: Orion 8" F4 Astrograph
Mount: Celestron CGEM
Guiding: Celestron 80mm Guidescope with Celestron Nexguider.
Subs: 10x180s(3min) for a 30m shot
Darks: 6 Kappa Sigma
Bias: 51 Averaged
Flats: Botched set, none used
Dark Flats: 51 Averaged
Captured with: BackyardEOS
Calibrated and stacked with DSS
Processed in Pixinsight
Muntz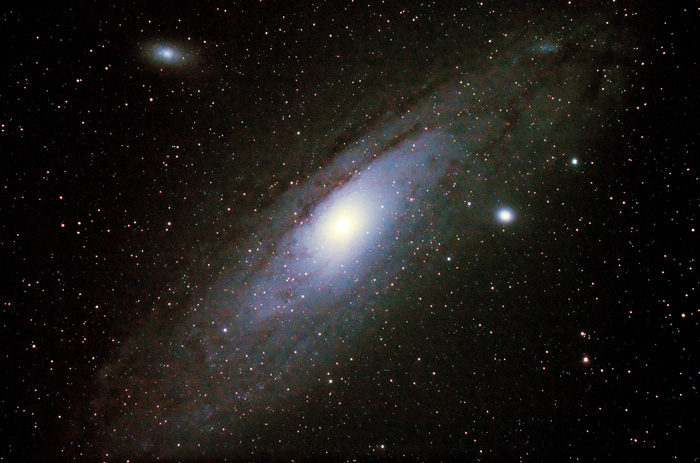 Object: M31 (Andromeda Galaxy)
Location: Brooklin, ON Canada
Date: August 18-19, 2012
Camera: Canon Rebel T3 unmoddified
Filter: Astronomics CLS-CCD clip-in
Scope: Sky-Watcher 100ED (blue) with WO FF II (0.8X)
Mount: Sky-Watcher EQ6 (EQMOD)
Guiding: no guiding
Subs: 10 x 180s @ ISO3200
Darks: 3 x 180s @ ISO3200
Captured with: BackyardEOS
Stacked with DSS
Processed in Photoshop
I'm having trouble figuring out how this is supposed to be oriented. I've tried flipping it vertically and horizontally and it doesn't seem to work out for me. Any tips?
This is all very new to me. This was from my first night out with everything from an astrophotography perspective. I have done a tiny little bit of visual observing using the 100ED earlier this summer trying to get familiar with polar alignment and all the mechanics around using the mount.
oldstargazer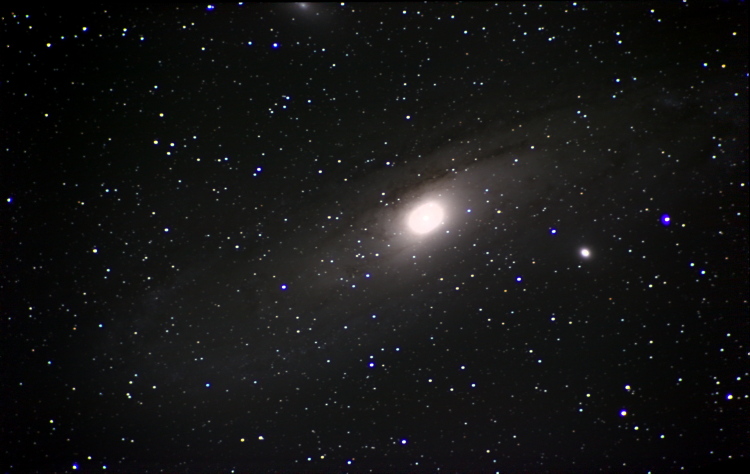 M31 in Celestron Omni 150 using Canon T3i on CG5-gta for 196 seconds per frame and DSS stacked 22 of them.
bigdeal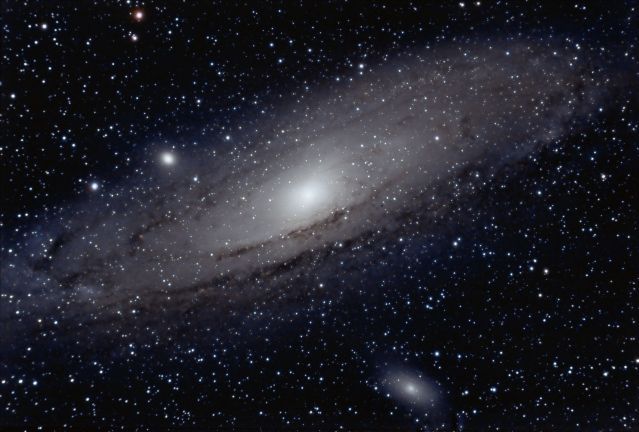 Here's mine--->
details:
Explore Scientific AR102 on Losmandy G11
PhD Guiding - Meade 50mm mini guider/SX Costar guide cam
Modified Canon 450d w/cls filter, all @ 400iso:
33@300", 32@600" - appx 7.25 hrs
flats/darks/dark flats/bias
Stacked in DSS - processed in pixinsight
Waxhaw NC
zerro1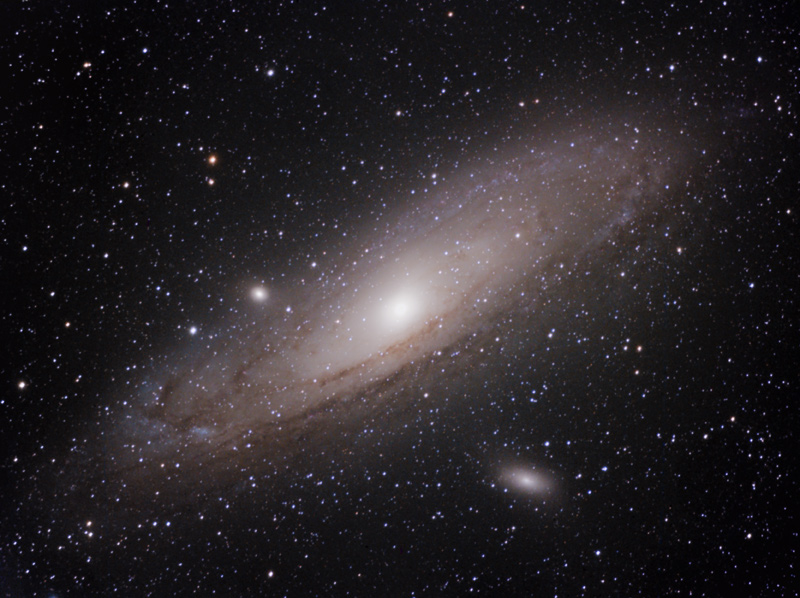 Captured From Home August 11th 2012
L data = 30 X 2 minutes
Quantix KAF6303E
AT66ED
Captured at The 2012 Table Mountain Star Party
RGB = 19 X 10 minutes
QHY9
AT65EDQ
Processed with Images Plus and CS3
Aligned withy Registar
Camera Control- MaximDL and Nebulosity
Guiding - PHD using a mini-guide scope and a Meade DSI Camera
Mount- Orion Atlas EQ-G
Wembley2000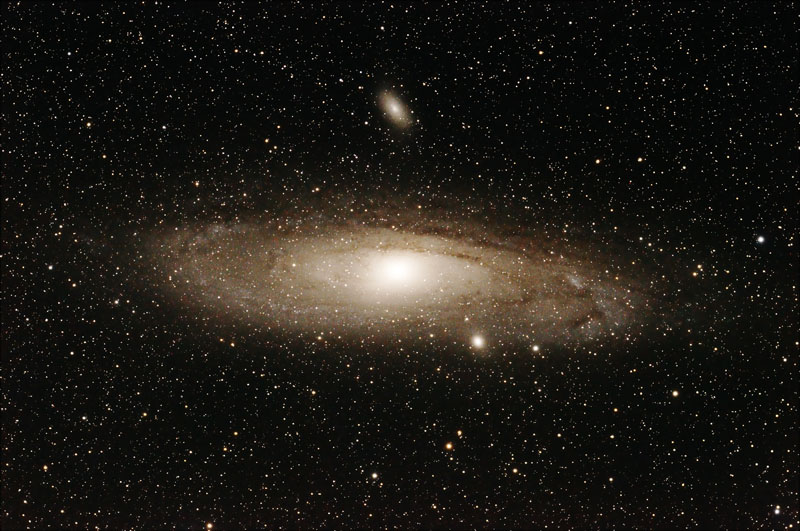 Here is my submission:
Date 8/24/12
24x300sec subs, ISO 800, Stacked in DSS processed in PS
BYEOS, PHD Guiding
AT65EDQ, CGEM
Guiding: ST80, SSAG
Unmodded Canon XTI
Wem
Parsec96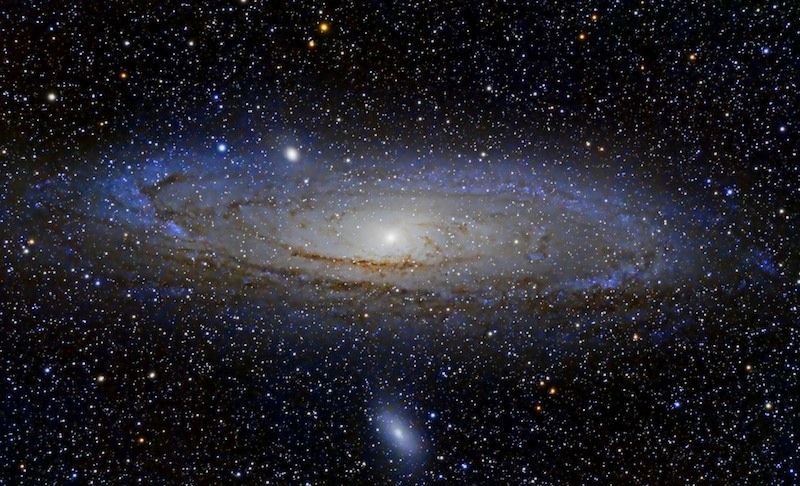 Here is my first entry ever in a CN contest!
Object(s): M31 (+M32, M110)
Location: Knowlton, Qc, Canada (orange skies) & Mont Mégantic (blue skies)
Telescope: Stellarvue SVR80ST2
Camera: Nikon D300s (yes, Nikons can take good images

)
Mount: Losmandy Gm-8 with Digital Drive
Autoguiding: OSSAG with Stellarvue 50mm finder via PHD
Acquisition software: none (intervallometre)
Subs: 110x60s, 80x300s
Calibration: flats, darks, bias
Processed in Pixinsight
Image taken over three nights
I hope you like it!
Derryk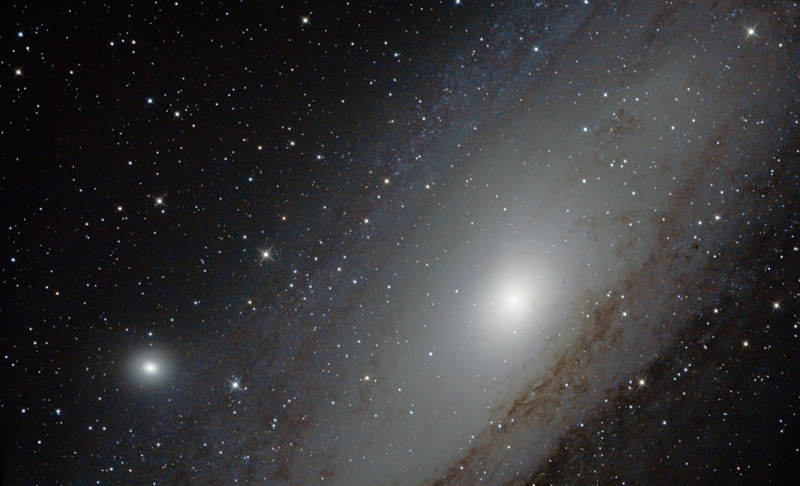 Here is my submission for the challenge. Taken July 21-22, 2012 from Lake San Antonio, CA, USA. First attempt at M31. This is the full uncropped frame. Eventually would like to do a high resolution mosaic as there is a lot of fine detail in this galaxy. Recommend the higher resolution version to see the detail.
Flickr High-Resolution
Details, Equipment, & Software:
Telescope: Astro-Tech AT6RC w/ AT2FF (FL1370mm f/9)
Camera: Canon T2i (stock)
Mount: Orion Atlas EQ-G
Guide: Orion ST80 w/ SSAG
Capture: Backyard EOS (24x300s lights / 35x darks temperature matched)
Stacking: Nebulosity 3
Final Processing: Photoshop CS5
JoeR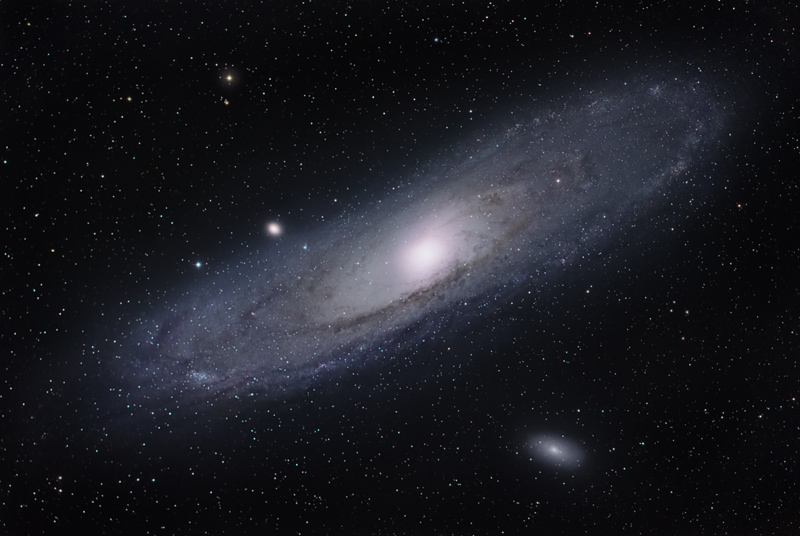 A lot of good submissions here. This will be a tough challenge.

M31 08.24.12

CPC Deluxe 1100 HD + Hyperstar

Canon T3i + Astronomik CLS-CCD filter

90 subs @ 30 seconds ISO 1600 plus darks, flats, & bias

about mag 6 skies orange zone shot at Perkins Observatory Delaware, OH

Good Luck to all our entrants!

Charlie

&nbsp