Hello all, I have been wanting to get together the SSAG package from orion, but no matter how I try to save I just can't surpass life expenses, so I am trying to put it together piece by piece every paycheck.
I was wanting to purchase the celestron losmandy d type bar to mount the guidescope on.
http://www.astronomi...ount_p7022.aspx
It is reasonable and I like the orange color. I have heard there might be some compatibility issues and was wondering if anyone can vouch if it will fit on the ota in the following position: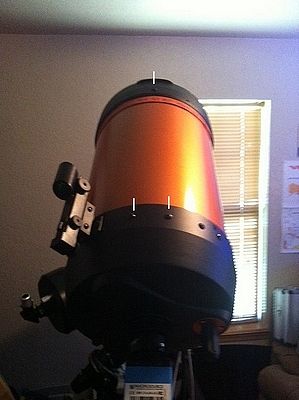 The product page says it will fit a standard c8, and since the rear cells seem to be identical on the newer models I was just wondering if anyone has tried this before I buy it. Going to use astrotech los d adapters for the rings.
thanks in advance,