My eye gets dark adapted really quick compared to a few folks I know. This also means that I lose my ability to see colours real quick.
There's a pretty interesting curve how dark adaptation works and how the rods (responsible for seeing shades but not colours) take over from the cones in the eye: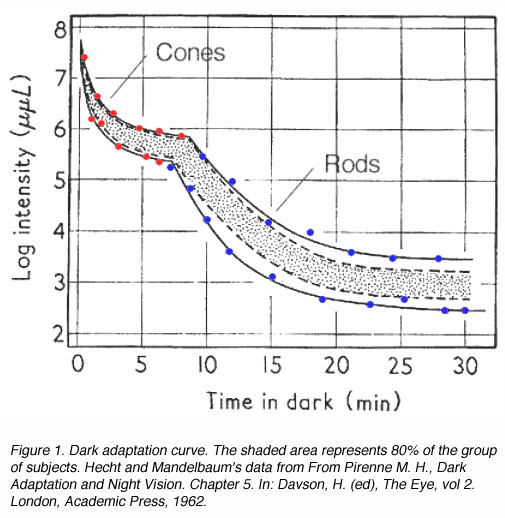 It was an interesting experience I had this summer, when we observed RS Cyg (a particularly red star) with my friend. We were pretty much dark adapted I think, but when she reported seeing the intense red shade of the star, all I saw was a shade of gray - this is perhaps because of what Alex said about ladies not having colour blindness at all or just rarely. I've then did an experiment and looked into white light for a few seconds to ruin my adaptation. And there came the wonder: the star was magical red for me too. Since then, I often ruin my dark adaptation if I want to see colours.
Ok, what I want to say with this is that maybe the skills of Frédéric come from an oddity that his eyes have a different distribution/sensitivity of cones and rods than what is considered as normal. Even I was struggling to see colours compared to my friend, so I do believe some folks are able to see colours even if they are fully dark adapted, not to mention that in a 40 incher you don't need dark adaptation at all to see details in the Ring nebula.
Perhaps Frédéric has "ladies eyes".

I also recall a little friend of mine, who I met when he was only about 14 or so. He did observations on a very regular basis. He reported details and features in objects, that theoretically he shouldn't be able to see in his 6" telescope. Noone ever believed him, until on one Astro camp he gave proof that what others can barely see with averted vision is a bright object for him, full of fine details.
So I tend to believe that there are simply people with superior sight. But I also know from my own experience, that this can be learned to some extent.