I have my Android-based Nexus 7 working about as well as I ever imagined a tablet could work, so I thought I'd share what I've done with all of you. If this spurs some of you on to share what you've done with your tablets for astronomy, then we'll all be richer for the experience.
First, here's my setup on July 18, shortly after I received my 8gb N7.
The home screen wallpaper is my photo of a Black-browed Albatross, taken in Australia.
Next capture shows my current setup, with the wallpaper being my astrophoto of M42. I took the photo from my back yard in the light-polluted metropolitan San Francisco Bay Area of California, stacking about fifty 90 second exposures taken through a Meade Schmidt-Newtonian telescope.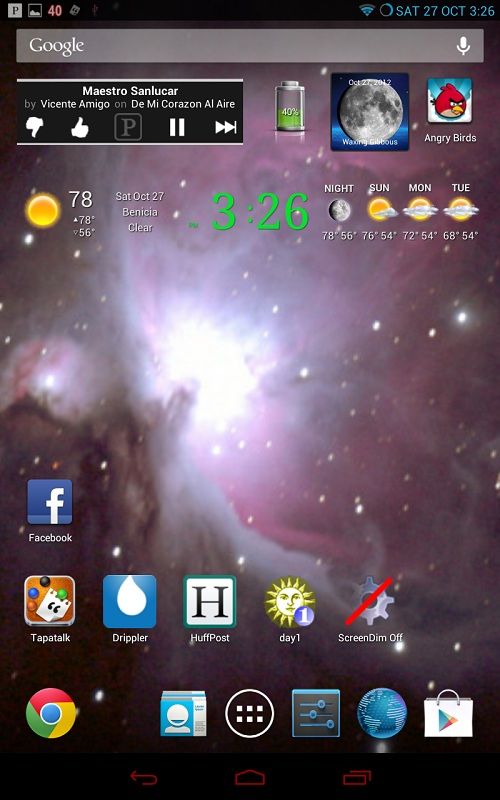 Notice the red navigation bar buttons at the bottom of the screen. They're white on unmodified N7s. I rooted (or jailbroke) my N7 and I'm running the Paranoid Android v. 2.50 ROM, which lets me customize the navigation bar background, button, and glow colors. V. 2.52, just released 27 October, is buggy, and either stops setup from working, or simply doesn't respond to nav bar button change attempts. So, if you try this on your Android, v. 2.50 is the version to flash. Versions prior to 2.50 didn't have nav bar color-changing ability.
Paranoid Android has some really neat features. Notice the day of the week and date are shown on the status bar in the second screen capture above. I don't know if you can customize the status bar with the stock 4.1.2, but I can do it in Paranoid Android.
Here's something I know isn't available in stock 4.1.2. The capture below shows my USB storage stats in Paranoid Android's Settings > Storage function. I added a 32gb USB flash drive to my N7 and partitioned it with the first partition having 28gb total space, and still have 16gb available - not bad for the $200 base model 8gb N7. I have a 40gb N7 for $225. In case you're wondering, I set aside 1.5gb in a second primary partition for future experimentation with moving apps themselves to the second partition
I rooted my N7 as soon as guides for rooting the N7 came out. i'm keeping about 6gb of Nandroid backups, and 2.5gb of astronomy and birding app data files on a $20 USD 32gb USB flash drive (plus ~$4 for the USB-0TG cable, shipped), and I'm running those data-intensive apps while they're reading the data from the flash drive. Obviously, I can't do that without being rooted.