We are very pleased and proud to present the December 2012 CCD Imaging Semi-Finalists in the Cloudy Nights Imaging/Sketching Contest.
SGT500
Ngc 253 - The Sculptor Galaxy
Telescope: Astrotech 8RC
Mount: Orion Atlas Eq-G
Camera: SBIG St-8300M & Astrodon LRGB
Location: Sarasota, FL
L:R:G:B - 210:140:130:160
Total exposure time : 10.667 Hours
Dan Crowson
NGC 660 is rare polar ring galaxy located between 20 and 50 million light-years away in Pisces. The current theory is that these types of galaxies are formed by the merger of two galaxies that collide or pass near each other. The interaction causes increased star formation which also leads to these objects being defined as starburst galaxies as well. NGC 600's ring is approximately 40 light-years wide – half the size of our Milky Way.
Luminance – 15x600s – 150 minutes – binned 1x1
RGB – 5x600s – 50 minutes each – binned 2x2
300 minutes total exposure – 5 hours
Imaged December 11th, 2012 at the Danville Conservation Area (New Florence, Missouri) with a SBIG ST-8300M on a 6" Astro-Tech AT6RC at f/9 1368mm.
See the link to the full size version below.
LRGB Full Size
There are a lot of background galaxies in this image. The largest would be UGC 1211 in the top left quadrant next to a bright star. It is approximately 114 million light-years away.
Dan
David Rosenthal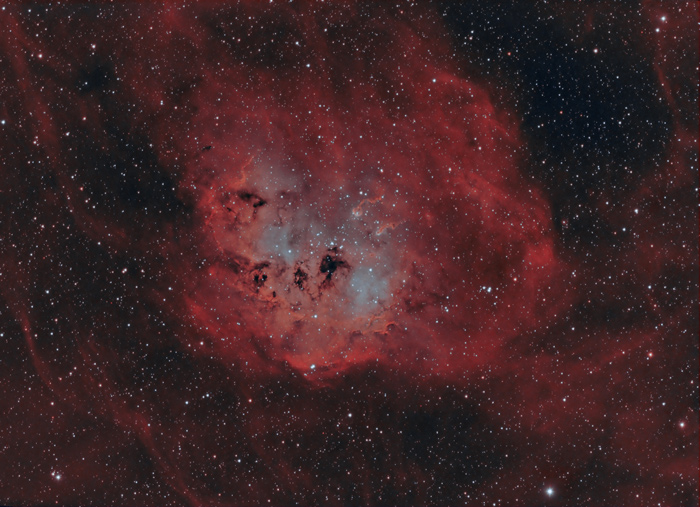 Here is my entry.....

IC410

Shot on December 19th, 23rd and 30th 2012

From my backyard 20 miles NW of New York City

17*1200 seconds Ha

11*1200 seconds OIII

Borg/Pentax 125SD @ f/4.6 + FeatherTouch Focus Boss II

SXVR-H18, SX Wheel, SX OAG, SX ExView Guide Camera

AstroDon Gen II 5nm Filters

Losmandy G-11 Gemini on an Astro Physics Tripod

Please note that voting will conclude on January 8th at Midnight ET.

Many thanks to all who took part in the contest!

*

&nbsp