Who has brought us the best Messier 1 (the Crab Nebula)? Vote for your favorite from the following entries:
SMigol
Here's my M1
With a bonus object 1997 WN35:
Object (33078) 1997 WN35 RA 05 34 23.2 DEC +22 20 36 Magnitude 19.9 Motion in Arcsecs/Hr: RA 76+ DEC 0-
Taken on Nov 6, 2012 in my suburban back yard.
10 lights at 600 seconds 400 ISO with modded Pentax K10D cooled DSLR at 14-16C
Scope used: Orion 127 Maksutov Cassegrain
Mount used: Losmandy G11 G2 with PEC
Filters: Stacked Baader Moon & Skyglow and UV/IR
Calibrated with Maxim with total of 96 darks, 256 bias, and 15 flats. Stacked and debayered in DSS 3.3.3 beta 47. Processed in PixInsight.
Large Version on Flickr
...also on Astrobin
Wembley2000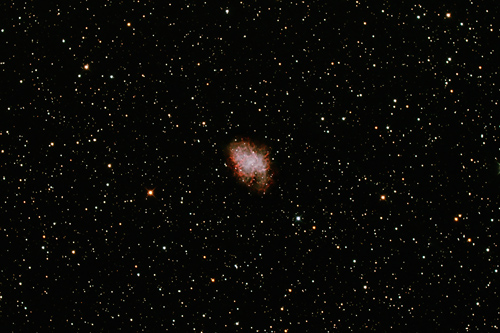 Hello here is my entry:
Scope: AT6RC with CCD67 reducer at .704. Focal length 960mm
Mount: Ieq45
Camera: QHY8
Filter: IDAS LPS
Image Details: 49x300sec, Darks, Flats, Bias applied
Captured with Nebulosity, PhD Guiding with 50mm mini guidescope and Orion SSAG, Stacked in DSS, Finished off in PS CS5.
Shot from home, image cropped
High Res -
Astrobin
Thanks,
Brian
David Ault
My M1 (cropped to 800x600):
Scope: Astro-Tech AT65EDQ (f/6.5, 422mm)
Mount: Losmandy G11 w/ OPWB
Camera: ATIK 314E (monochrome)
Software: Sequence Generator Pro, PHDGuiding, PixInsight
Location: my back yard outside of Austin, TX
Image Details:
Luminance: Orion SkyGlow Imaging filter, 43 x 5 minutes, taken on 12/04/2012
H-Alpha: Astrodon 3nm H-alpha filter, 13 x 30 minutes, taken on 12/12,17,18/2012
Other Notes: Processed with flats, bias and darkflat frames, no darks (I use defect maps).
High-res version:
http://astrob.in/full/27856/
Thanks,
David
Mike7Mak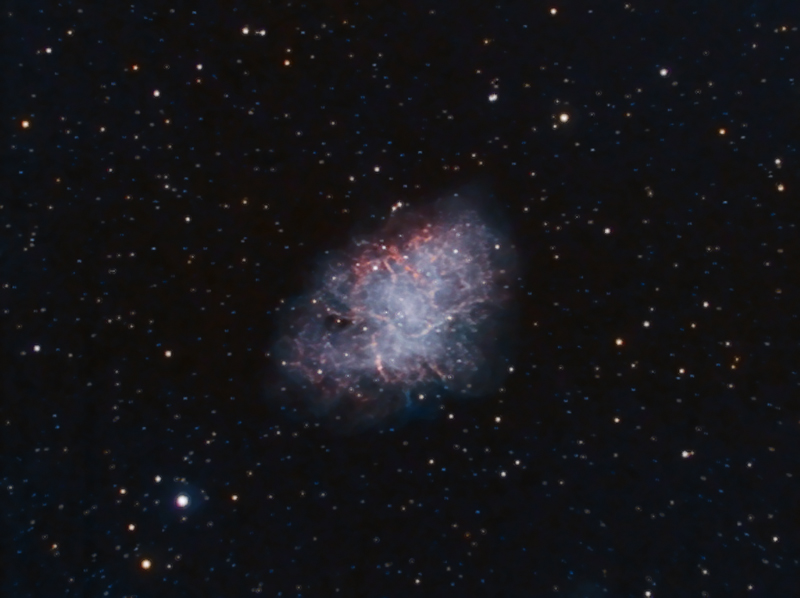 Messier 1 Crab Nebula

Captured Nov 14 2012

Meade 7" mak LX200gps

DSIc w/.33 reducer

37 x 5 minutes Astronomik uv/ir

PHD, Nebulosity3, StarTools

Same image on AstroBin:

http://astrob.in/24928/B/

Good Luck to all our entrants!

Charlie

&nbsp