My first H-alpha DSLR image. Managed to get 10m subs through my WO66. It was a warm 26F, and when I woke up this morning everything was covered in frost.
Processing this was tough. I wsn't quite sure how to do it. I ended up stacking in DSS in Superpixel mode which down scales the image. Then I took it into photoshop and copied out only the red channel. Then I processed it as greyscale. Seems easy, but greyscale reverses all of the curves tools, so I was struggling.
NGC1499 - The California Nebula
Scranton, PA - Redzone
28 X 10m lights, 15 darks, 25 flats, 25 bias
Canon XS, 12nm H-alpha filter, WO66 w/.8x reducer
Mach 1, Guided through Edge HD800
Larger Image
A new version with new processing and orientation.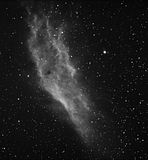 New Version