So we have ourselves a run-off! Who has brought us the best Messier 1 (the Crab Nebula)? Vote for your favorite from the following entries:
David Ault
My M1 (cropped to 800x600):
Scope: Astro-Tech AT65EDQ (f/6.5, 422mm)
Mount: Losmandy G11 w/ OPWB
Camera: ATIK 314E (monochrome)
Software: Sequence Generator Pro, PHDGuiding, PixInsight
Location: my back yard outside of Austin, TX
Image Details:
Luminance: Orion SkyGlow Imaging filter, 43 x 5 minutes, taken on 12/04/2012
H-Alpha: Astrodon 3nm H-alpha filter, 13 x 30 minutes, taken on 12/12,17,18/2012
Other Notes: Processed with flats, bias and darkflat frames, no darks (I use defect maps).
High-res version:
http://astrob.in/full/27856/
Thanks,
David
Mike7Mak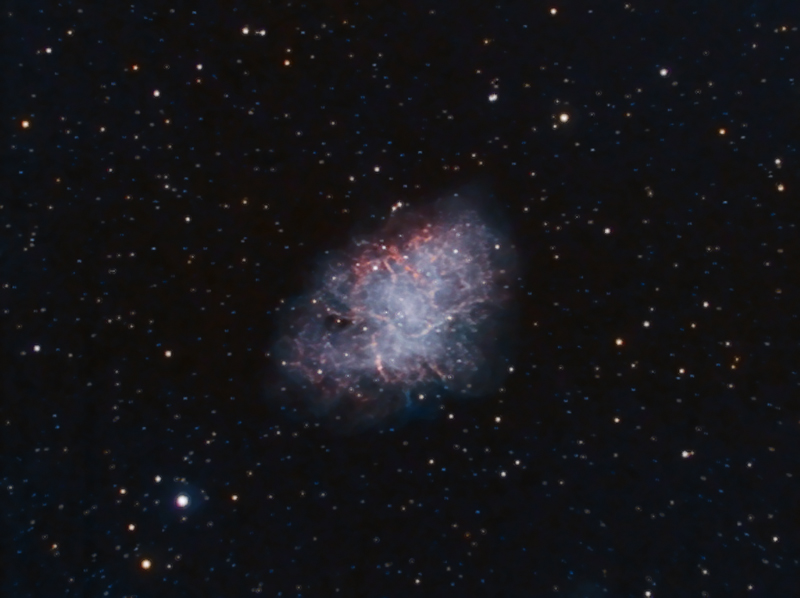 Messier 1 Crab Nebula

Captured Nov 14 2012

Meade 7" mak LX200gps

DSIc w/.33 reducer

37 x 5 minutes Astronomik uv/ir

PHD, Nebulosity3, StarTools

Same image on AstroBin:

http://astrob.in/24928/B/

Good Luck to all our entrants!

Charlie

&nbsp