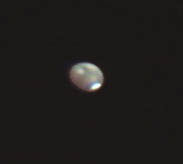 planets with the original DSI?
Started by
BillBrowning
,
Jan 13 2013 03:50 PM
Posted 13 January 2013 - 03:50 PM
does the original DSI give good results on planets? any pics would be great. Thanks
Bill

---
Posted 13 January 2013 - 06:44 PM
It does not - interlaced shutter in that camera/sensor make it very bad at short exposures of unstable object image. Plus it's a 16-bit / low gain/speed camera.

---
Posted 13 January 2013 - 06:59 PM
I don't think the non square pixels help either. I have a DSII Color and turned it on the moon once or twice, but the moon didn't really look good so I never tried anything else. I use it for guiding and nothing else.

---
---