NGC 3079 is a barred spiral galaxy approximately 50 million light-years away in Ursa Major. The Hubble has shown this galaxy to have a bubble in the center created by large bursts of star formation.
The more interesting object in this image is the Twin Quasar (also the Double Quasar or Old Faithful). In simple terms, quasars are compact regions at the center of a galaxy that are much brighter than the rest. These are so bright that they show up as pin-point objects like stars and can be billions of light-years away. More information can be found here -
Wikipedia
.
What makes the Twin Quasar somewhat unique is that it is a single object. It is located approximately 8.7 billion light-years away. There's a galaxy (YGKOW G1) approximately 3.7 billion light-years away that is positioned between Earth and the quasar. This galaxy bends the light from the quasar so that it shows up as two light sources. This phenomenon is called
gravitational lensing
. First described by
Orest Chwolson
, but usually associated with Einstein, observations didn't prove this until the Twin Quasar was discovered in 1979. The two mag 17 light sources are separated by 6 arcseconds. The light from one of them reaches us approximately 417 days before the other.
Thanks to
Haren Boren
for posting his image to "suggest" this target. There's just something neat about imaging an object 8.7 billion light-years away from my driveway in the city.
Luminance – 12x600s – 120 minutes – binned 1x1
RGB – 4x600s – 40 minutes each – binned 2x2
240 minutes total exposure – 4 hours
Imaged January 13th, 2013 with a SBIG ST-8300M on a 6" Astro-Tech AT6RC at f/9 1368mm.
See the full size image links below.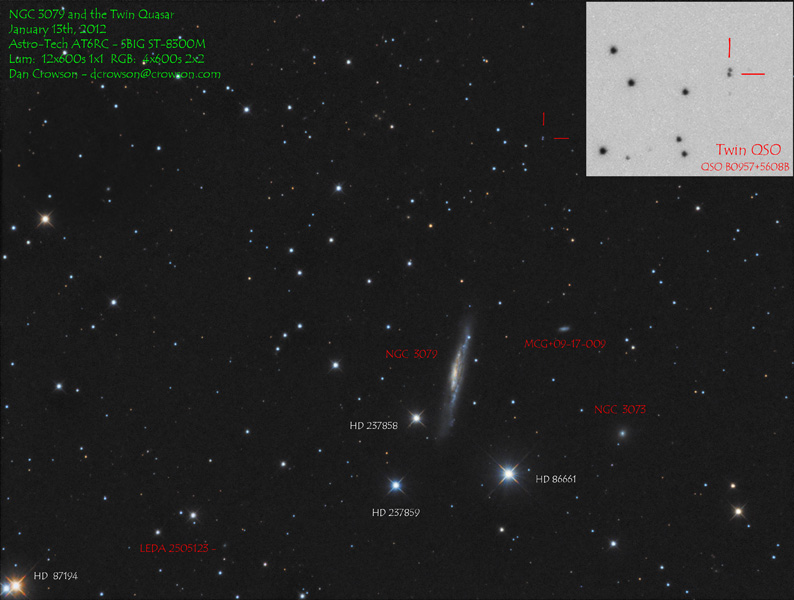 LRGB Full Size
LRGB Annotated Full Size
Dan