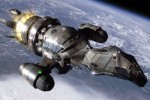 Orion UltraView 10x50 or 11x56 Oberwerk?
Started by
Alein 1630
,
Jan 21 2013 05:34 PM
Posted 21 January 2013 - 05:34 PM
I'd like a pair of binoculars and am seeking advice on what I should get, Orion's Ultraviews or Oberwerk 11x56

---
Posted 22 January 2013 - 05:27 AM
I think they're both fairly decent budget binoculars. I would probably have a preference for the Ultraview's twist-up eyecups. They both have a reduced effective aperture, 46mm for the 10x50 Ultraview and 48mm for the 11x56 Oberwerk, so they're not as far apart as you might think in reach. 11x does pull in a bit more than 10x.

---
---