We are very pleased and proud to present the January 2013 entries in the DSLR Challenge. The poll will close on February 8 at Midnight. The winner will be announced at our earliest opportunity after the poll has closed.
Here are January's entries!
Dan Watt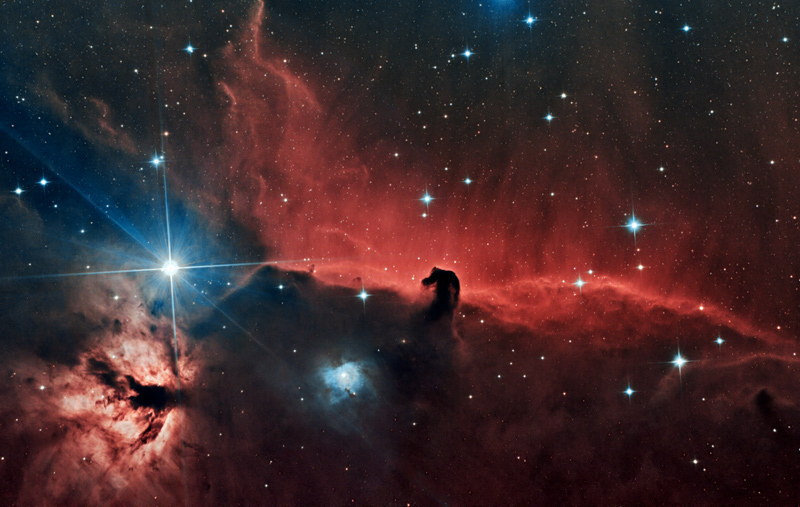 Image Location and Date: Orange County Astronomers dark site in Anza, CA
Object: IC 434 Horsehead & Flame Nebula
Mount: Orion Atlas EQ-G
Imaging scope: Orion 8" f3.9 Astrograph
Imaging FL: 800mm
Imaging focal ratio: f3.9
Imaging camera: Canon 1100D (Rebel T3) Modded
Lights: 26x300sec @ ISO 1600 RGB
36x300sec @ ISO 1600 HA
Calibration: Darks, flats, Bias
Guide scope: SV Nighthawk II with Orion StarShoot Auto Guider
Other details: guiding with PHD, captured with APT, processed in PixInsight + PS
High Res
carlo rocchi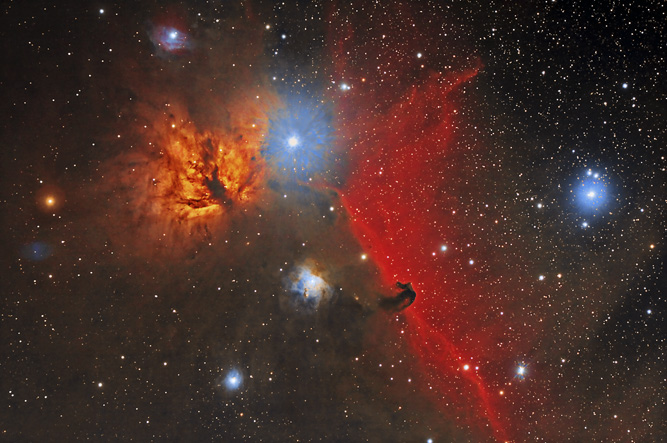 Here's mine
St. Barthelemy (Italy) on November, 16th 2012
Canon 40D Central d.s. on Televue 102 f/7 (Televue 0.8x flattener reducer)
Mount: Takahashi EM-200 Temma 2M
Guiding: Magzero 5M on SW 70/500 - Phd Guiding
Capture: Image Plus Camera Control + dithering
Stacking: Iris
Processing: Pixinsight, PS
Frames: 30x5min. 1600 Iso, 22 darks, 15 flats
WhitenerJ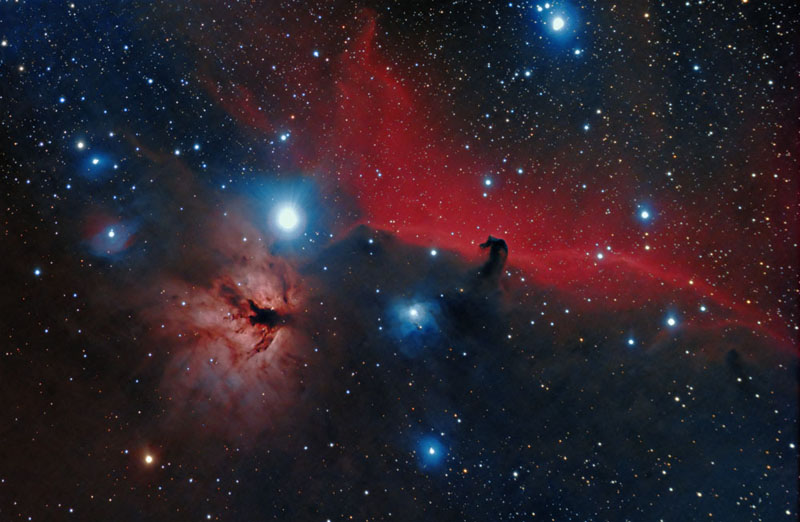 Object: Horsehead Nebula.
Scope: Orion EON 80mm
Mount: Orion Atlas EQ-G
Camera: Canon T2i Modified by HyperCams
Guide Scope and Camera: Orion mini guide kit. 50mm and SSAG
Location: 12/12/12 at Atoka, OK. (Texas Astronomical Society Dark Site)
Exposures: 19 600" ISO 800
Processed with DSS and Photoshop CS 5.5
Larger Flicker link:
http://farm9.staticf...333a048b8_k.jpg
Thanks, Jason Whitener
split-city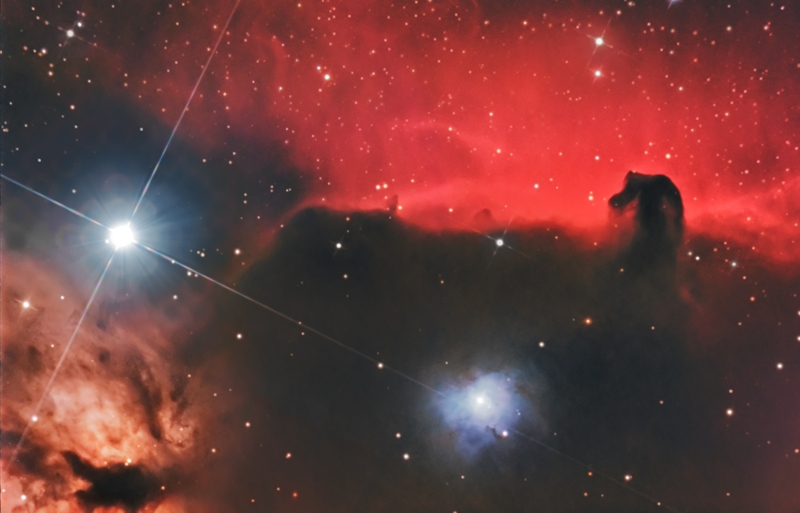 Location: My backyard in Adelaide, Australia
Sessions: Taken over 8 nights
Temperature: 15-25 degrees Celsius
Object: Horsehead Nebula
Scope: GSO RC8
Focal length: 1600mm
Focal ratio: F/8
Mount: EQ6
Imaging camera: Modded Canon 30D
Guide scope: 60mm f/11 Tasco refractor
Guide camera: unmodded toucam
Exposures: 120 x 5 mins @ ISO1600
Lights, darks and flats calibrated using DSS. Processed in CS3
Hi Resolution image (3MB)
Skyshooter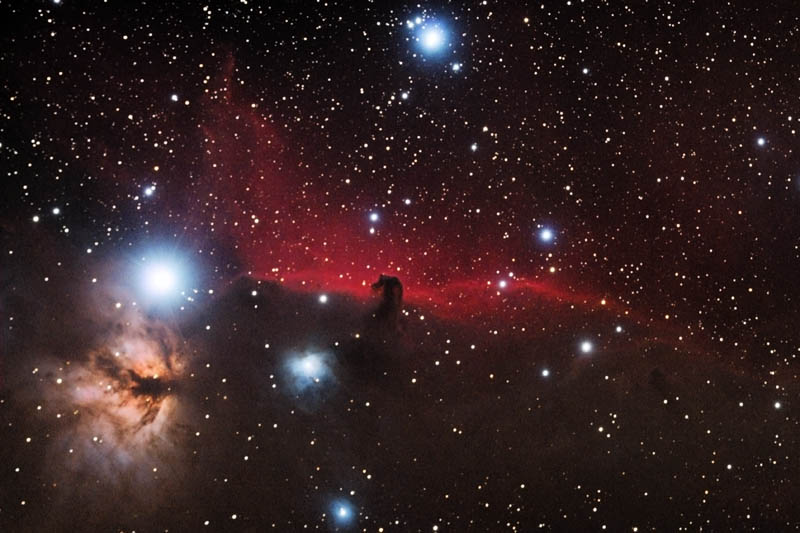 Date: Jan.4,2013 - Horsehead and Flame nebulae
Camera: Canon 1000D (Hap Griffen Mod) w/2" ATFF
Scope: SVR90T, 630mm FL, F/7
Guidescope: ZS66 w/ SSAG, PHD guide
Mount: Losmandy GM8 Gemini2
Exposure: 25x5 minutes, 10 darks, 15 flats
Processing: DSS, Photoshop CS5
Higher resolution image here:
http://www.flickr.co...011/8430677656/
FloridaObserver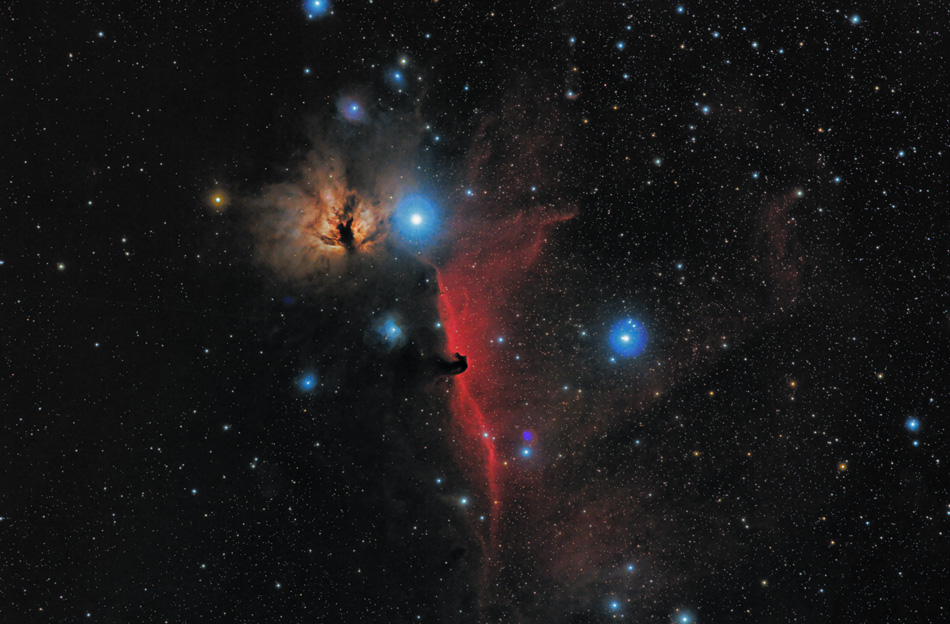 Location: SW Florida

Dates: 11/23/12, plus several days in late December and early January, 2013

Imaging Scope: Televue 60mm Imaging System

Guiding Scope: Orion Short Tube 80

Guiding Software: PHD

Mount: Hypertuned CGEM

Imaging Camera: Honis Modified T2i

Filters: Astronomik 6nm H-alpha

RGB: 26 exposures at 300 seconds, ISO 800, 9 flats

H-alpha: 8 exposures at 900 seconds, ISO 1600, internal dark frame subtraction

Pre-Processing: Nebulosity for stacking and DDP development

Post-Processing: Photoshop CS5 with Carboni Actions and Gradient Xterminator

High Resolution

http://www.astrobin....30922/?mod=none

Congratulations and good luck to each entrant!

*

&nbsp