I bought a StellarVue refractor ( SV80ST-25SV )and a field flattener that goes with it ,to fit my Canon T3. I still have 3 weeks to wait until it arrives...
I have seen other model wich one end screws to the T-ring and
the other end is a 2"end that goes in the 2" of the focuser !
But the one I bought is different and I don't understand how it fits on the scope or the T-ring....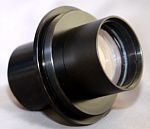 Can someone explain to me how this fits ??? A picture or a drawing would be very cool...
Thank you for helping me !
Maxx