What's a "Super Porta"? Well, some CN'ers have updated the tripod legs or tripod of the Vixen Porta and Porta II altazimuth mounts. Another has updated the saddle with an ADM product.
I've done both. I had a Celestron ASGT (CG5-GT) tripod left over from another project and I ordered a Porta II head to go with it, to serve as the basis for a grab-&-go telescope.
Also, I have the 6" long ADM saddle on my Celestron ASGT (CG5-GT) mount and like it. It's secure and doesn't chew-up the dovetail bars. Here on CN someone used the other ADM saddle for the Porta, a short, single knob unit that accepts both Vixen style and Losmandy style dovetail bars. I used the 6" two knob saddle, although it's sold for use on Takahashi mounts.
So, I put them together. The results are quite sturdy.
Super Porta!
One problem I discovered when mounting the Porta II head to the tripod: there were only 3 threads engagement between the tripod center bolt and the head adapter (the black piece that comes with the Porta II head). I took the washer off the tripod center bolt and that helped a bit (now 4 threads) but I'd like more, as the center bolt has approximately 8 threads. To do that, I machined off about .150" from the lower face of the head adapter, which increased the engagement to about 7 1/4 threads. I have a small milling table on my drill press and it's not the best but it does work with very light cuts and feeds:
The ADM saddle is p/n VSAD-TAK8 which is designed for Takahashi mounts and is drilled for 8mm capscrews on 35mm centers. It's a direct bolt-on (appropriate fasteners are provided with the saddle):
Here is the ETX90 OTA mounted.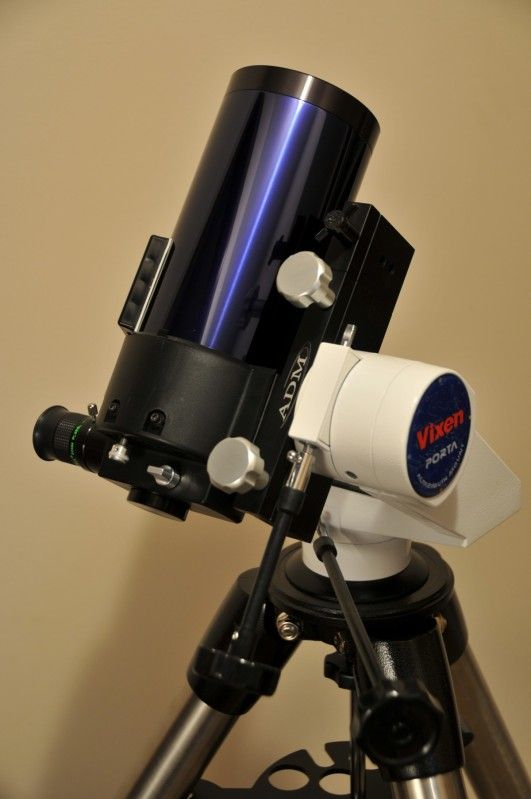 The rig will mainly use an 80mm F11.3 Astro-Physics guidescope. I'm waiting on tube rings from Crawmach. Other OTAs can be used too, the ETX as shown, the ST-80, and even the Vixen VMC200L although it only reaches about 80 deg elevation. The 102mm long tube refractor seems a little too much, even with the beefy tripod and saddle.