Who has brought us the best Siamese Twins, NGC 4567 & 4568? Vote for your favorite from the following entries:
SMigol
Here's my submission for the Siamese Twins.
Taken in the backyard in Menlo Park, CA, USA over two nights from March 15-16, 2013. 23 lights of 1200 seconds at 100 ISO for 7 hours of
integration.
127mm Orion Maksutov Cassegrain
Modified and Cooled Pentax K10D
IDAS LPS P2 filter
Losmandy G11 Gemini 2
Guided with Maxim using Orion ST80 with SSAG
Calibrated with Maxim using 12 darks, 64 bias, and 16 flats.
Registered and Stacked with Pix Insight.
Larger on Flickr
Full size on Astrobin
SergeC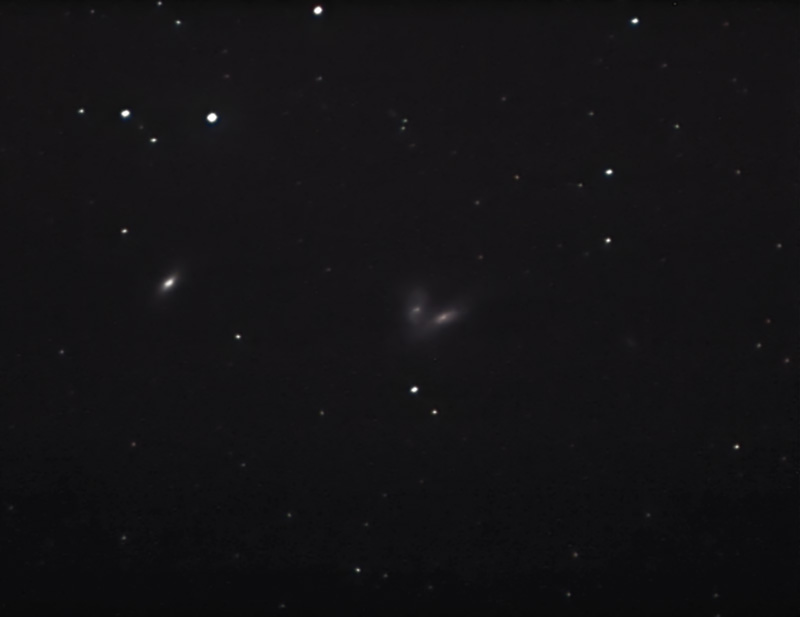 Wow, this was a tough one. Limited sky to the west due to trees (can't capture a lot after it crosses the meridian), most of town to the

east (lots of glow to about 45* above the horizon)...hard to capture photons. For what it's worth (and not much, at that) here's my stab at

NGC4567+NGC4568, the "Siamese Twins", with NGC4564 as a (small) bonus:

Location: Gainesville, FL (suburban backyard Bortle orange zone)

Date: 3/13

Imaging scope: Orion ST120 (120mm f5)

Camera: Orion StarShoot G3 color

Mount: CG5-GT

Guiding: SSAG on Orion ST80 driving PHD

Capture: Nebulosity 3

Frames: 10x300s, appropriate darks, flat lights and flat darks

Processing: pre-processing and stacking in Nebulosity 3, initial stretch in FITS Liberator, final processing in PS CS6

Good Luck to all our entrants!

Charlie

&nbsp