Who has brought us the best Owl Nebula, also known as Messier 97 or NGC 3587? Vote for your favorite from the following entries:
SMigol
Here is my image showing the Owl Nebula (M97). As a widefield image, it also shows M108.
Taken on two nights May 12 & 14, 2013 at a local dark sky site (Montebello OSP) N 37 19 32, W 122 10 44.
20 subs at 1200 seconds duration at 100 ISO for 6.7 hours of integration.
Telescope: Stellarvue SV4 with SSF6 flattener and IDAS LPS-P2 filter
Camera: Modified and cooled Pentax K10D DSLR
Guidescope: SV70ED with SSAG
Mount: Losmandy G11 with Gemini 2
Guided and Calibrated by Maxim DL
20 Darks (two sets of 10 to match the temperatures of different sessions), 40 Flats (20 for each session), 256 Bias
Stacked with DSS. Processed with PixInsight.
Would have liked to drive the background a bit lower, but this would have lost many of the faint galaxies.
Larger on Flickr
Larger on Astrobin
rflinn68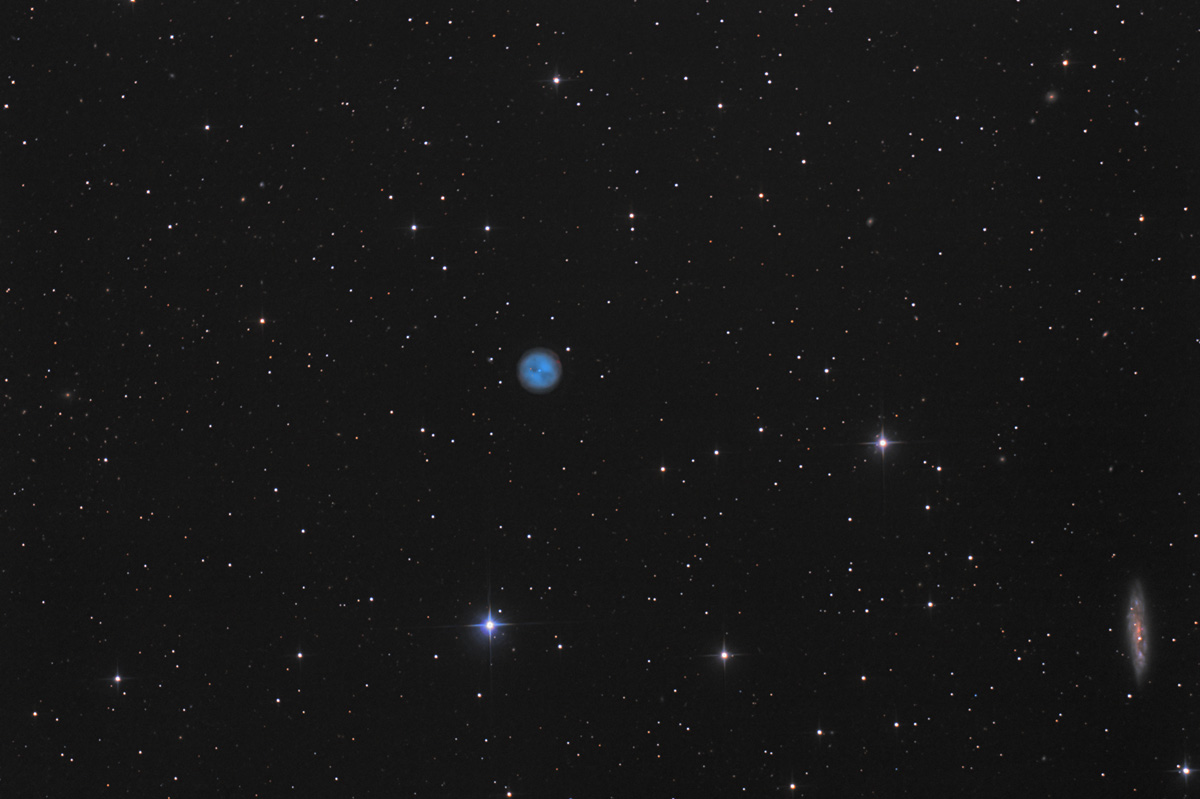 I got this one this week on the 13th and 14th from my backyard in Hagarville, Arkansas.
It is 36 subs of 300 seconds at ISO 800 with 60 darks, 20 flats, and 20 bias
Imaging scope: AT8IN
Imaging camera: Baader modded Canon T3
Guiding: Orion ST80 and SSAG
Mount: CGEM DX
Capture: BackYardEOS
Stacked with DSS and Processed with PS CS3
http://www.astrobin....users/rflinn68/
Momerath
Ohh well Ill give a submission. This was my first nebula and before I learned to use flats. This was taken on May 3rd
11"edge HD with .7x reducer.
20x300 at 800iso 20 darks.
Canon 60d not modded.
SergeC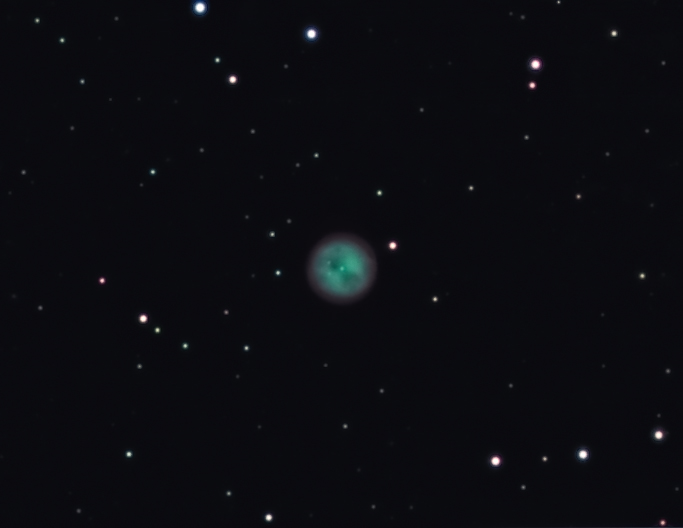 Popular target this month, here's my attempt:
Imaging scope: Orion ST120
Camera: Orion Starshoot G3 color with Baader Semi-APO filter
Guide scope: ST80, SSAG driving PHD
Mount: CG-5 ASGT
Capture: Nebulosity 3
Subs: 59 (of 68) x300s, total 295 minutes integration over 3 nights (4/16, 4/27 and 5/14/13)
Processing: Neb3 (stacking), FITS Liberator (initial stretch), PS CS6
Thanks for looking, and clear skies!
p1taylor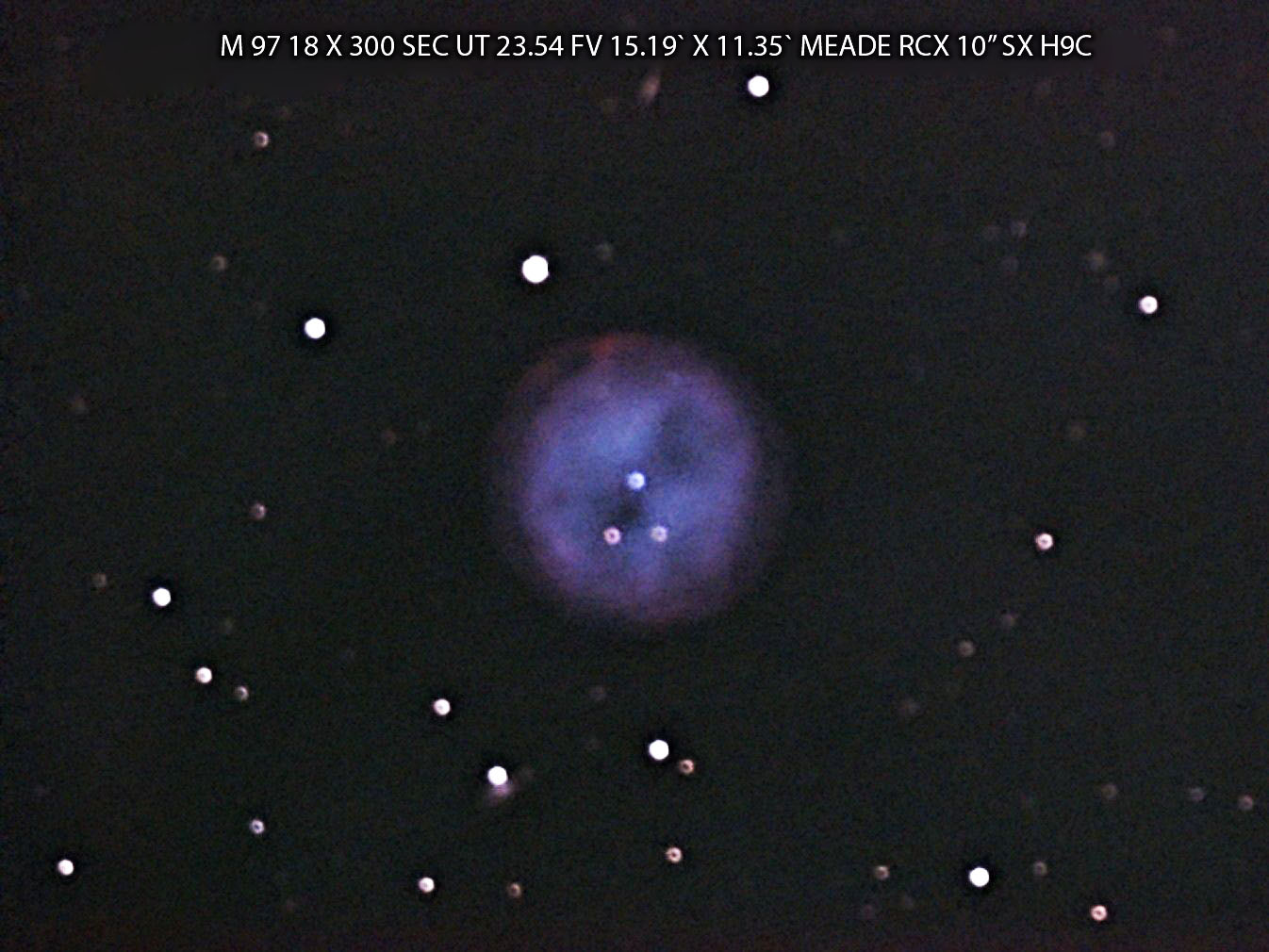 This is my go at M97

peter

*

&nbsp