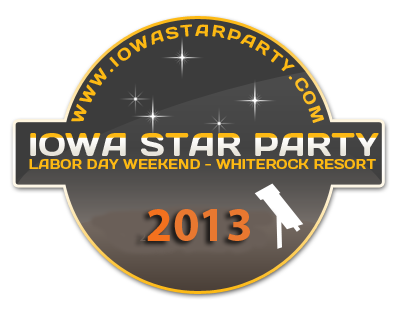 11th annual Iowa Star Party is Thursday, August 29th through Monday, September 2nd at the beautiful
Whiterock Conservancy
, located east of tiny Coon Rapids. This site is located roughly halfway between Omaha and Des Moines, about 30 miles north of I-80.
Website:
http://www.iowastarparty.com
Facebook page:
https://www.facebook.com/IowaStarParty
Whiterock has a dedicated 'Star Field' which offers some of the darker skies I've seen in Midwest 'farming country' east of the Missouri. I should think folks from Chicagoland, St Louis, etc would benefit from the modest drive.
A dinner is provided Saturday, followed by a speaker. Last year's speaker was Dr. Curtis Struck, of Iowa State University, who gave an interesting talk on colliding galaxies.
Here's a nice story from a past ISP at UniverseToday.com...
http://www.universet...rest-star-party