Who has brought us the best M8? Pick your favorite from the following:
frito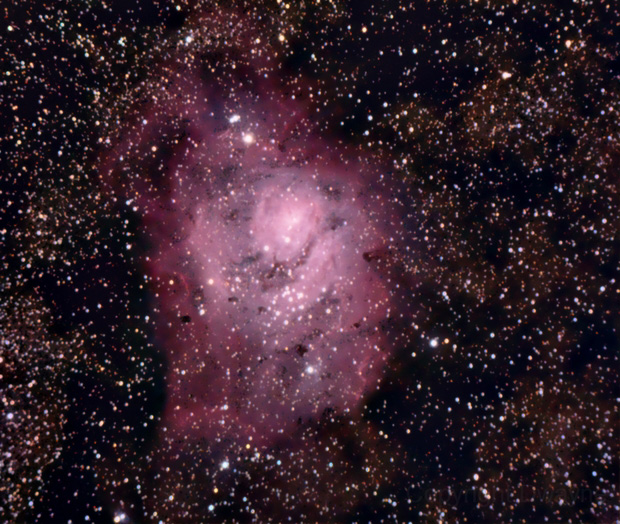 Captured last month, 30 min integration time from a orange zone south of San Jose, CA
Equipment used
Scope: WO ZS 66SD semi-APO refractor
Camera: Canon Rebel XT (350D) uncooled, unmodified no filters
Mount: Celestron CG-5 AGT unguided
Capture program: BackyardEOS
Image Processing: DSS for registering and stacking only, Photoshop CS6 + Carboni's actions for processing.
link to full size image
http://www.astrobin.com/44591/B/
rflinn68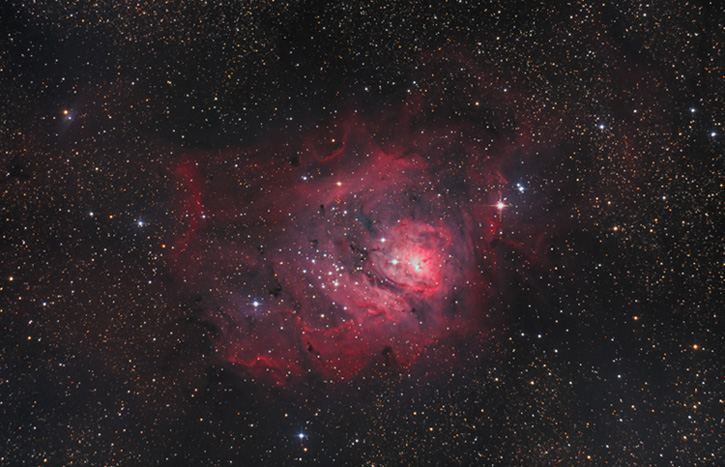 This was taken over two nights on June 11 and June 12, 2013 from my backyard in Hagarville, Arkansas. It is 28X300sec at ISO 800. Calibrated with darks, flats, and bias frames. Full resolution image here:
http://www.astrobin.com/full/46349/B/?
Imaging scope: AT8IN
Imaging camera: Gary Honis modified Canon T3
Guiding: PHD with Orion ST80 and SSAG
Mount: CGEM DX
Capture: BackyardEOS
Stacked with DSS and processed with Photoshop CS3 and StarTools
willem123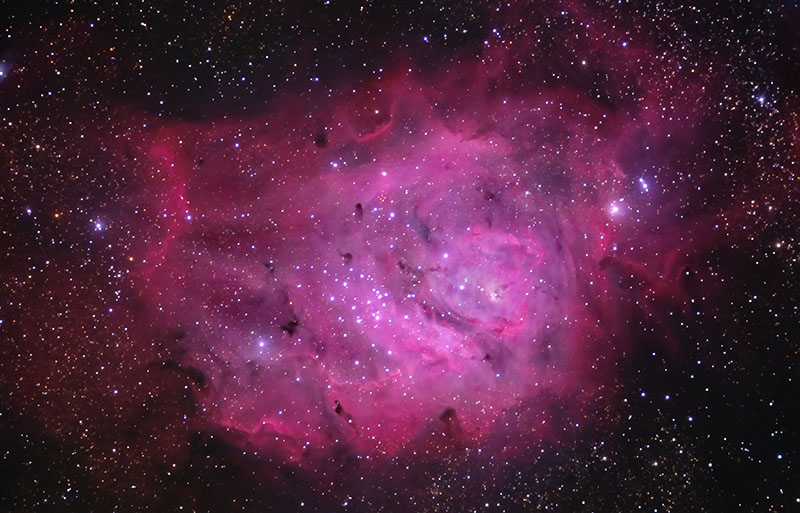 Hi guys,
M8 - The Lagoon Nebula,
40x240sec. subs + darks and 7x60sec. subs.
Modified Canon 1100D(T3).
Skywatcher 120ED Pro Refractor.
SW EQ6 Mount guided with Celestron Nexguide autoguider.
Location: Mountain Sanctuary Park, South-Africa.
Larger version:
http://astrob.in/48954/
SergeC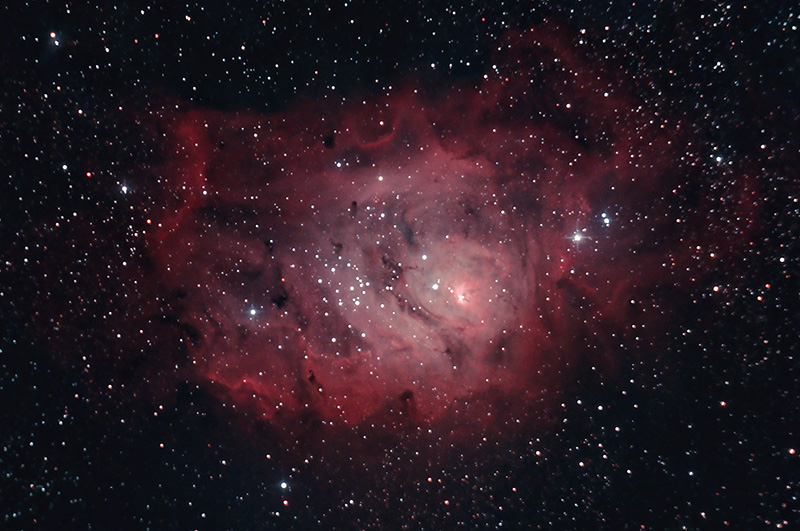 When I captured this, I hadn't yet received the extension rings to position my camera the proper distance from the coma corrector, so this isn't the best image I would have liked to submit. This has been one of the wettest July's in recent memory here, so there've been precious few opportunities to snag photons, and none coming up before the contest deadline, so I'll go with what I have.
Date: 2013 07 07
Location: Gainesville, FL (backyard suburban orange zone)
Imaging telescope: Astro-Tech AT8IN
Camera: QHY8 OSC
Mount: CGEM
Guiding: Orion Mag-Mini, Orion SSAG, PHD
Frames: 13X300s lights, 9X300s darks, 104 bias, 19 flat lights, 19 flat darks
Filters, correctors: Baader MPCC-III, Orion SkyGlow Imaging filter
Software: Nebulosity 3 (capture, stacking); StarTools; PS CS6
Greatly resampled to fit the upload constraints, full resolution tiff available
here
Thanks for looking, and clear skies!
svtdoug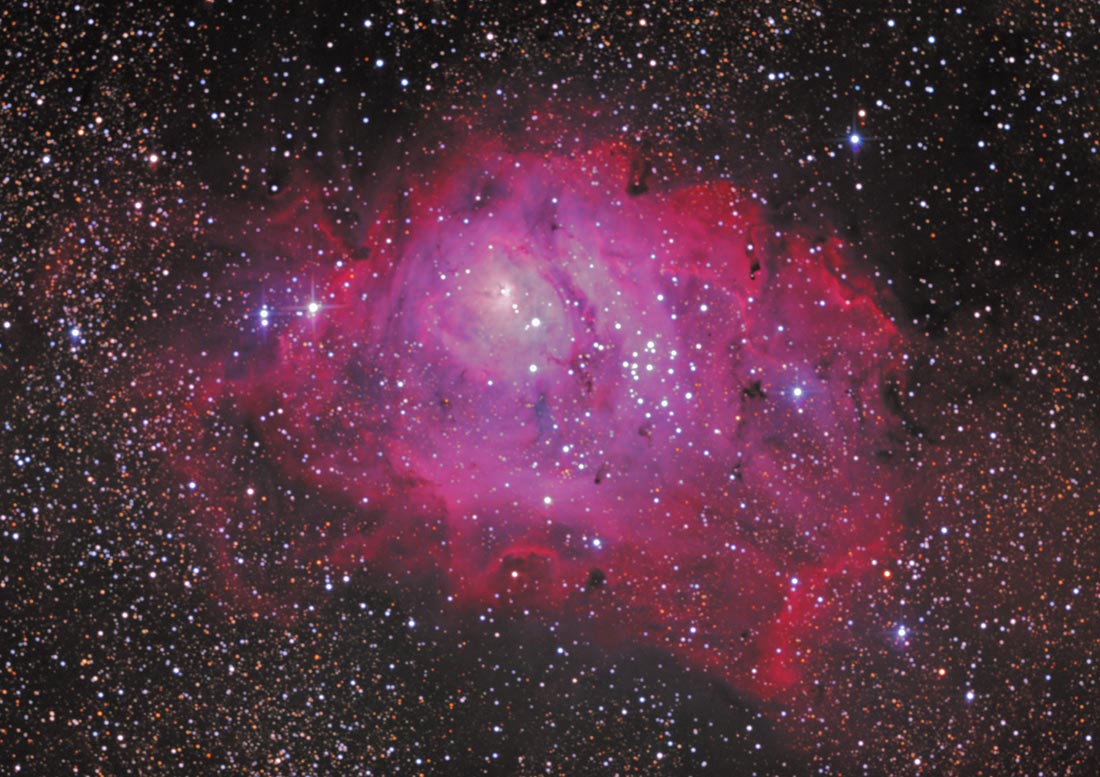 Here is my image of the Lagoon Nebula - M8. This image was taken the night of 6/8/13 from near Goldendale, WA, at the Pixieland Star Party.
Imaging scope - Orion 8" Astrograph Newtonian.
Imaging camera - Canon XSi Modified
Mount - CGEM (self hypertuned)
Guiding - ST80 and SSAG
Capture - BYEOS
Stacked in DSS, processed in PS-CS3
Image consists of 40 frames of 180s for total of 2hrs.
Darks, flats and Bias subtracted.
Higher resolution
here.
JoeR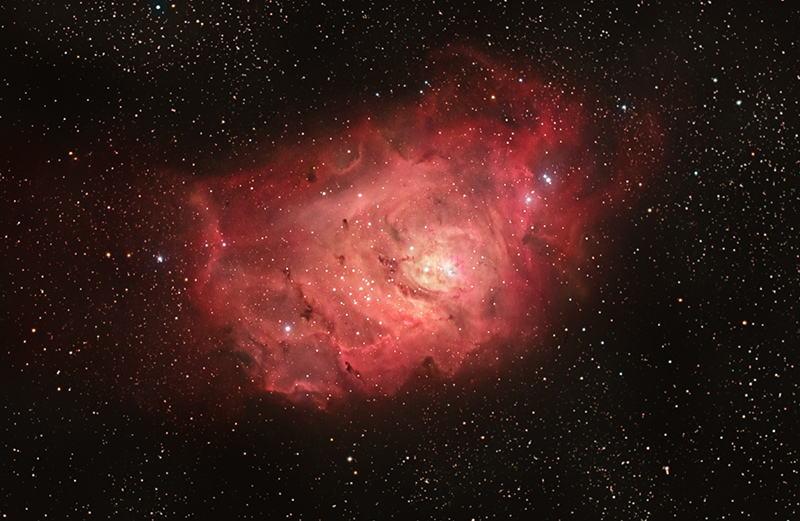 M8 07.10.13
Celestron CPC Deluxe 1100 + Hyperstar III
Canon EOS T3i Badder mod + Astronomik CLS filter
40 subs @ 30 seconds ISO 800 + darks & flats
stacked in Nebulosity processed in PS6.
larger resolution on my
web site
Phil Hosey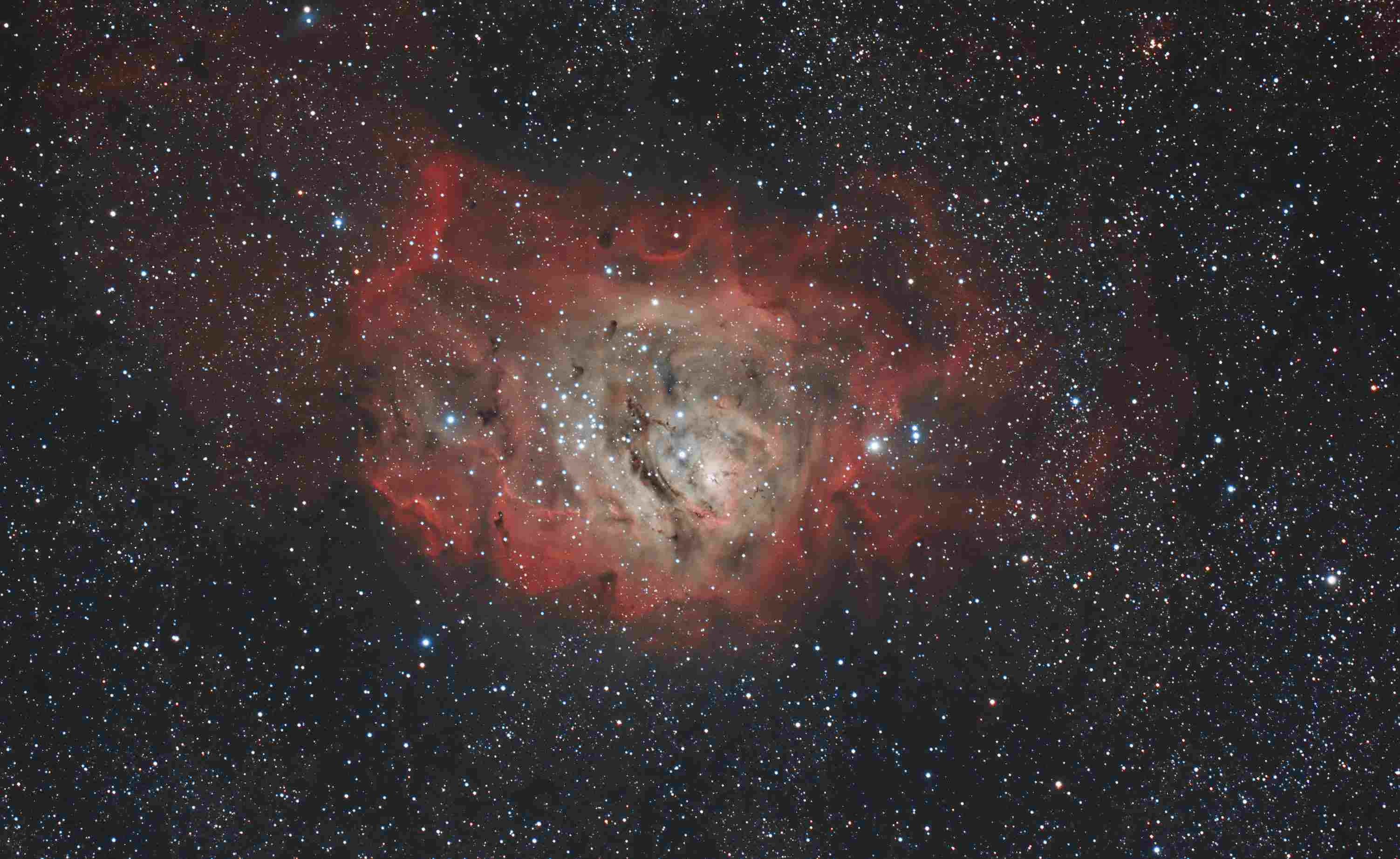 Here's my M8 taken from my backyard on 6/16/2013. I used QHY8L color CCD through a TMB-130SS with a William Optics Flattener IV. All processing was done with PixInsight. Exposures were 19 x 300" and 3 x 600" through an Astronomik CLS-CCD filter.
You can see a larger version here:
M8 The Lagoon Nebula
Thanks for looking!
PenumbraX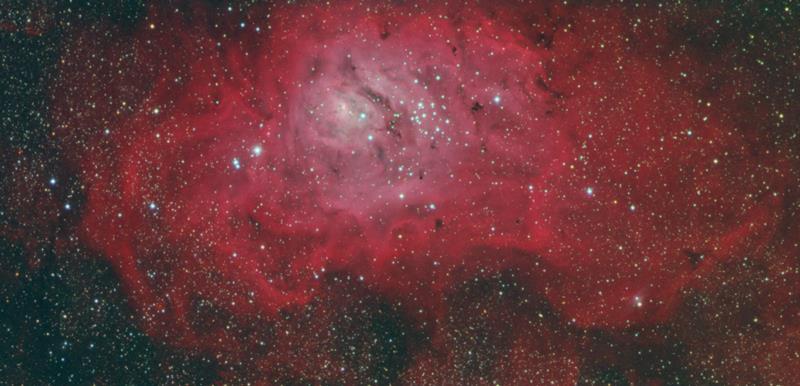 Messier 8 - The Lagoon Nebula
This image was taken on the nights of July 4 and July 5, 2013 near Thornton, WA (Bortle Scale: 2)
Images were calibrated with 25 Darks, 10 Flats, and 20 Bias frames.
H-Alpha: 9 x 900 seconds
R: 3 x 300 seconds
G: 7 x 300 seconds
B: 11 x 300 seconds
Imaging telescope: Astro-Tech AT65EDQ
Imaging camera: SBIG STF-8300M
Mount: Orion Atlas EQ-G
Guiding camera: SBIG ST-i Mono with an OAG-8300
Filters: Astrodon H-alpha 5nm, Astrodon Tru-Balance E-Series RGB
Software: All stacking, calibration, and processing was done in Pixinsight. PHD was used for guiding. CCDSoft was used for acquisition.
Thanks for looking!
Full image located at astrobin
Jeff2011
My best effort with an unmodded camera from a very light polluted location.

Almost 3 hours of integration time

July 10 2013 35 x 130 sec frames

July 29 2013 48 x 130 sec frames

ISO 400

Darks + Flats + Dark Flats

Camera: Canon T3i

Scope: AstroTech 6" Imaging Newtonian

Mount: Celestron AVX

Filters: Baader Sky Glow

Correctors: Baader MPCC III

Guiding: Orion 50mm Mini/QHY5L-II/PHD

Capture Software: Backyard EOS

Processing Software: Deep Sky Stacker/StarTools

Location: My Backyard

Full Size Image Here

[*]

&nbsp