Who has brought us the best M27? Pick your favorite from the following:
SergeC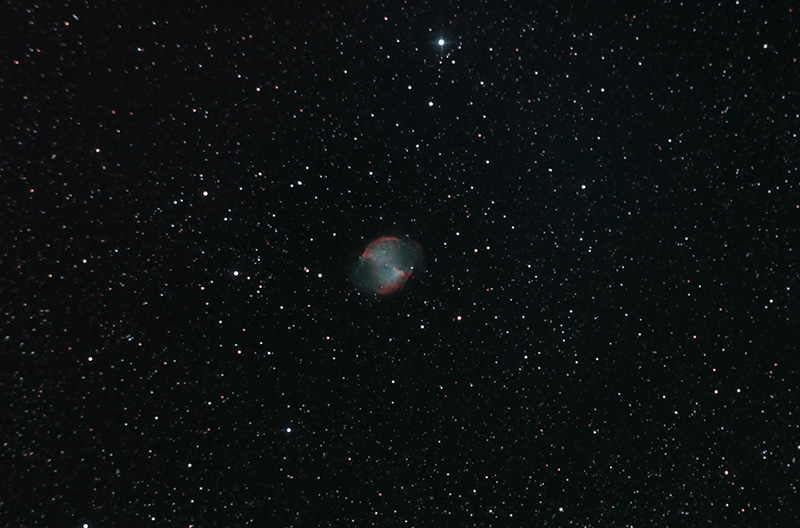 When I captured this, I hadn't yet received the extension rings to position my camera the proper distance from the coma corrector, so this isn't the best image I would have liked to submit. This has been one of the wettest July's in recent memory here, so there've been precious few opportunities to snag photons, and none coming up before the contest deadline, so I'll go with what I have.
Date: 2013 07 07 and 2013 07 08
Location: Gainesville, FL (backyard suburban orange zone)
Imaging telescope: Astro-Tech AT8IN
Camera: QHY8 OSC
Mount: CGEM
Guiding: Orion Mag-Mini, Orion SSAG, PHD
Frames: 12X300s + 13X360slights, 9X300s + 8X360s darks, 104 bias, 19 flat lights, 19 flat darks
Filters, correctors: Baader MPCC-III, Orion SkyGlow Imaging filter
Software: Nebulosity 3 (capture, stacking); StarTools; PS CS6
Greatly resampled to fit the upload constraints, full resolution tiff available
here
Thanks for looking, and clear skies!
rflinn68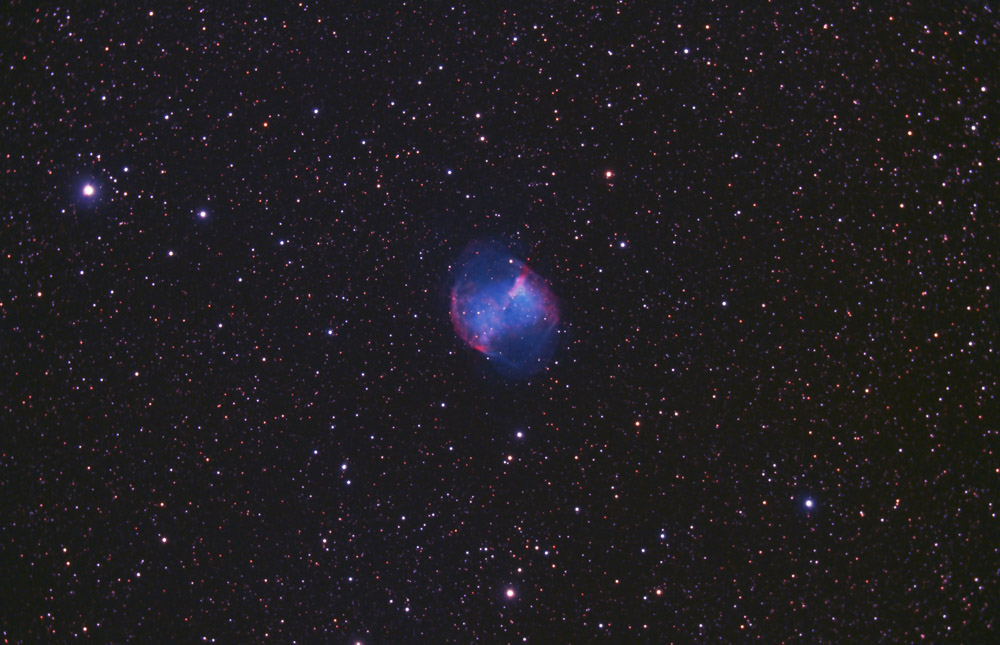 This was taken from my backyard in Hagarville, Arkansas on July 3, 2013. 24X300sec at ISO 800. 30 Darks, 30 Flats, ~200 bias.
Imaging scope: Celestron C8
Imaging camera: Modified Canon T3
Mount: Celestron CGEM DX
Guiding: PHD with Orion ST80 and SSAG
Capture: BackYardEOS
Reducer/Corrector: Celestron 0.63X
Stacked with DSS and processed with Photoshop CS3
Full resolution image here:
http://www.astrobin....47027/?mod=none
woolbrig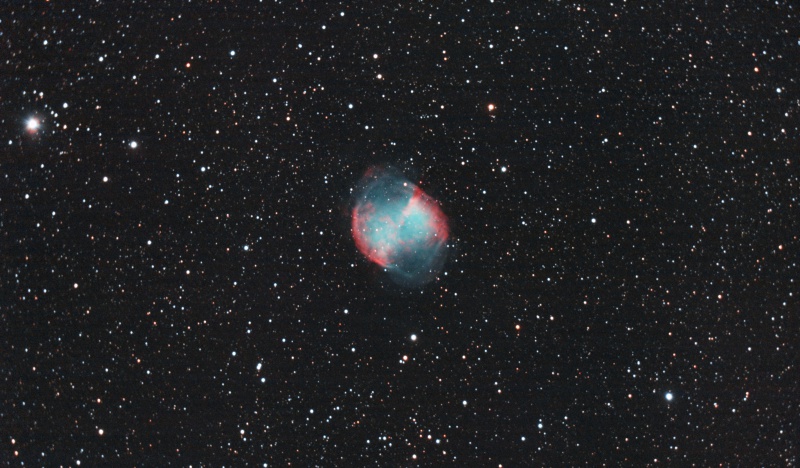 M27 was my test subject for learning to guide and take exposures over 1 minute. Needless to say I had a lot of bad frames. These were the best of the lot. This was also my first time using PixInsight.
Frames:
26-300 sec Lights (5 on 6/28/2013 + 6 on 7/03/2013 + 15 on 7/12/2013)
20-Flats
50-Bias
40-Darks
Date: 6/28/2013, 7/3/2013, 7/12/2013
Location: My driveway in Bethalto, IL
Imaging telescope: C9.25
Mount: CGEM
Camera: Gary Honis modified Canon T3i
Guiding: ST80/SSAG
Filters: Astronomik CLS Clip-In
Corrector/Reducer: Celestron 6.3
Software: Backyard EOS (Capture), Nebulosity 3 (stacking) PixInsight (Processing)
Full Resolution Image
svtdoug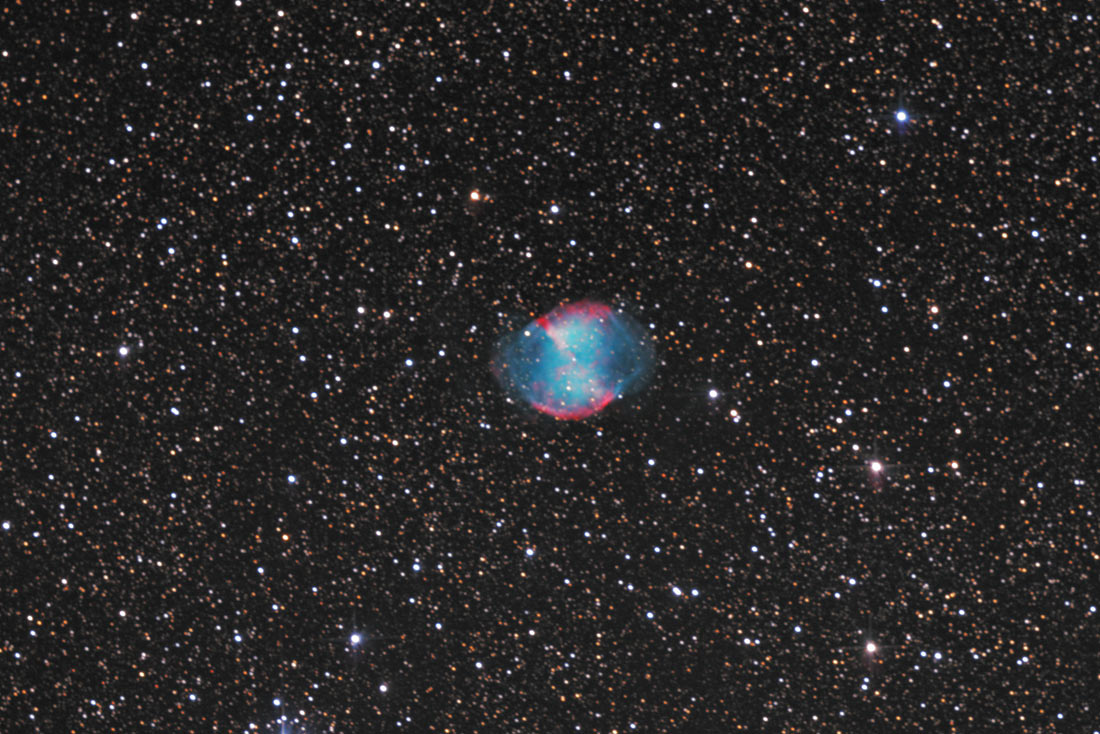 My image of M27 - the Dumbbell, taken the night of July 11th, 2013, at the TAS star party near Goldendale, WA.
Imaging scope - Orion 8" Astrograph Newtonian with MPCC.
Imaging camera - Canon XSi Modified
Mount - CGEM (self hypertuned)
Guiding - ST80 and SSAG
Capture - BYEOS
Stacked in DSS, processed in PS-CS3
Image consists of 15 frames at 480sec for a total of 2hrs.
Darks, flats and Bias subtracted.
Higher resolution
here.
mikewayne3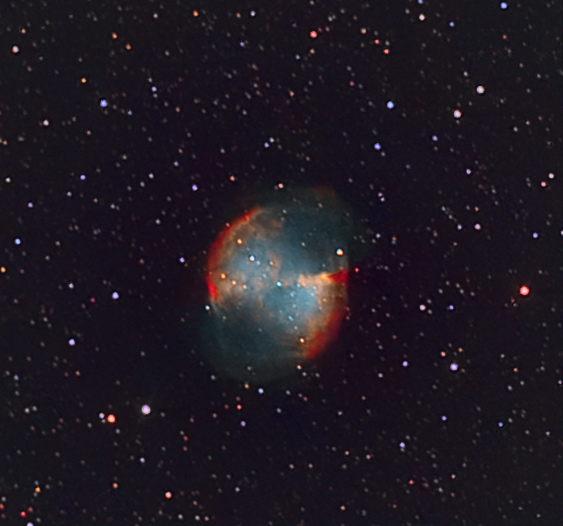 here's mine
this is 31 - 90 sec subs
imaged calibrated and combined in Maxim DL
processed in Photoshop CS2
Mike
PenumbraX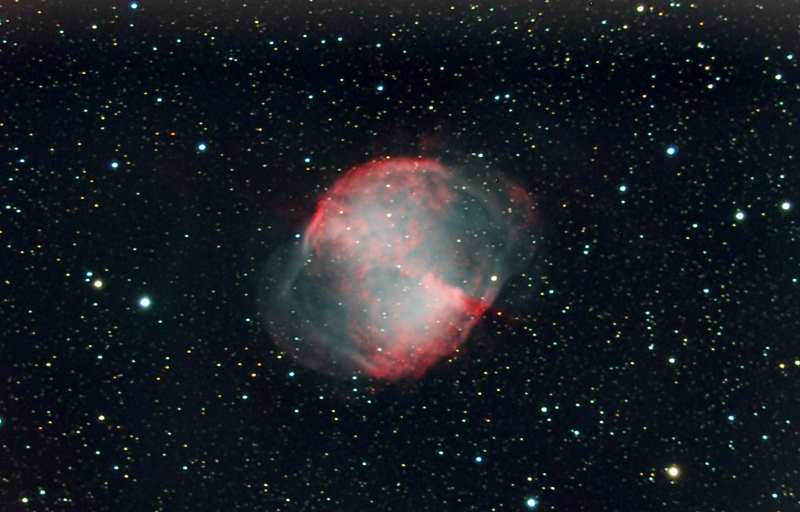 Thanks for looking at my image!

Dates: July 15, 2013, July 21, 2013

Object: M27 - The Dumbbell Nebula

Location: Lynnwood, WA (Red Zone)

Imaging Scope: Meade LX200 10" Classic with Celestron f/6.3 Focal Reducer/Corrector

Imaging cameras: SBIG STF-8300M

Mounts: Orion Atlas EQ-G

Guiding telescopes or lenses: Meade LX200 10" Classic

Guiding cameras: SBIG ST-i Mono

Software: Stark Labs PHD GUIDING, Pixinsight, Software Bisque CCDSoft 5

Accessories: SBIG OAG-8300

Astrodon H-alpha 5nm: 10x900" -15C bin 1x1

Astrodon Tru-Balance E-Series R: 11x300" -15C bin 1x1

Astrodon Tru-Balance E-Series B: 10x300" -15C bin 1x1

Astrodon Tru-Balance E-Series G: 10x300" -15C bin 1x1

Darks: ~25

Flats: ~10

Bias: ~20

Larger image can be found here.

[*]

&nbsp