Who has brought us the best the Pelican Nebula - IC 5070 and IC 5067
Vote for your favorite from the choices below:
SergeC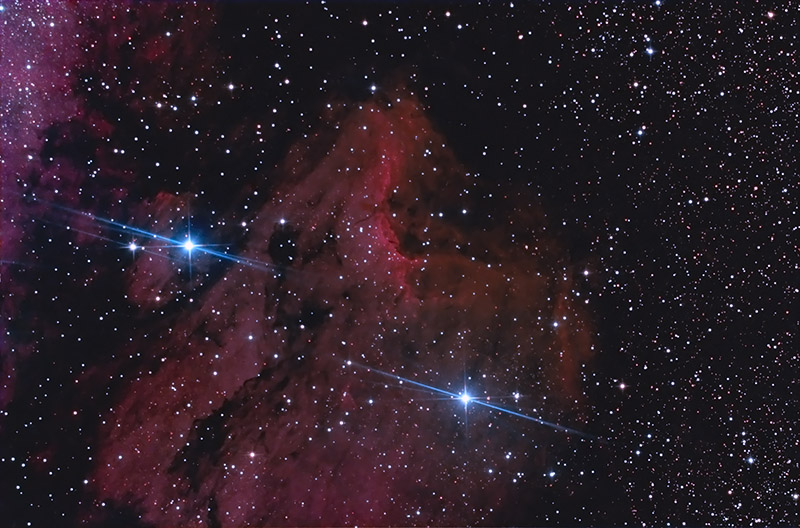 I'll start. Between the weather and the moon I won't have any more opportunities to image in August, so here's my one entry for this month's challenges: IC 5070 and IC 5067
Date: 08/9-10/2013
Imaging OTA: AstroTech AT8IN
Camera: QHY8 OSC
Mount: CGEM
Guiding: Mag-Mini/SSAG/PHD
Accessories: Orion SkyGlow Imaging filter; Baader MPCC-III
Subs: 20 X 360s, 10 darks (as bad pixel map), 15 flats, 15 flat darks, 80 bias
Software: Nebulosity 3 (capture, pre-process, stacking), StarTools, PS CS6
The image here is highly resampled to fit, please take a look at the full resolution tif,
which you can download here
.
Thanks for looking, and clear skies!
svtdoug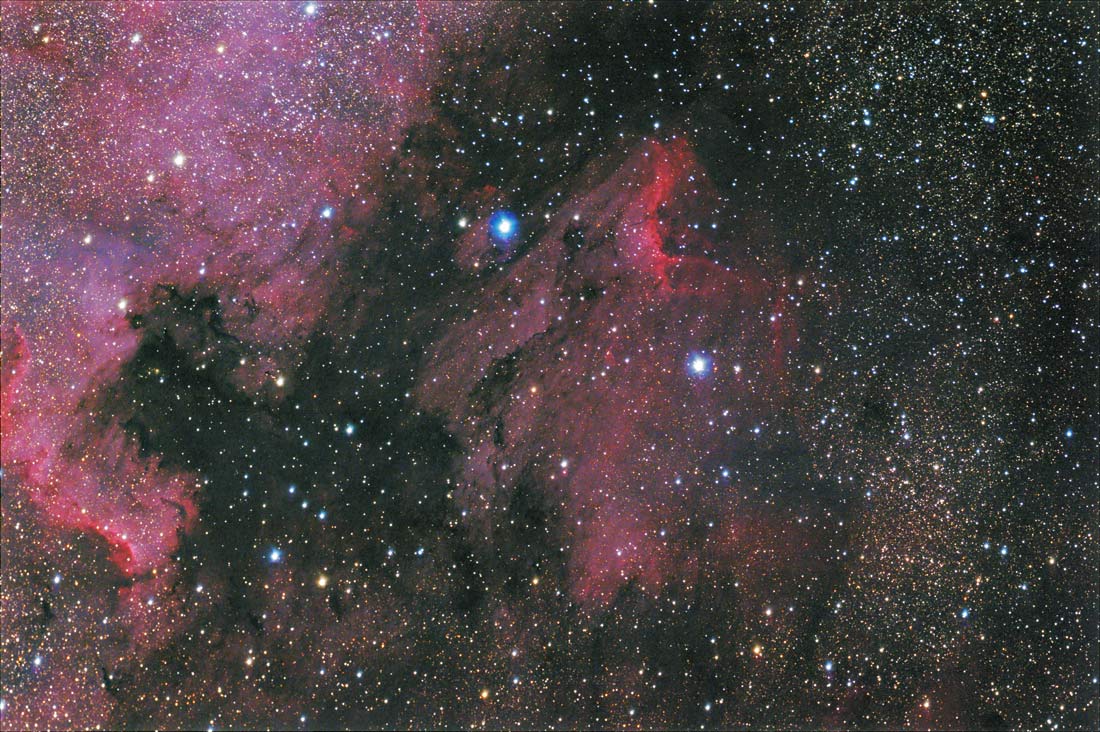 Here is my attempt at the Pelican. Taken the night of 7/13 of this year at the Tacoma Astro Society star party near Goldendale, WA.
Imaging scope - AT65EDQ refractor.
Imaging camera - Canon XSi Modified
Mount - CGEM (self hypertuned)
Guiding - ST80 and SSAG
Capture - BYEOS
Stacked in DSS, processed in PS-CS3
Image consists of 15 frames at 600sec each for total of 2hrs, 30 min
Darks, flats and Bias subtracted.
A higher resolution image is
here
.
ky1duck
my last minute try. 8/29/13
AT72ED
canon T1i Self Modded
IEQ45
orion SSAG
15 300sec subs, darks and bias, no flats
full size
http://www.astrobin.com/54568/
SMigol
Here is my entry, done on August 3 2013 in my suburban backyard in Menlo Park, CA, USA.

Stack of just two frames before the marine layer stole the sky, it required quite a bit of work after calibration to get a good picture out of it.

Stellarvue SV4 with SSF6 flattener, IDAS LPS P2 filter

Modified and Cooled Pentax K10D camera

Calibrated with 10 darks, 10 flats, and 260 bias using Maxim.

Stacked in DSS

Processed in PixInsight using TGVDenoise after stretching.

Large on Flickr

|

Fullsize on Astrobin

*

&nbsp