Who has brought us the best M31 - The Andromeda Galaxy? Vote for your favorite from the following entries:
Magellan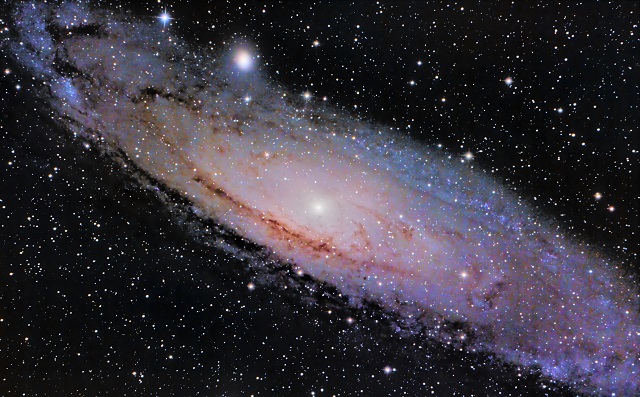 Object: M31 / Andromeda Galaxy
Location: Enfield, NS Canada
Camera: Canon XSi / 450D Gary Honis Full Spectrum modified
Filter: None
Telescope: Orion 8" F4 Astrograph
Mount: Celestron CGEM
Guiding: Celestron 80mm Guidescope with an Orion Starshoot Autoguider.
Focusing: Rigel nStep ASCOM stepper Focus Motor
Subs_RGB: 15x300s @ ISO800
25 Darks, 25 Bias, 25 Flats
Aquired with: Sequence Generator Pro
Processing: DSS
Post-Processing: Pixinsight 1.8 RC7
Link to Larger image:
http://www.astrobin....57049/?mod=none
SergeC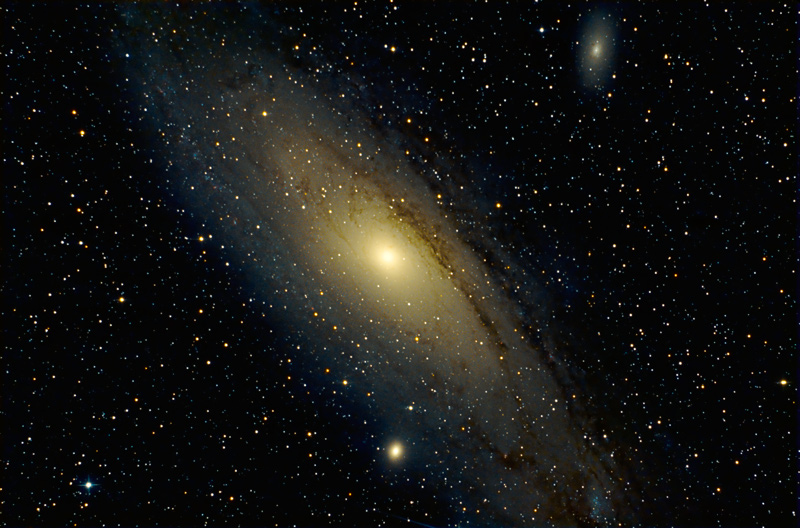 Here's my entry.
Date: 9 Aug 2013
Imaging OTA: AT8IN
Mount: CGEM
Camera: QHY8 OSC
Guiding: Mag-Mini/SSAG with PHD
Accessories: Baader MPCC-III coma corrector; Lumicon LPR filter
Software: Nebulosity 3 (capture/pre-processing/stacking); PS CS6
Frames: 30X360s; flats, darks and bias applied
Full resolution
available here
Thanks for looking, and clears skies.
evan9162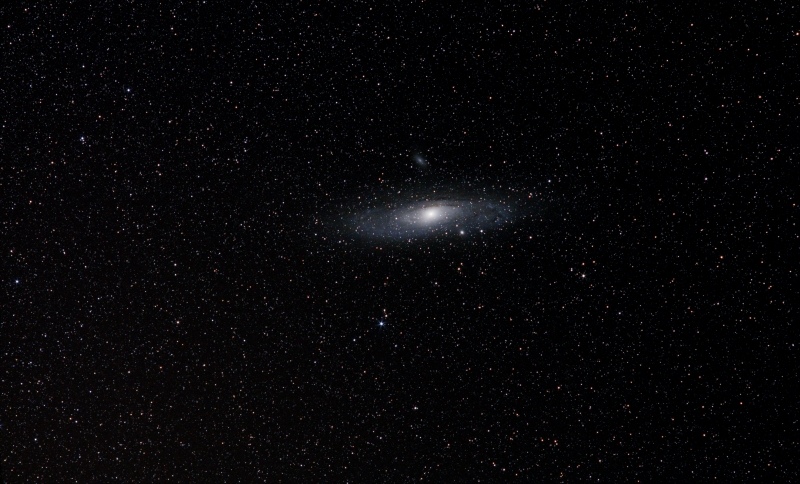 Jumping right in!
M31 wide field
Date: 9/7/2013
Location: 20 miles SW of Boise, ID
"Scope": SMC Takumar 135mm F4 lens @ F5.6
Camera: Canon T4i/650D stock
Mount: Home made motorized barn door tracker
Capture: Hand timing with IR remote
Frames: 15x240", 10 darks, 16 bias
Software: DSS & PS CS2
Full size:
http://www.astrobin.com/full/55729/B/?
DaddyBear123
Heres my first ever entry. The photo was taken at the Northern Prairie Star Fest, Alberta, September 4 and 5.
Camera : 60da
MOUNT: ASCG5
SCOPE:WILLIAM OPTICS 80MM EDII
GUIDING:PHD
EXPOSURES: 20 180SEC
DARKS: 10
STACKED:NEBULOSITY
POST PROCESSING: PIXINSIGHT
nine44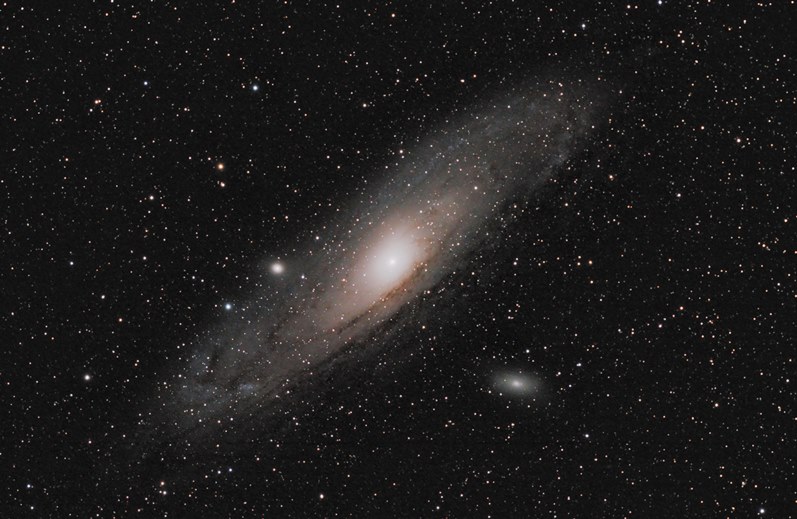 OK--my first ever entry! Taken from my red zone back yard over 2 nights (Sept 13/14):
73X240s lights
30 darks
50 bias
20 flats
https://skydrive.liv...1C1FB32E!400...
frito
Click image for full size view
Imaging telescopes or lenses: William Optics Zenithstar 66 SD
Imaging cameras: Canon 350d
Mounts: Celestron CG-5 Advanced GT
Software: Pleiades Astrophoto PixInsight 1.8 RC7, BinaryRivers Corporation BackyardEOS 3.0
Resolution: 2261x1985
Dates: Aug. 2, 2013
Location: Lake San Antonio, CA (Blue zone)
Frames: 52x120"
Integration: 1.7 hours
Pixel scale: 3.30 arcsec/pixel
Orientation: 80.76 degrees
Field width: 2.07 degrees
Field height: 1.82 degrees
JazzSky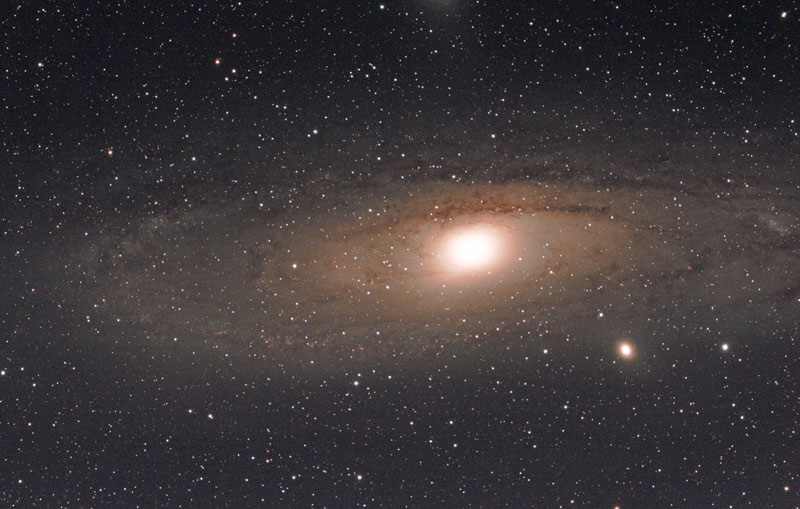 Image taken on September 8th
Camera 60da
CG5 - Advanced
Lights: 48 ( 59second exposures )
Darks 48
Bias 17
Offset 20
Processed in Deep Sky Stacker
Photoshop CS6
I blew out the core in processing but still happy with the result (5th attempt, don't ask

)
proteus5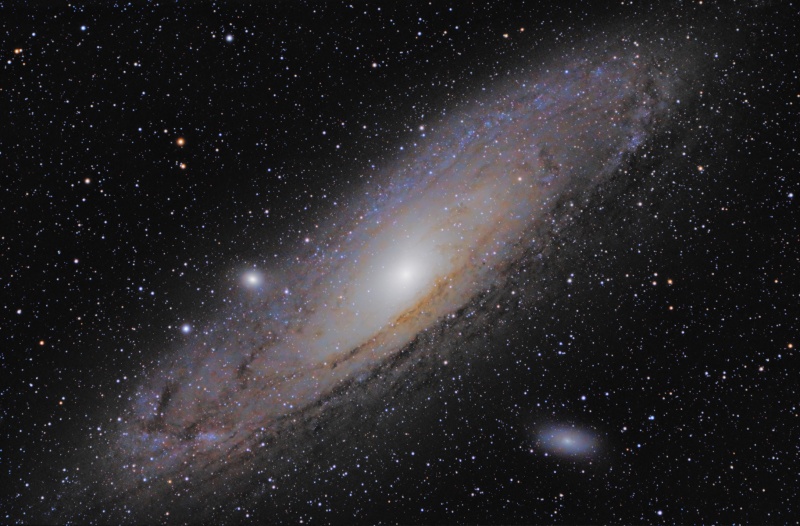 Here's my entry.
Object: M31 Andromeda Galaxy
Location: Southern New Jersey
Scope: SkyWatcher 80ED
Filters: None
Guide Scope: Orion ST80
Guide Camera: Orion Starshoot Autoguider
Field Flattener: Orion Field Flattener
Camera: Canon T2i (550D) un-modded
Mount: Atlas EQ-G
Capture Software: Backyard EOS
Guiding Software: PHD
Processing: Photoshop with Noel Carboni's Actions
Subs:
07/17/13 20x400
08/16/13 14x400
08/19/13 19x400
09/06/13 10x600
Plus flats,darks,bias.
Total Time 7 hours 33 minutes 20 seconds
M31 Andromeda Galaxy Large View Is Here
StoneasRock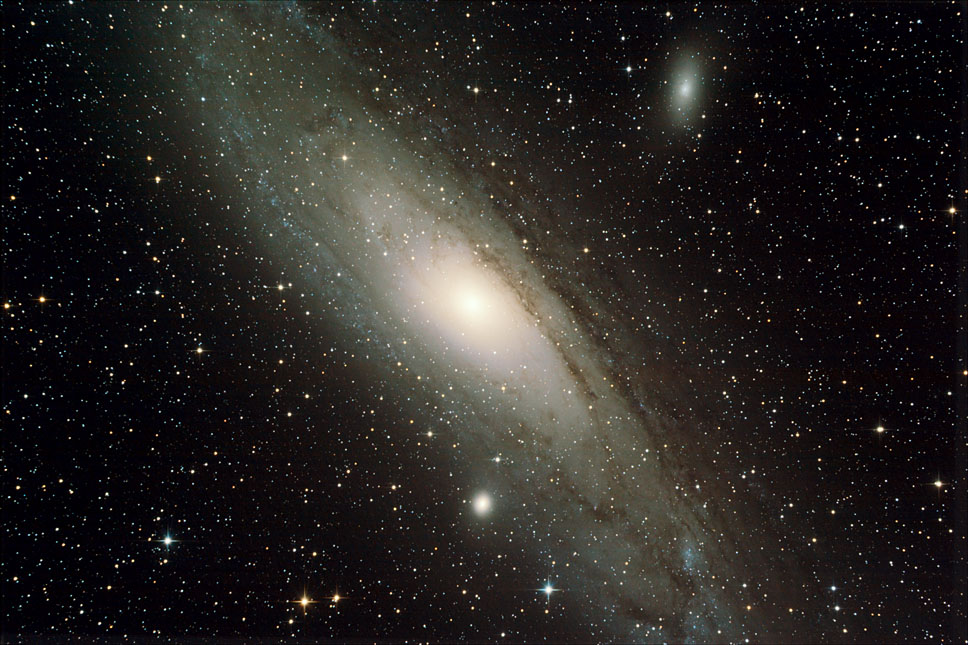 scope: skywatcher 5" reflector.

mount: lxd75

guide: modified guide scope.

camera:canon 40d stock.

guide camera: SSAG

Integration: 5 hours worth with all calibration frames.

full size:

http://www.astrobin.com/full/57882Full image at Astrobin: The Crescent Wide Field

*

&nbsp