Who has brought us the best NGC6888? Vote for your favorite from the following entries:
terry59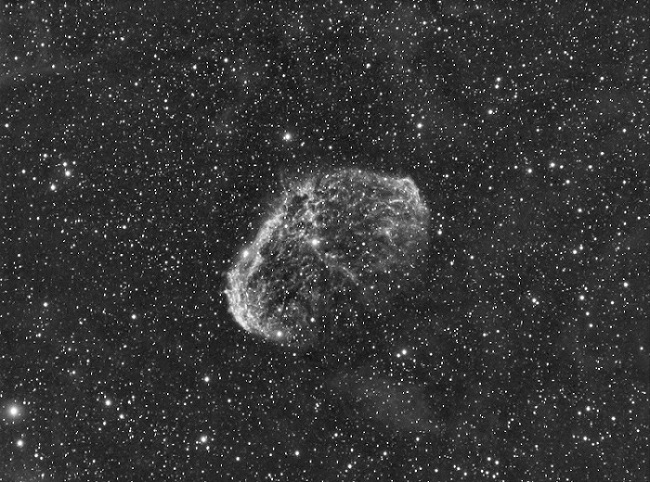 This was shot on 6-16-13 from my back deck in Colorado
22x300 sec at -5C
Orion 80ED with Orion field flattener
Atik 314L+
Baader Ha filter
GM-8
Captured with Sequence Generator Pro
Processed with PixInsight and Photoshop
http://astrob.in/45561/C
SergeC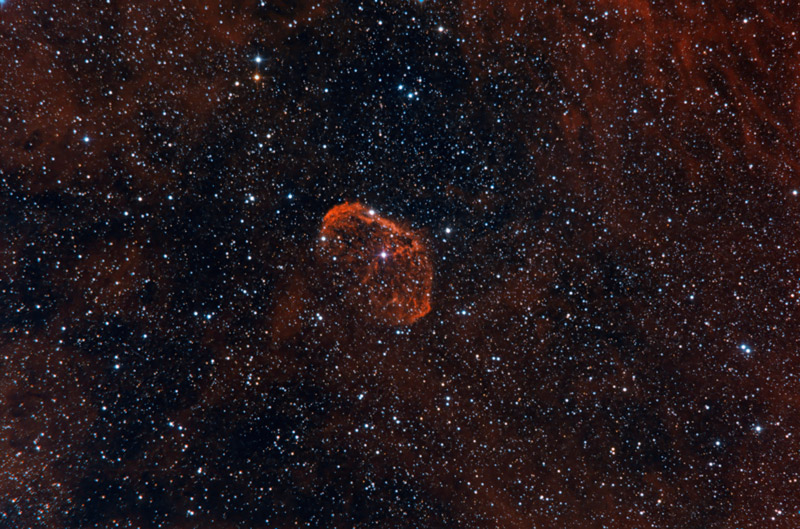 This is a blend of RGB and Ha data taken over multiple nights, all from my suburan orange zone backyard. Total integration of 7.6hr.
Dates: Aug. 28, 29, and Sept. 1, 2013 (RGB); Sept. 20, 2013 (Ha)
Frames: 18x360s and 10x600s (RGB); 25x600s (Ha)
Imaging OTA: AT8IN
Mount: CGEM
Camera: QHY8 OSC
Guiding: Mag-Mini/SSAG/PHD
Accessories: Baader MPCC-III; Lumicon LPR (for RGB); Orion 7nm Ha
Software: Nebulosity, StarTools, Photoshop CS6
Full resolution version
available here
.
Thanks for looking and clears skies!
kcgolden
Click for full Resolution
Scope: William Optics 110 FLT
Camera: Atik 383L+ One Shot Color
Exposure Info: 15 x 15 min
Filter: Orion Skyglow CCD Imaging Filter (Orange Zone, just north of Austin, TX)
Guiding: Orion Steadystar with Starlight XPress Lodestar @ 4Hz
Processing: Pixinsight
stelios_STI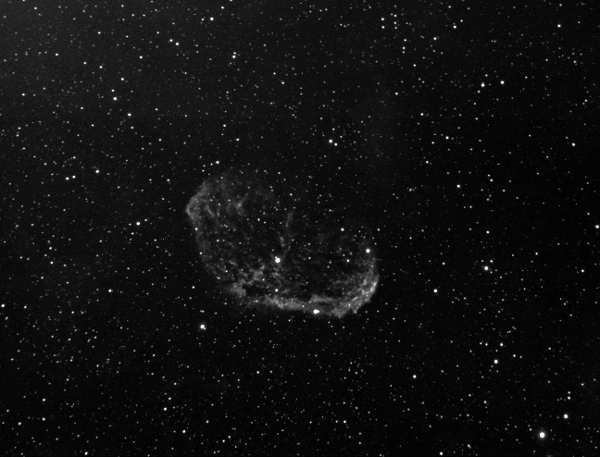 Image is taken on 1st Aug. 2013 and is my first Hydrogen alpha
Scope: TS ed80 f/7 photoline
Camera: Qhy img2pro
Mount: Neq6 pro
Guider: orion mini & Qhy5L-II
Subs: 7x10min Baader Ha 7nm
http://www.astrobin....604/0/?mod=none
astrovirus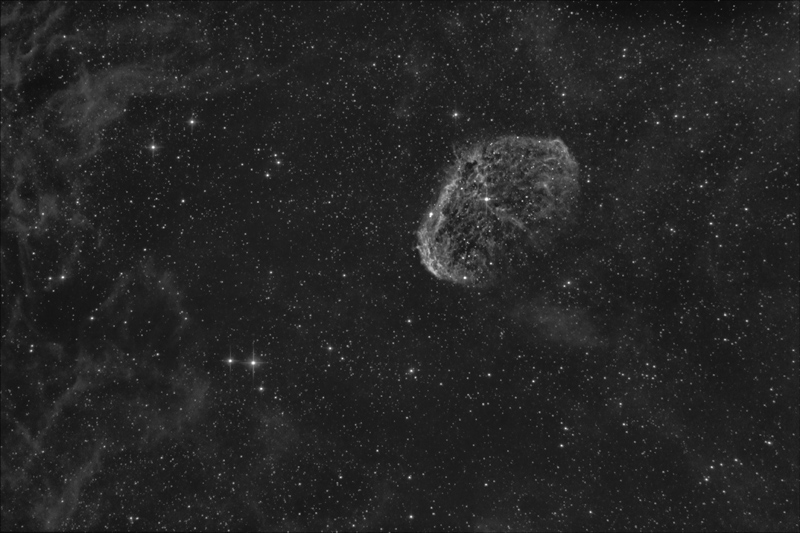 NGC 6888; Crescent Nebula in H-alpha
Date: June 6,7, and 8, 2013
Exposure: 6 hours (18x 20 min), ISO800, 12 Darks, 30 Flat darks, and 30 Flats
Telescope: 8" Skywatcher Newton @F/5 with MPCC and Baader 7 nm Ha-filter
Mount: NEQ6-pro, controled by EQmod/CdC, guided by QHY5/9x50 Finder Guider/PHD
Camera: Peltier-cooled Canon 350Da
Location: Emmen, The Netherlands
Processing details on my website:
NGC6888 in H-alpha
Full res
Puck Ja
crescent_sg_120s_stack14_Entropy PS ST_sqr
Here is my humble entry shot on 9/23 (with 77% moon,

)
NGC 6888; Crescent Nebula (more like Stingray to me)
Date: Sep. 23, 2013
Exposure: 28 min (14x 2 min) with no dark (but defect map), no flat
Telescope: 8" Orion SkyQuest Newton @F/3 with Antares 0.5x Focal Reducer
Mount: Orion Atlas, controled by EQmod/CdC, guided by Orion SSAG package and PHD
Camera: Starlight Express Lodestar color
Filter: 2" Orion SkyGlow Imaging
Location: Oklahoma, USA
James74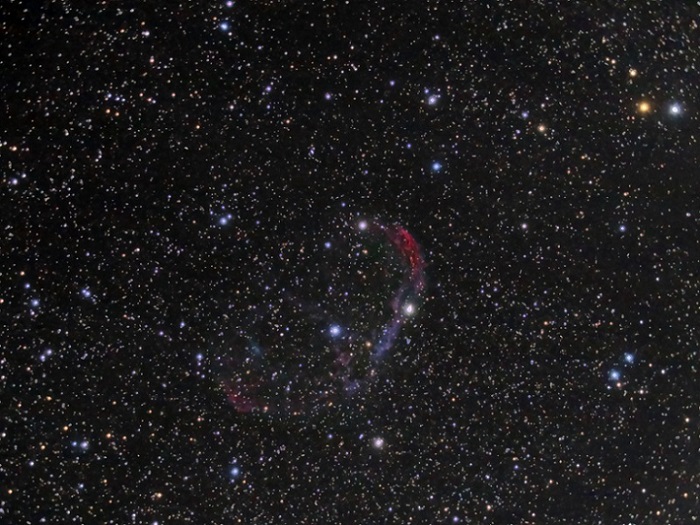 NGC 6888 Crescent Nebula
Date: 8 Sep 13
Exposure: 127x240s (8.5 hrs)
Telescope: C8-XLT @ f6.3 (Celestron FR)
Mount: CG5-GT, Orion SSAG on 50mm Helical Guidescope
Camera: Canon 5D Mk1 Unmodified
Filters: None
Location: Sacramento, CA (yellow zone)
Processing: Iris, Photoshop Elements with Astronomy Tools for Elements
Full res:
http://www.astrobin.com/full/55460/J/?
Gary Minder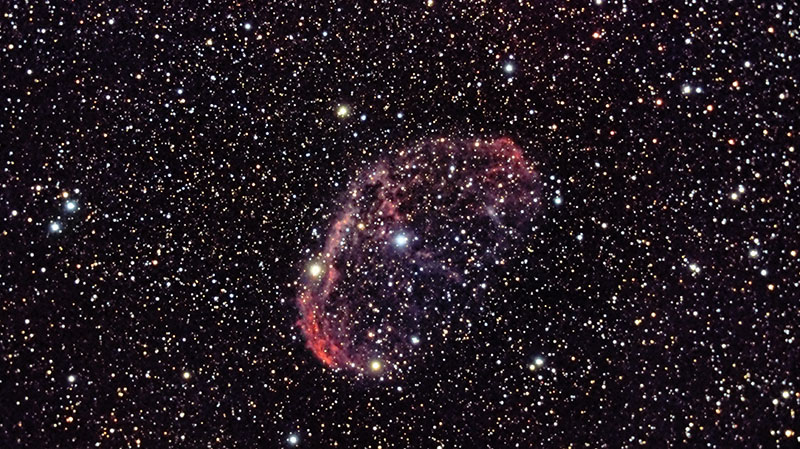 Images taken 13 August 2013 from my western Washington home.
Equipment:
OTA -Celestron C8/XLT
Mount - Celestron AVX
Guiding - Orion Mag Mini 50mm w/SSAG
Camera - Baader modified Canon 450D
f/6.3 Reducer
Capture/Processing:
35 subs - 90 minutes total
Calibrated with darks, flats and bias frames
Software:
BackyardEOS
PHD
Nebulosity for cal/reg/stacking
Star Tools for processing
Full res at
http://www.astrobin.com/57982/
PenumbraX
Here is my entry for this object.
It was taken over several nights in September: 9-13th, 25-26th
Ha: 17x1200s @ -15C
OIII: 15x1200s @ -15C
10.7 hrs integration all processed in Pixinsight with a blend of Ha/OIII*0.9 + Ha*0.1/OIII for the bicolor image
OTA: Astro-Tech AT65EDQ
Camera: SBIG STF-8300M
Mount: Orion Atlas EQ-G
Guiding camera: SBIG ST-i Mono with PHD
Filters: Astrodon Astrodon 3nm OIII, Astrodon Astrodon H-alpha 5nm
Accessories: SBIG OAG-8300
Software: Pixinsight
Thank you for looking and Clear Skies!
Full image at Astrobin: The Crescent Wide Field
Jeff2011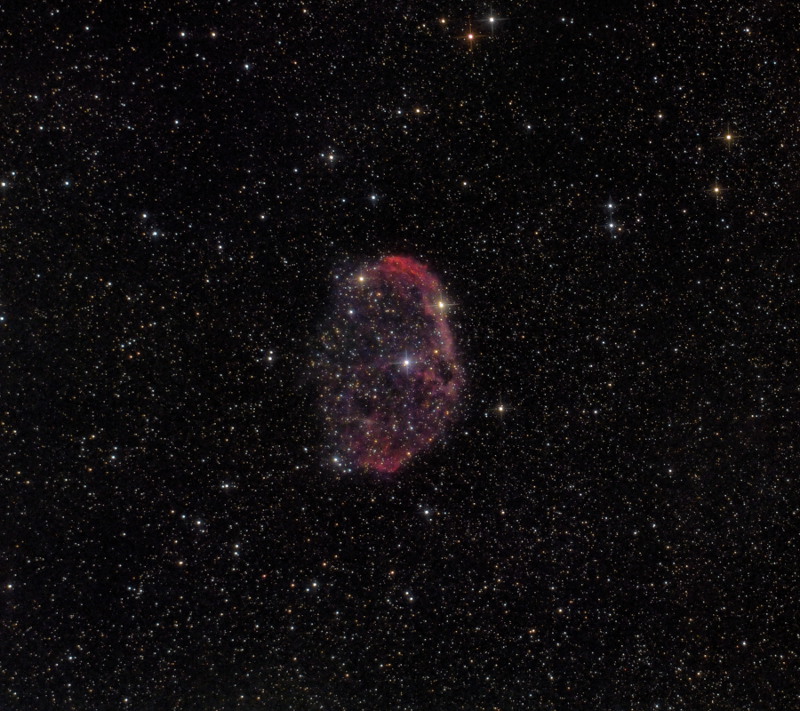 Here is my short integration time version. Weather and life did not cooperate this month.

Date: 9/25/13

lights 52 x 80 sec ISO 400

darks & flats & dark flats

Camera: Canon Rebel XT/350d (baader modded)

Mount Celestron AVX

Scope: AstroTech 6in Imaging Newt

Corrector: Baader MPCC-III

Filter: Baader Sky Glow

Guided: Orion 50mm Mini/QHY5L-II/PHD

Captured Backyard EOS

Processed DSS/StarTools

Location: Backyard (Red/White LP zone)

Full Size Version

*

&nbsp