So the story goes like this:
Last night I was inspired to begin lunar observing by trying a hand at my very first "official" lunar sketch. After setting up the scope and finishing collimation the clouds moved in and I waited...and waited...and finally put the scope away.
Not to be beaten, I decided to find a suitable photo of lunar section on google images, and proceeded to draw the image in an attempt to work out some basic illustration techniques. I have said it before, including a recent post in one of Uwe's terrific crater sketches, that drawing lunar features is a flat out daunting task for the novice lunar observer.
So after spending over an hour with the sketch, I came away with some mild comfort, and some possible ideas for area of improvement. It is a humble effort, and I see more wrong than right with the drawing, but I decided I'd post the image to share with my fellow CN sketchers.
Then it dawned on me that not long ago I wanted to experiment with finished captures of an image by comparing a scanned copy to a photographed copy. I am fortunate enough to own a quality Canon bed scanner, as well as some very good Canon camera gear. So what began as a failed trip to the telescope last night, has transmogrified into a mildly insightful experiment...that will surely put you all to sleep.
The scanner used is a Canon MP560 set to 300ppi and all values flat (ei, no sharpness or gamma enhancements).
Camera used is a tripod mounted, remotely triggered Canon 1D with mirror lockup enabled and a Canon 70-200 1:4 L at 200mm and f13 (manually focused). Lighting is a mix of daylight through windows and soft overhead lights.
Quick note: dust particles are from filthy sensor

I did my best to normalize the "blacks and whites", as well as the mid grey point, but was careful not to change the gamma curve from the respectively captured states. Both images were also desaturated to remove any color cast.
Full image, scanned: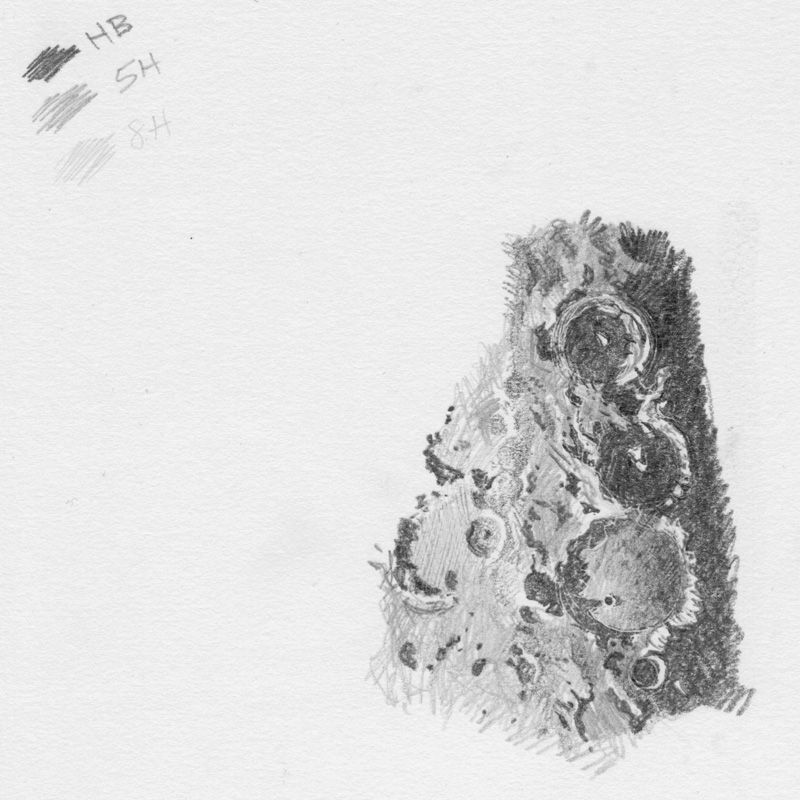 Full image, photographed:
Crater Arzachel, scanned: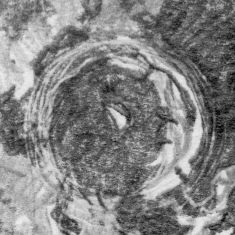 Crater Arzachel, photographed:
Other region, scanned: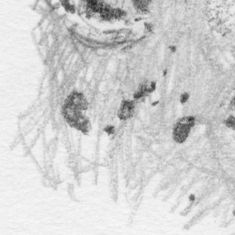 Other region, photographed: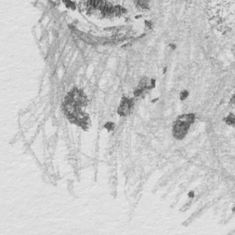 Test marks, scanned:
Test marks, photographed: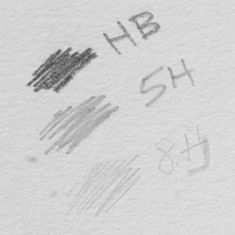 Both of these results certainly work, and are more than adequate for forum posting purposes. A generalized observation notes that the scanned versions all suffer from lower dynamic range. In some circumstances this leads to a slight increase in contrast, which in turn occasionally creates a perceived sharpness increase (ie, the rim of the crater). This limited dynamic range can also be clearly noted in light, fine pencil strokes in the "8H" of the test marks, and in the lower left edge of the open strokes in the "other region" crops. Most obviously noted is the brightening of the peaks of tooth from the illustration grade paper, I estimate to be caused by the hard edged light of the scanner plate. This unfortunately hides the delicate nature of the faintest pencil strokes by overly highlighting the open paper areas, and promoting an artificial increase in contrast.
I will stress that this is a single test, used with one set of imaging instruments. I do believe that the results should be similar with other related gear, though.
I'm not sure how helpful this will be to others, but if it gets anyone's gears turning...you're welcome.