This morning I observed ISON and imaged it. Boy, what a difference from yesterday's observations. If you haven't heard, it has shot up immensely in brightness since yesterday and is now naked eye. Its so bright you can see an intense teal-green color in binoculars. They call this an "outburst."
Sky & Telescope
and
Spaceweather.com
both have articles on it that were posted today (Thursday, Nov 14, 2013.) Note my pic in the Sky & Tel piece.

My image below is a composite of a single 30 second sub-frame for the background with an 18x30 sec stack of the comet blended in. I was using a Canon 200mm F/2.8 lens and had the camera on a CG3 clone mount with a rudimentary clock drive. There was no guiding.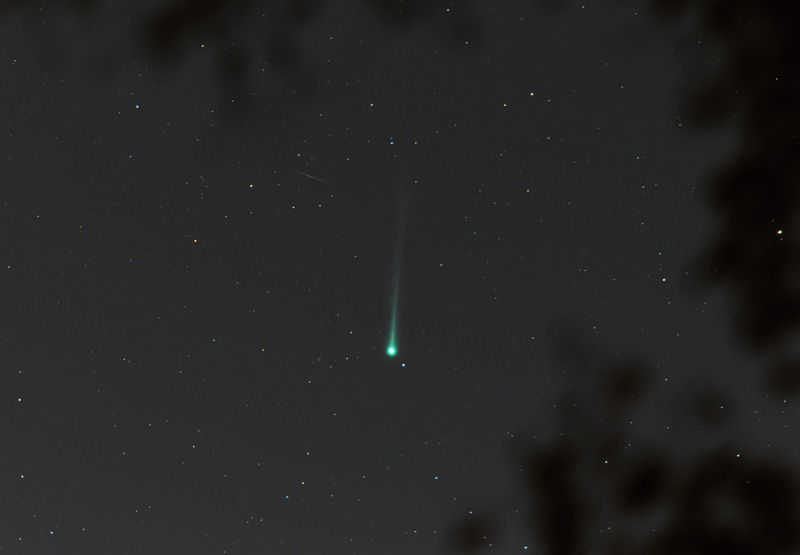 Comet ISON on Nov 14, 2013. 18x30 sec @ ISO 1600, Canon 200mm at F/2.8, IDAS-LPS, Canon T3 (modified.)
High clouds were almost totally obscuring the sky when I got outside, but I waited them out and was rewarded with a few minutes of clear skies towards the east where ISON was rising over the trees at the start of astronomical twilight.
I also got some images of Comet Lovejoy that I have yet to look at. Most were shot through clouds, but I think I have enough to salvage an image from it some kind of way.