Who has brought us the best M42? Vote for your favorite from the following entries:
BlueApoc
Click the image for a larger version!
Imaging telescope: ORION 120mm f/8.3 Achromatic Refractor
Imaging camera: Canon EOS 600D / Rebel T3i
Mount: ORION Skyview Pro
Software: Adobe Photoshop CS6, ESA/ESO/NASA Fits Liberator, Stark Labs Nebulosity 3
Location: Bardstown, KY, USA
Frames: 12x90"
Integration: 0.3 hours
Stargazer78
Here is my wide shot of the Orion Nebula
AT72ed
At50gs
T3i
CGEM DX
10 x 10s
10 x 60s
15 x 120s
processed in pixinsight
tazer
Image links to full version on astrobin.com.
Equipment Used:
Mount: Celestron CG5-ASGT
Scope: Explore Scientific Levy Comet Hunter
Camera: Sony NEX-5 (modified)
Filter: Baader UV-IR Cut
Guide Camera: Orion SSAG
Guide Scope: Orion Mini 50mm
Stacking: DeepSkyStacker
Post-Process: Fitswork then GIMP
Exposures (2.23 hours total integration):
28 x 180s @ ISO 800 for 84m
20 x 120s @ ISO 800 for 40m
29 x 20s @ ISO 800 for 9.5m
No darks, flats or bias frames.
Location: Pittsboro, NC
Date(s): 11/9/2013 & 11/23/2013
Cerberus
M42-27NOV2013
by
ktflory@ymail.com
, on Flickr
This is pretty inadequate compared to other submissions, but then again my entire setup ran about $800 including my camera which STINKS. Its high noise, low resolution, and incredibly insensitive to reds.
Unguided on Orion ST80 F/5, SVP single axis mount. Canon 300D at ISO1600, 18 minutes total exposure. Stacked in DSS using standard settings, edited in CS6. Lake Afton Kansas, 27 November 2013.
Synon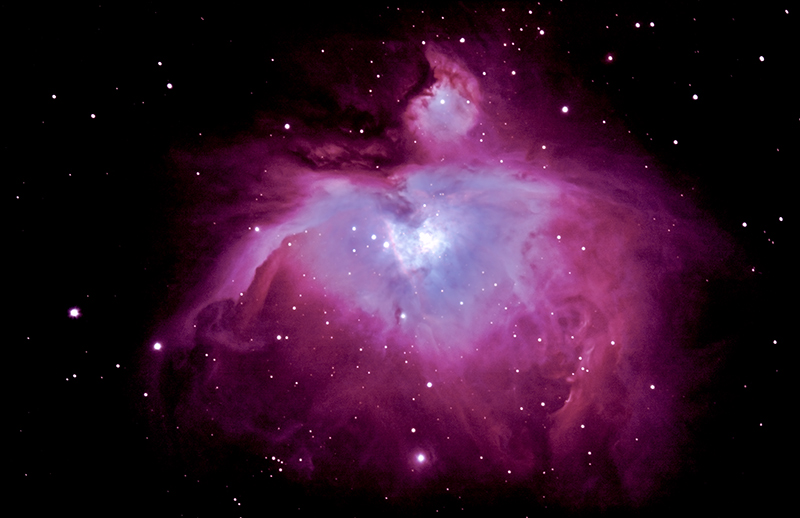 These are great! So much detail! Here is my first attempt at M42
Mount/Scope: Meade 12" LX200 classic (standard fork) on a wedge
Camera: Canon 450D (unmodified), 20s at 1600ISO (10 minutes exposure)
No filters, no guiding
Stacking: DeepSkyStacker
Post-Process: PS6
dc_robert
My submission for this month. Image links to full-screen version.
Equipment -
Scope: Sky-Watcher Pro 120 ED
Mount: iOptron iEQ45-AZ
Camera: Canon EOS 60D (mod)
Focal reducer: Orion 0.8x Imaging Focal Reducer for Refractors
Location: Staunton River State Park, VA
Date: 10/6/13
Image details -
Lights: 6 x 240", 5 x 30"
Dark: 1 x 240"
RealSorin
OK, here is my entry.
Captured Nov 1, 2013
Denver, CO (DAS dark sky site)
Mount: CG-5
Scope: Astro-Tech 6" RC with AT field flattener (FL: 1370mm)
Autoguider: Orion Magnificent Mini 50mm
Camera: Canon T3i
Lights: 8 x 120s @ ISO 1600
Darks: 3 x 120s
Thirteen
Good work everyone!
Here is mine.....
Due to an unmodded dslr it tends to accentuate the blues over the Ha regions, but I think the color split shows the different formations quite well. Enjoy!
Scope: Celestron EdgeHD 8" f/10
Mount: Celestron AVX
Guiding: None
Camera: Canon T1i 500d unmodified
Exposure: 113 x 33s, 1h2m9s total, darks/flats/bias applied
Software: DSS, PixInsight, Lightroom
Location: Milford, MI red/orange zone, 27-NOV-2013
Link to full size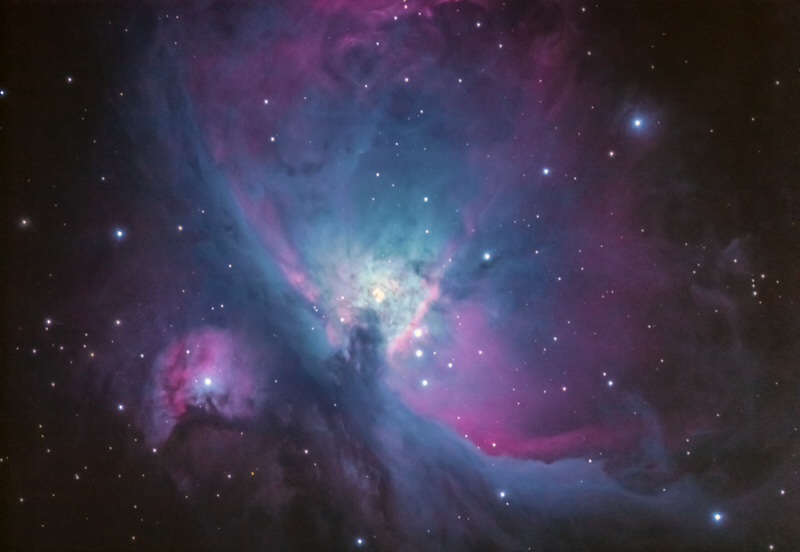 Framis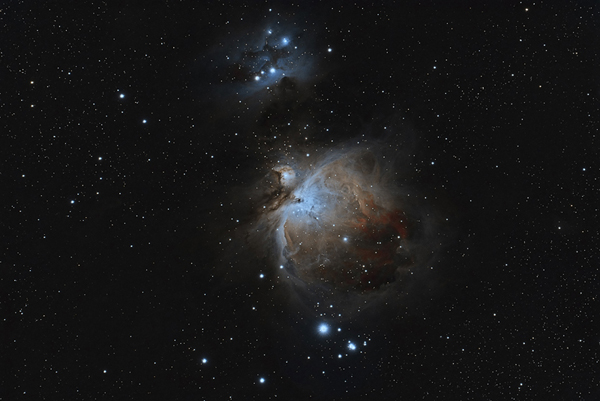 Capture Details
Date Taken Nov 3rd
Location = BMO (Club's site at Beaver Meadows - Java NY)
Seeing = Below average
Scope = WO81 GTF
Mount = CGEM
Guider = Orion Mag-Mini 50/SSAG
Canera = QHY12
Camera Control = Nebulosity
Processing = HDR via Pix, and PS
Subs:
Lights
12 @ 300s,
24 @ 15s
1 BPM
11 Bias
1 hour of data
Link to larger resolution
M42 Larger Res
Magellan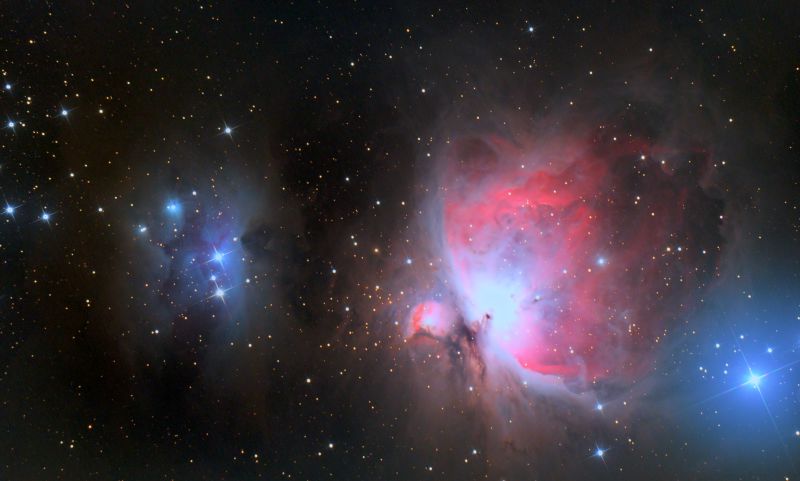 Object: M42 Nebula in Orion

Location: Enfield, NS Canada

Date: November 30th, 2013

Camera: Canon XSi / 450D Gary Honis Full Spectrum modified

Filter: None

Telescope: Orion 8" F4 Astrograph

Mount: Celestron CGEM

Guiding: Celestron 80mm Guidescope with an Orion Starshoot Autoguider.

Focusing: Rigel nStep ASCOM stepper Focus Motor

Subs:120s_2hr18m

20 Darks, 25 Bias and 25 Flats

Acquired with: BackyardEOS 3

Processing: DSS

Post-Processing: Pixinsight 1.8 RC7

rjweng http://4thsphere.com.../M42_HA_web.jpg

Full rez.

M42 Full Rez

Equipment -

Scope: WO81GTF

Mount: CGEM

Camera: Canon T2i (mod)

Filter: HA 12nm Clip-in

Location: Orchard Park, NY

Date: 11/29/13

Image details -

Lights: 8 x 900", 30 x 60"

Dark: 7 x 900", 20 x 60"

*

&nbsp