We are very pleased and proud to present the November 2013 CCD Imaging Semi-Finalists in the Cloudy Nights Imaging/Sketching Contest.
avdhoeven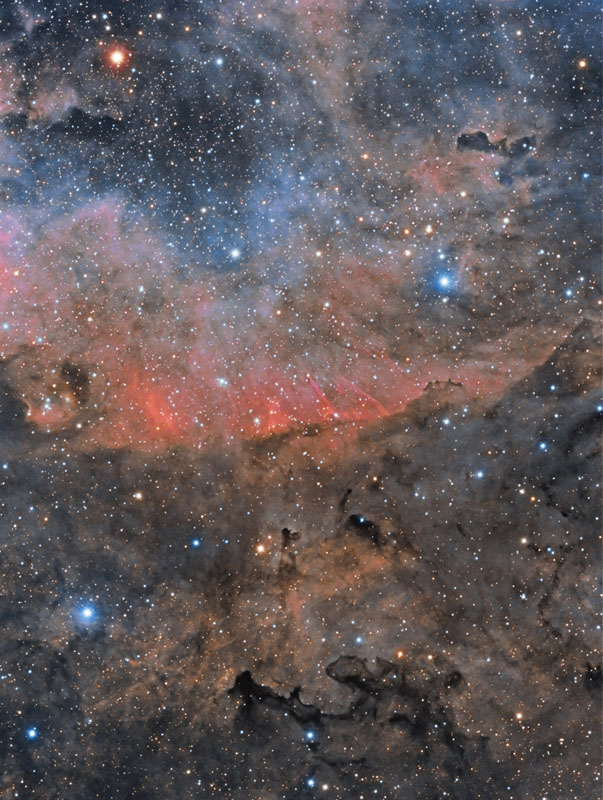 Because of bad weather I started to looking at old data again. I was not so happy with the old HaRGB version of this data so I did a complete reprocessing.
Barnard 344 is a dark nebula in the constellation of Cygnus. It's located close to the star Sadr in the Gamma Cygni Nebula (RA: 20h18m57.4s DEC: +40º 40' 01"). Barnard 344 is located on the bottom of the image.
This region is very rich of dark and emission nebulae. On the image also VanDenBergh 130, a reflection nebula in this region, can be seen. It's the circular cloudshape on the left center of the image. LBN234 is an emission nebula glowing with hydrogen and sulphur in the center of the image.
Barnard 344 was described by Barnard himself as: "Dusky spot, 7' long; like an arrowhead, pointed SW; small star at NE end".
This image is a combination of narrowband imagery with RGB images taken during a number of nights in July 2013.
Telescope: TEC-140
Camera: QSI-583
Mount: Skywatcher NEQ-6
H-alpha: 6 x 1800 s (3nm astrodon)
SII: 3 x 1800 s (3nm astrodon)
OIII: 4 x 1800 s (3nm astrodon)
RGB: (4,4,4) x 600 s (astrodon TrueRGB)
Total exposure time: 8.5 hours
Full resolution
Mike Wiles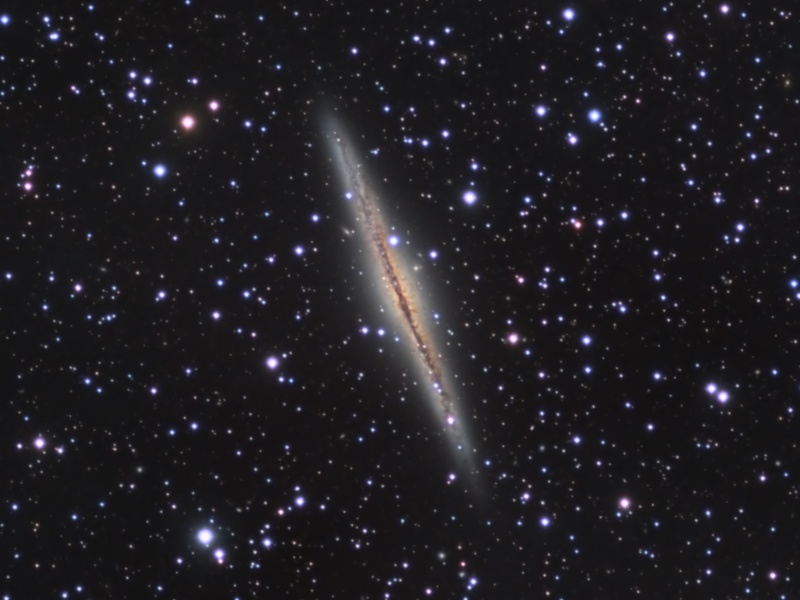 NGC 891 - Edge on Spiral in AndromedaDates:

Oct 29, 2013 to Nov 8, 2013

Location:

Benson, Arizona

Telescope:

Explore Scientific ED152CF Refractor - 152mm f/8 APO

Mount:

Astro-Physics AP900GTO CP3

Camera:

SBIG ST-8300m and SBIG FW8-8300 filter wheel

Guiding:

SBIG ST-i Mono and SBIG OAG-8300 off-axis guider

Exposure:

20.67 hours

Luminance

- 32 x 20 minutes

Red

- 10 x 20 minutes

Green

- 10 x 20 minutes

Blue

- 10 x 20 minutes

Capture:

CCD AutoPilot v5, CCDSoft v5, The SkyX Professional

Calibration & Processing:

PixInsight 1.8 RC7

Larger uncropped, version is at

Astrobin

Please note that voting will conclude on December 9th at Midnight ET.

Many thanks to all who took part in the contest!

*

&nbsp