Lynds Bright Nebula 777 is a very faint region found in Taurus. This object is located approximately 4.5 degrees from M45. The dark area to the left of the eagle's 'eye' in my image is designated as Barnard 207.
Luminance – 12x600s – 120 minutes – binned 1x1
RGB – 8x300s – 40 minutes each – binned 2x2
240 minutes total exposure – 4 hours
Imaged December 26th, 2013 at the Danville Conservation Area (New Florence, Missouri) with a SBIG ST-8300M on an Astro-Tech AT90EDT at f/6.7 603mm.
LRGB Image
I also imaged the area with a Canon T2i with an f/3.5 50mm lens using BackyardEOS 3.0.3. The result of 50x180s exposures is an image approximately 24.7 x 16.4 degrees. LBN 777 is too faint to show up. Notable objects visible include NGC 1499 (California Nebula) and M45. There are numbers dark nebula going through the center of the image.
DSLR Image
See the links above because the attached image has been down-sampled.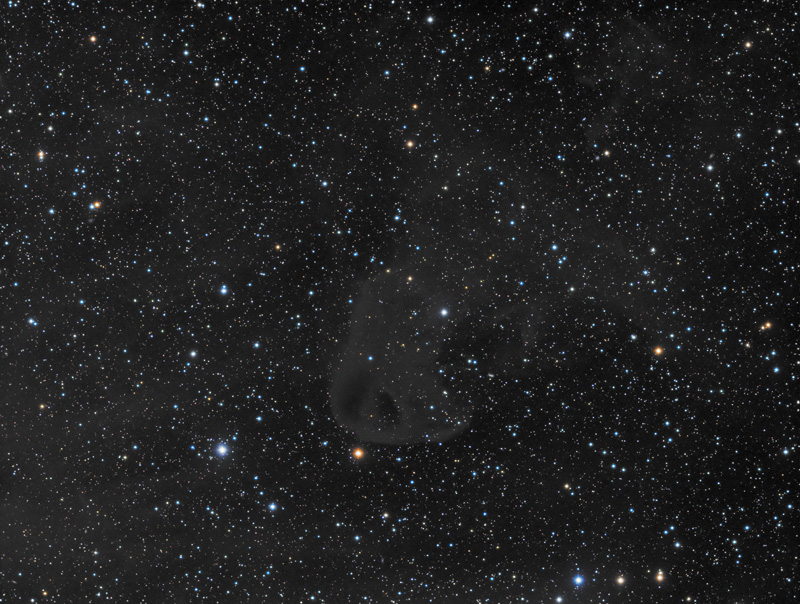 Dan