Who has brought us the best M45, the Pleiades? Vote for your favorite from the following entries:
Red Brick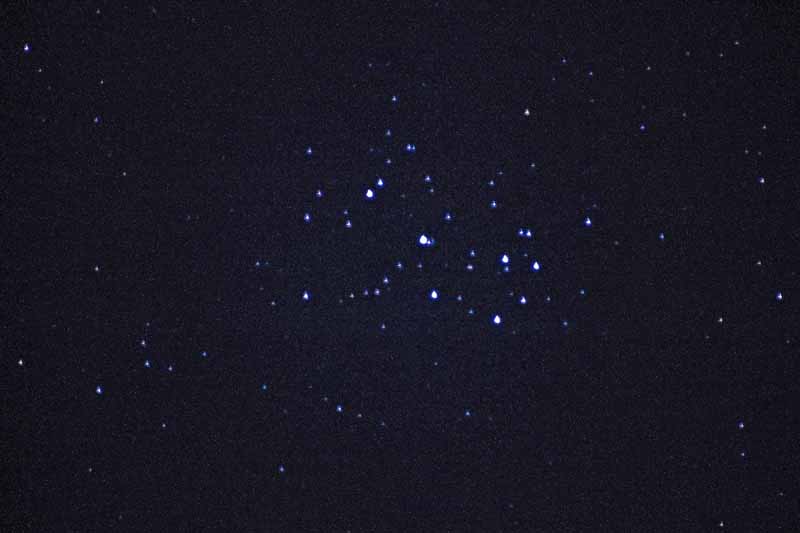 Ok heres my first submission with my christmas present from Santa. A Canon T3. I am still seeking accessories for my telescope but just too cold to set everything up.
The photo is taken on a tripod, unguided. ISO-1600, 300mm lens at f5.6 4sec exposure. Modified in photoshop to add duplicate layers or what I understand to add darks.
cuivienor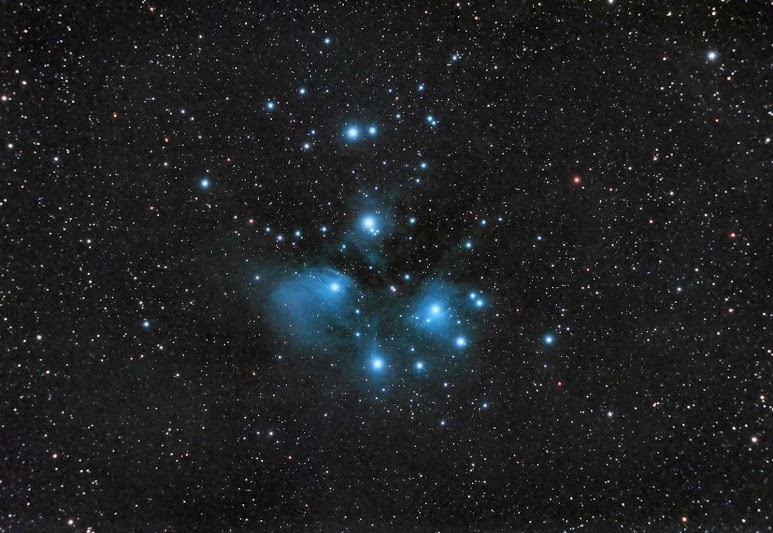 Here is my contribution.
This is taken on Christmas night, in a public park in central Tokyo. Intolerable light pollution. I took 20 x 300s light frames with darks, bias, and flats, for a total of 100 minutes of integration.
Equipment is as below:
- Kasai Trading Blanca 70ED
- Astronomik CLS-CCD filter
- Astro-Tech 0.8x focal reducer and field flattener
- Canon T-ring
- Canon EOS 600D, self-modded
Mount is iOptron ZEQ25GT on Benro 3580T photo tripod.
Guiding done with the Kwiq autoguider packages (50mm scope and QHY20.
Main errors during this session:
- spacing from back of flattener/reducer to camera sensor is too short. Around 55mm, should be 85mm
- dithering in Backyard EOS was set to level 1. With this type of focal length, I want level 4 or 5. Therefore noise stacked up...
- It is really really cold in a public park at night I had prepared myself hot tea, but forgot it!
Nohrmal
Moon, Taurus & Pleiades
by
Nohrmal
, on Flickr
I don't know if this challenge was intended for wide field photos, but I wanted to share this one. It was taken during a waxing gibbous moon with quickly moving light clouds.
Taken 1/11/14 in Nacogdoches, TX.
Equipment: Canon Rebel 650D & 18-55mm STM lens on tripod
EXIF: 35mm, 2.5s, F4.5, ISO 800
Software: Lightroom 5.3
Magellan
M45_31x120s_1hr2m_ISO1600_Final
by
AstroJeff
, on Flickr
Here is my submission for the month. Not a lot of integration time to work with and had to resist that temptation to overstretch, I think it turned out well. I always have had an issue with bright reflection nebulae. I even caught Meropes Ghost in this data. Normal processing washes it out but its in my Flickr a few down. I hope you all Enjoy:
Object: M45 / Pleiades Cluster / Seven Sisters
Location: Enfield, NS Canada
Date: November 7, 2013
Camera: Canon XSi / 450D Gary Honis Full Spectrum modified
Filter: None
Telescope: Orion 8" F4 Astrograph
Mount: Celestron CGEM
Guiding: Celestron 80mm Guidescope with an Orion Starshoot Autoguider.
Focusing: Rigel nStep ASCOM stepper Focus Motor
Subs: 31x120s (1hr2m Integration)
88 Darks, 25 Bias and 25 Flats
Acquired with: Sequence Generator Pro
Processing: DSS
Post-Processing: Pixinsight 1.8 and Photoshop CC using Noel's Actions
Gary Minder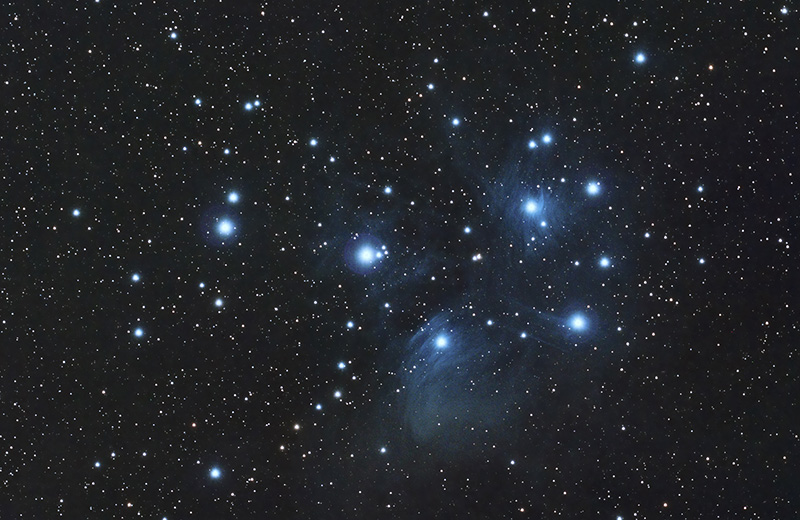 Here goes...
This was taken 25 January with my newly received and de-pinched AT65EDQ. I would have liked more soak time but it was my first night with the new toy, M45 was hitting the meridian and M31 was beckoning.
Capture details:
AT65EDQ
AVX mount
Orion 50mm/SSAG guiding
Canon 450D (baader modded)
45 subs @ 120s each
PHD/BYEOS
Processing:
Stacked in Nebulosity with darks, flats and bias frames
Processed in PixInsight
Full res version
here.
Thanks for looking.
evan9162
Don't really have a chance at winning, but why not, eh?
Did a quick session one night
Date: 12/29/2013
Location: Boise, ID (red zone)
"Scope": Pentax Super Takumar 200mm F4
Camera: Canon T4i/650D stock, running Magic Lantern
Mount: EQ-3 (unguided)
Subs: 22x60" @ ISO 800, 20 darks
Capture: Magic lantern intervalometer + bulb mode
Processing: DSS + PS CS2
torsinadoc
Location: Fayetteville AR (orange)

Date: 12/31/13

Camera: Canon T3i not mod

Filter: CLS Clip

Telescope: ES102

Mount: Celestron AVX

Guiding: Magmini Orion Starshoot Autoguider.

Subs: 60x90; dither,, no darks, had bias and flats

Stacked and processed with Pixinsight 1.8.

*

&nbsp