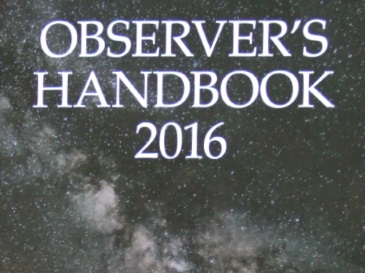 By Tom Trusock
Tom Trusock takes a look at the 2016 edition of the RASC Observer's Handbook.
New Moon Telescopes 16"f/4

Today, 03:34 PM by kreegan99

After purchasing my New Moon Telescopes 16" Dob, the amount of observing hours I logged doubled easily. The scope performance is superb, but making it easy to setup, roll out, collimate, etc really makes the big difference in my very busy life.

DIY Bluetooth Remote Focus Control

Nov 21 2017 03:18 PM by stbkaiser

I came up with the idea of using an old Lego NXT Mindstorm control module and NXT motor I had laying around to drive my focus knob. The Mindstorm can be controlled via Bluetooth which is ideal for my control interface. This type setup could be adapted to most scopes if a convenient mounting location is available.
Imaging/Sketching Contest
Today, 01:29 AM
To those Americans here in the US and abroad today is the day to stop and reflect on what you've been given. More than just your physical goods, today is about family, friends and existence itself. In this world of always wanting the n...
Full topic ›
11 Nov 2017
...to reflect on the meaning of the day, remember and give thanks. Thank you for your service Veterans.
Full topic ›
Cloudy Nights Home