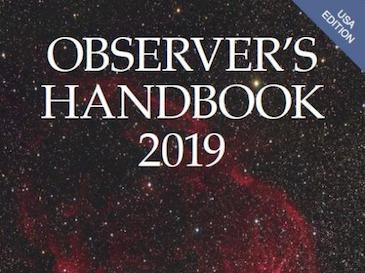 By Tom T
Tom Trusock and Denise Moser takes a look at the upcoming 2019 edition of the RASC Observer's Handbook.
interstellarum Deep Sky Guide Desk Edition

Feb 03 2019 02:09 PM by Ray Cash

I've long preferred to have images—and/or drawings--of deep sky objects near my atlas, observing list, and, of course, my telescope. David J. Eicher's The Universe from Your Backyard (1988) was an early, well-loved companion of mine, as was Burnham's Celestial Handbook. So was the self-published 1994 John C. Vickers' Deep Space CCD Atlas: North (and South). Vickers' CCD atlases are images only, and rather primitive ones by today's standards; but the atlases were not meant to be a compilation of 'pretty pictures'; but rather a source of black and white images of interesting deep-sky objects that amateurs might want to hunt down with their warm, moist eyes, or sub-ambient-temperature imaging equipment. Enter the above masterpiece!

A Bigger, Better Scope Anyone Can Build & Use

Feb 03 2019 01:27 PM by Augustus

Sometimes life's greatest treasures are the unexpected. That's how I feel writing this article. It was relatively recently that I embarked on building my 20", and it's been only six months since I penned the article on my 16". Since that article, I've grown not only as an ATM, but also as a person and as a writer. I thought I'd share that growth here. 'Tis the season of giving, after all!

The binocular summation factor

Feb 03 2019 01:10 PM by peter-nexstar

A lot of ink has already been spent on this subject since many astronomy enthusiasts are wondering what the actual gain is observing with both eyes instead of only one. Let me begin by saying that this whole discussion is fairly pointless because observing with both eyes is a completely different experience than observing with only one. The feeling of total immersion that not even a 150° eyepiece can ever offer, the strange 3D-effect, the joy and relaxation of using both eyes… Personally, even if there were no light gathering gain at all I'd opt for a binoscope, regardless the expense. On the other hand there are people who're having difficulties observing with both eyes. And finally there's the big unknown factor: the human brain, which is both unpredictable and personal. So what's the use of me writing this article? Because we astronomy enthusiasts have the unstoppable need to quantify everything. How much more can you see with a 14" telescope compared to a 10"? How does a refractor compare to a Newtonian (please, no, not again…)? Or… how much more can you see with both eyes? So here I go… explaining my 2 cents on this, for what they're worth.
Imaging/Sketching Contest
13 Mar 2019
We are looking to add a few members to the Cloudy Nights team as Moderators. Cloudy Nights has grown to be the world's largest forum for the discussion of astronomy and related topics. The forum is international and family friendly and has high st...
Full topic ›
Cloudy Nights Home