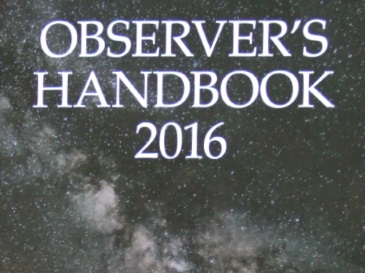 By Tom Trusock
Tom Trusock takes a look at the 2016 edition of the RASC Observer's Handbook.
A SUBJECTIVE COMPARISON OF 5NM AND 7NM H-a FILTERS for NIGHT VISION ASTRONOMY

Today, 12:51 PM by Ray Taylor

Last August, I contacted Matt McBee in Tennessee about doing an H-a filter comparison with our Mod 3C Night Vision Devices (NVDs). Matt had purchased an Astrodon 5nm H-a filter and wondered how it would compare to a 7nm filter in his scope and under his suburban light pollution. I had purchased an Optolong 7nm H-a filter and wondered how it would compare to a 5nm from both my suburban light polluted home and from a semi-dark site that requires a 45 minute drive. So in September, we agreed to exchange filters. In the meantime, I purchased an Astrodon 5nm. I sent Matt my 7nm filter because I would be traveling for a month.

Wireless Control of an Astro-Video Camera's On-Screen Display (OSD) Options and Video

Dec 07 2017 06:02 PM by astrodude2

Astrovideography has been around for a number of years now. The video cameras used cover a wide range of manufacturers and price points. Some are designed specifically for the astronomy community, while others are high resolution security cameras that have been adapted for use. There are already a number of articles online detailing the use of these cameras, so I won't go into that. Most of the cameras have buttons on their back panels that are pressed to make adjustments using their OSD (On Screen Display), options. This, of course, requires the user to physically touch the device multiple times once it has been aligned to a desired target, so is not ideal! If you know what you're doing, you can very carefully add a multi-wire cable to the camera, soldering connections to the internal switching. After running said cable to a homemade switch box, you can then adjust the settings without touching the camera; however, you now have a 12 volt cable to the mount, another one to the camera, a video cable from the camera to the monitor and another cable running to the homemade control box. I wanted to simplify this issue!

Pop-Up Canopy Observatory

Nov 24 2017 11:09 AM by drgenovese

Having been born with a "Tinker Gene" it occurred to me some time ago that rather than just cover the adjunct scope equipment with a pop up canopy to prevent the inevitable dew we have here in the South that an inexpensive canopy could be easily modified to make a portable observatory. I built this one last year and I have been very pleased with the result at night and additionally I found it was hugely helpful providing shade for Solar observing and I thought I would share it.
Imaging/Sketching Contest
31 Dec 2017
May the year be richer, happier and healthier for us all.
Full topic ›
24 Dec 2017
We here at Cloudy Nights would like to wish you a Merry Christmas, Happy New Year, and a wonderful holiday season.
Full topic ›
Cloudy Nights Home