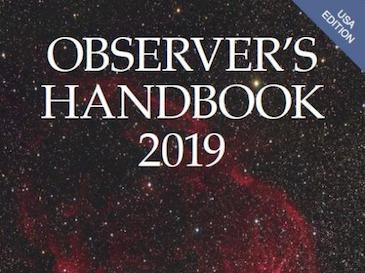 By Tom T
Tom Trusock and Denise Moser takes a look at the upcoming 2019 edition of the RASC Observer's Handbook.
PrimaLuceLab Eagle Review

Jul 29 2019 09:22 PM by chriscorkill

After using the Eagle for about three years I can comfortably say I would purchase this product all over again. Seeing the product in person and being able to hold it in my hand really helped with my decision to make my purchases with PrimaLuceLab. With it's ease of use, safety, customer support and conveniences, I say that this is a winner in my book. I would give this product a 9/10 stars.

My Other Telescope is an 8.4 Meter - Part III: Polishing

May 08 2019 05:24 PM by Gork

I've started writing about this aspect of fabricating the world's largest monolithic mirrors a number of times. Each time I get to about ten pages before I realize how truly complex this phase of fabrication is. So, I am going to assume, for the sake of this account, that everything works as planned and there are no side tracks. That won't be true, but if I tell the real story, I'll never get done.

Filter Comparison For Imaging Broad Spectrum Objects In Light Pollution Areas

May 07 2019 06:03 PM by JTYoder2017

The primary purpose of imaging with a filter in the city is to mitigate light pollution and help suppress the noise so that the signal of the target object becomes easier to identify. This is rather easily achieved for nebula type objects that emit at very specific wavelengths but much more challenging to accomplish for full-spectrum sources such as galaxies and globular clusters. Cutting down on city glare is becoming even more challenging as city lighting transitions from Mercury type lighting that emits at defined wavelengths to LED lighting that generally emits broad spectrum lighting.
Imaging/Sketching Contest
03 Jul 2019
Just be careful while BBQing or lighting up fireworks - Stay safe friends
Full topic ›
11 May 2019
Some kind words of love and a hug... the least we can all do to honor those who devoted their lives to their children
Full topic ›
Cloudy Nights Home