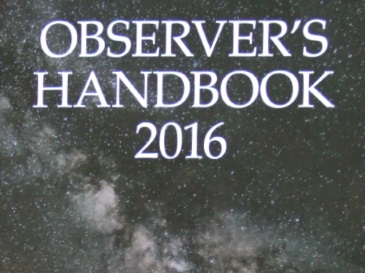 By Tom Trusock
Tom Trusock takes a look at the 2016 edition of the RASC Observer's Handbook.
A Big Scope Anyone Can Build & Use

Jul 29 2018 11:16 AM by Augustus

This isn't a "how to" article – most of you whom are more competent woodworkers than I am could at the very least sand and stain your scope more evenly, let alone improve upon the design. However, if you're new to telescope making or just looking at this article, I hope it encourages you that building a telescope of this size is within your grasp.

Ancient Star J0815+4729 Reveals Evolution of the Early Universe

Jun 09 2018 07:26 AM by rekokich

I took images of this region on 12 Dec 2017 searching for HIP 40492 (HD 68790) which is listed in SIMBAD as a high proper motion star. However, comparing the frame to DSS2 images on Aladin, I could find no prominent shift in the position of the star at this scale. The region came to my attention again when a team of Spanish astronomers searching the SDSS9 survey recently announced the discovery of the oldest known star, J0815+4729, in the constellation of Lynx: https://arxiv.org/abs/1712.06487 This chemically primitive dwarf star, whose full identifier is SDSS J081554.26+472947.5, is located in the halo of the Milky Way at the distance of 7,500 LY (2,300 PC) from Earth, and 33,000 LY from the galactic center. The star is estimated to have 70% of the solar mass, and surface temperature of 6215 K. SIMBAD lists its (J2000) coordinates as 08h 15m 54.268s +47d 29' 47.573'', and its green apparent magnitude as 17.1.

Comparison of the Boltwood II and Sky Alert Cloud Sensors

Jun 09 2018 06:42 AM by theastroimager

This review is a side-by-side comparison of the Boltwood II Cloud Sensor from Diffraction Limited/Cynagon , and the SkyAlert Cloud Sensor from Interactive Astronomy. Both units were purchased new by the author. The sellers were not made aware that I would be doing a review of their products, so no temptation was held to send me anything other than a typical unit.
Imaging/Sketching Contest
30 Jun 2018
Here's wishing you an excellent weekend and a very happy Canada Day!
Full topic ›
Cloudy Nights Home