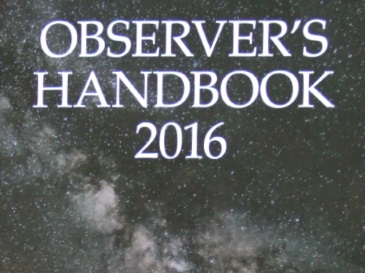 By Tom Trusock
Tom Trusock takes a look at the 2016 edition of the RASC Observer's Handbook.
Reading optical measurement data

Oct 21 2017 01:08 PM by Benach

These days, interferometers become cheaper and therefore more common every day. This is an asset for amateur astronomy because this allows far better optics than in the days of only Foucault testing. In this short article, based on actual measurements of a secondary mirror, I will very briefly explain how to interpret this data.

Six Months Observing Upside Down

Sep 02 2017 12:16 PM by bunyon

Traveling to the southern hemisphere is a topic that pops up frequently on Cloudynights and other amateur astronomy discussion groups where northern observers and imagers congregate. I've written this piece to try to share some of what I learned about doing amateur astronomy in Chile and Argentina. Obviously, even in six months it is impossible to do everything or go everywhere so this isn't a comprehensive guide. Still, I hope it's helpful and that it inspires a few people who have been wavering in their decision to head south.

Adapting Eyepieces for Binoviewing

Aug 29 2017 01:06 PM by 18UCinVa

Successful binoviewing entails one major requirement: both eyes must receive light from the objective. Now this sounds kinda obvious, right? Well it's not that easy. Most astronomical binoculars and binoviewers are hinged. This allows the two eyepieces to be spaced so that light enters both eyes. Some of us have a narrow IPD and facial structure that prevents optimal eye placement. In my case, the nose. It won't fit between some binocular eyepieces. It won't fit when binoviewing with complex, wide body eyepieces.
Imaging/Sketching Contest
11 Nov 2017
...to reflect on the meaning of the day, remember and give thanks. Thank you for your service Veterans.
Full topic ›
Cloudy Nights Home