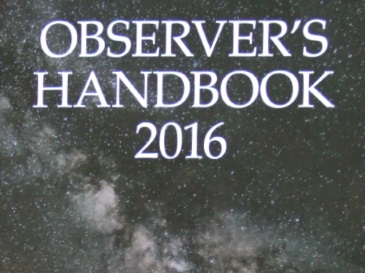 By Tom Trusock
Tom Trusock takes a look at the 2016 edition of the RASC Observer's Handbook.
So, you want to make an Observing Chair?

Mar 19 2017 07:54 AM by rboe

At some point we all wish we had a chair to plant our bum on while at the scope. I've written this little ditty to share what I've learned so that perhaps you can make mistakes totally different from the ones I made (and I seem to continue making them). Like any woodworker I have my biases, preferred ways to do things (e.g. mortice and tenon joints) but for the observing chairsI present here there are lots of options open to you; consider your budget, skills and available tools to make your choices.

Interferometrically Testing Two Celestron C14 Edge Telescopes

Feb 26 2017 07:12 AM by jhayes_tucson

I've wanted to interferometrically test the two C14s that I have in my shop to get some good data on their optical quality for some time but gathering all of the equipment needed for such a test isn't easy and I was hesitant to take my scope out of action when the skies were clear. Since it would probably be cloudy for months on end in winter, December seemed like a good time to try to get it done.

Stardust Gallery LED Lightbox and Metallic Print Review

Feb 25 2017 09:47 AM by ctron

The owner of Stardust Gallery, Craig, was looking for volunteers to review an LED backlit lightbox containing either a Hubble image or an image of user choice. Since I had what I felt were fairly decent Milky Way images acquired from a session at a dark sky site late last Fall, I thought one of the somewhat processed images might be a good candidate to display inside one of the Stardust Gallery backlit lightboxes, and eagerly forwarded the image to the website.
Imaging/Sketching Contest
15 May 2017
Whether you're a mother, or the child of a mother, enjoy the day!
Full topic ›
05 May 2017
We've started a new forum in the Specialty Forum category for discussion of this event. You can view the forum here.
Full topic ›
Cloudy Nights Home