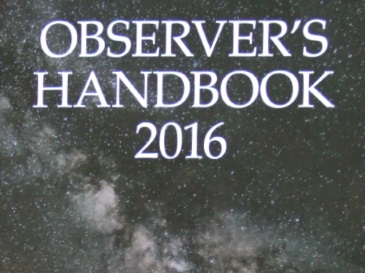 By Tom Trusock
Tom Trusock takes a look at the 2016 edition of the RASC Observer's Handbook.
New Astronomer Quick Start Guide

Apr 01 2018 01:12 PM by aeajr

Welcome to the wonderful hobby of astronomy. The purpose of this guide is to help you become successful quickly as you master some basic skills, start to learn the sky and enjoy what it has to offer. While you can try this on your own I highly encourage you to work with a more experienced person so that your early attempts can be successful and you can advance quickly. Find a local astronomy club if you can. Besides, astronomy is more fun with friends, at least I think it is.

Why new up and coming amateur and professional astronomers around the world should endeavour to g...

Apr 01 2018 11:22 AM by James52

I have felt compelled and driven to write a small article about the all American Vernonscope Brandon Orthoscopic eyepieces. This is simply because I fell in love with these oculars over a good number of years, and I have come to the sad realization from a present day UK perspective, that so little seems to be known about them on a world scale - certainly in light of new up and coming professional and amateur astronomers alike.

MONO & BINO VIEWING WITH THE BAADER MORPHEUS 17.5MM EYEPIECE

Mar 22 2018 11:24 AM by wapaolini

Baader markets their Morpheus line as "high-end" 76° apparent field of view (AFOV) eyepieces designed for visual / photo / video functions that can exploit the capabilities of the finest telescope optics. The eyepieces have a optical design that utilizes 8 lenses in 3 groups and includes the use of 3 low dispersion ED elements and 1 Lanthanum element. With the introduction of the 17.5mm, there are now six eyepieces in the line including 14mm, 12mm, 9mm, 6.5mm, and 4.5mm. All eyepieces can be used in either 1.25" or 2" focusers without adapters. The Morpheus line touts a rather long list of features and comes packaged with multiple accessories.
Imaging/Sketching Contest
31 Dec 2017
May the year be richer, happier and healthier for us all.
Full topic ›
24 Dec 2017
We here at Cloudy Nights would like to wish you a Merry Christmas, Happy New Year, and a wonderful holiday season.
Full topic ›
Cloudy Nights Home