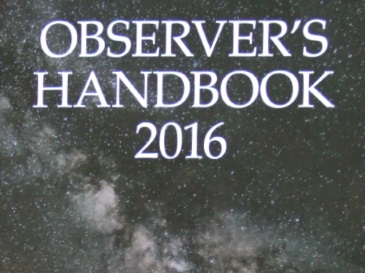 By Tom Trusock
Tom Trusock takes a look at the 2016 edition of the RASC Observer's Handbook.
MONO & BINO VIEWING WITH THE BAADER MORPHEUS 17.5MM EYEPIECE

Yesterday, 06:24 PM by wapaolini

Baader markets their Morpheus line as "high-end" 76° apparent field of view (AFOV) eyepieces designed for visual / photo / video functions that can exploit the capabilities of the finest telescope optics. The eyepieces have a optical design that utilizes 8 lenses in 3 groups and includes the use of 3 low dispersion ED elements and 1 Lanthanum element. With the introduction of the 17.5mm, there are now six eyepieces in the line including 14mm, 12mm, 9mm, 6.5mm, and 4.5mm. All eyepieces can be used in either 1.25" or 2" focusers without adapters. The Morpheus line touts a rather long list of features and comes packaged with multiple accessories.

TRANSIENT OPTICAL SIGNAL IN CLOSE PROXIMITY TO M74 X-1 ULX CXOU J013651.1+15454

Mar 21 2018 04:39 PM by rekokich

Using a small TSAPO65Q astrograph, on 19 Dec 2017 we accidentally recorded a transient optical signal (TOS) of apparent magnitude around 17.4 in close proximity to the ultra-luminous x-ray source (ULX) in the nearby spiral galaxy M74. Since its discovery in 2005 by NASA's Chandra X-ray Observatory space telescope, evidence is mounting that this strong x-ray source is generated by an intermediate-mass black hole of approximately 10,000 solar masses. It seems counterintuitive that a telescope of such modest aperture could reveal an optical signal from a black hole in another galaxy 32 million LY distant. But, preliminary calculations show that energy requirements for the detected signal are five hundred times lower than those of a type Ia supernova, and that mass requirements for the generation of that energy involve only a minute fraction of a small planet.

A SUBJECTIVE COMPARISON OF 5NM AND 7NM H-a FILTERS for NIGHT VISION ASTRONOMY

Mar 17 2018 06:51 PM by Ray Taylor

Last August, I contacted Matt McBee in Tennessee about doing an H-a filter comparison with our Mod 3C Night Vision Devices (NVDs). Matt had purchased an Astrodon 5nm H-a filter and wondered how it would compare to a 7nm filter in his scope and under his suburban light pollution. I had purchased an Optolong 7nm H-a filter and wondered how it would compare to a 5nm from both my suburban light polluted home and from a semi-dark site that requires a 45 minute drive. So in September, we agreed to exchange filters. In the meantime, I purchased an Astrodon 5nm. I sent Matt my 7nm filter because I would be traveling for a month.
Imaging/Sketching Contest
31 Dec 2017
May the year be richer, happier and healthier for us all.
Full topic ›
24 Dec 2017
We here at Cloudy Nights would like to wish you a Merry Christmas, Happy New Year, and a wonderful holiday season.
Full topic ›
Cloudy Nights Home