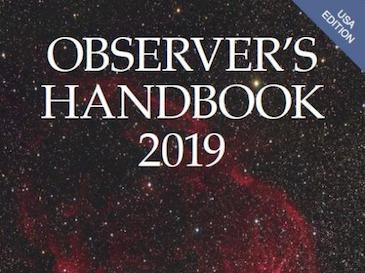 By Tom T
Tom Trusock and Denise Moser takes a look at the upcoming 2019 edition of the RASC Observer's Handbook.
A Look at the Future of Amateur Telescope Makers

Feb 26 2020 12:49 PM by Augustus

Telescope making in particular is one of the facets of amateur astronomy that for so long has begun to drastically shrink in size and to perhaps seem due to disappear entirely. After all, with the availability of the omnipresent Chinese-made telescopes that have all but cornered today's market, there's little economic incentive to build your own scope - even at the largest apertures like 20 inches, mass manufacturing has begun to eat away at the surface-level basic cost advantages in doing it yourself.

My Experience using SkyWatch for the Alphea All Sky Camera from Alcor Systems

Mar 05 2020 08:17 AM by TeslaTrek

The Alphea 6CL AllSky Camera is a well-made ruggedized outdoor color camera with equally ruggedized connectors. There is no bubble level to aid vertical alignment. The Alphea camera is very expensive given the accompanying SkyWatch software is not reliable and the user interface not well thought out. The software has the feel of an explorative research project into what can be done with an AllSkyCam. The overall slow performance is unimpressive. I discovered many bugs and quirks. It includes many features, which are not well documented. This along with almost non-existent user support makes for an expensive and frustrating AllSky Camera experience. Given the present state of the software, the user might want to consider AllSkyEye. In summary, given all the issues I found with SkyWatch, I would still look forward to a significant software update because SkyWatch does show much promise.

BASIC EXTRAGALACTIC ASTRONOMY - Part 4: Luminosity Distance, Cosmic Dimensions, Cosmic Magnification

Feb 26 2020 10:17 AM by rekokich

The only primary evidence available to an astronomer about a very remote object consists of photometric measurements, a spectrogram, and an image which is in many cases no more than a pinpoint of light. In this article we present basic cosmological concepts and simplified mathematical methods which allow an amateur to derive from this meager data a surprising number of physical properties of distant extragalactic objects with a precision of several percent within professional results.
Imaging/Sketching Contest
04 Apr 2020
We are looking to add a few members to the Cloudy Nights team as Moderators. Cloudy Nights has grown to be the world's largest forum for the discussion of astronomy and related topics. The forum is international and family friendly and has high st...
Full topic ›
26 Mar 2020
Dear Cloudy Nights members, Effective immediately, signature lines will be restricted to a maximum of 1000 characters and 8 lines. As before, we will still allow a maximum of 2 images (100 x 600 px) in sig lines. Please feel free to PM any o...
Full topic ›
Cloudy Nights Home