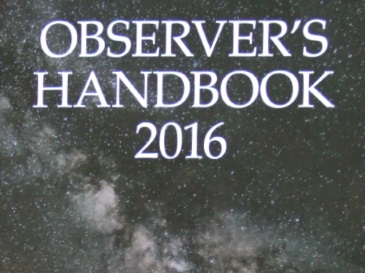 By Tom Trusock
Tom Trusock takes a look at the 2016 edition of the RASC Observer's Handbook.
Wireless Control of an Astro-Video Camera's On-Screen Display (OSD) Options and Video

Dec 07 2017 05:02 PM by astrodude2

Astrovideography has been around for a number of years now. The video cameras used cover a wide range of manufacturers and price points. Some are designed specifically for the astronomy community, while others are high resolution security cameras that have been adapted for use. There are already a number of articles online detailing the use of these cameras, so I won't go into that. Most of the cameras have buttons on their back panels that are pressed to make adjustments using their OSD (On Screen Display), options. This, of course, requires the user to physically touch the device multiple times once it has been aligned to a desired target, so is not ideal! If you know what you're doing, you can very carefully add a multi-wire cable to the camera, soldering connections to the internal switching. After running said cable to a homemade switch box, you can then adjust the settings without touching the camera; however, you now have a 12 volt cable to the mount, another one to the camera, a video cable from the camera to the monitor and another cable running to the homemade control box. I wanted to simplify this issue!

Pop-Up Canopy Observatory

Nov 24 2017 10:09 AM by drgenovese

Having been born with a "Tinker Gene" it occurred to me some time ago that rather than just cover the adjunct scope equipment with a pop up canopy to prevent the inevitable dew we have here in the South that an inexpensive canopy could be easily modified to make a portable observatory. I built this one last year and I have been very pleased with the result at night and additionally I found it was hugely helpful providing shade for Solar observing and I thought I would share it.

COMPARING THE MASUYAMA 25MM 52°, 25MM 65°, AND 26MM 85°

Nov 24 2017 09:39 AM by wapaolini

The modern incarnation of the Masuyama eyepieces seems to have carried forward their excellent reputation for providing high apparent contrast views. Indeed, for the globulars and nebula observed the Masuyama 85° quickly became my favorite during the testing, showing them brightly, richer in details than the other eyepieces, and with the largest contextual TFOV.
Imaging/Sketching Contest
31 Dec 2017
May the year be richer, happier and healthier for us all.
Full topic ›
24 Dec 2017
We here at Cloudy Nights would like to wish you a Merry Christmas, Happy New Year, and a wonderful holiday season.
Full topic ›
Cloudy Nights Home