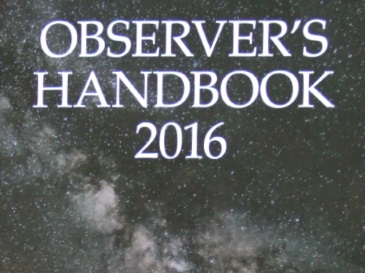 By Tom Trusock
Tom Trusock takes a look at the 2016 edition of the RASC Observer's Handbook.
Chile Dilly!

May 05 2018 03:14 PM by astrodoc71

I would highly recommend this site for anyone who wants to image targets that can only be seen or optimally seen in the Southern Hemisphere. The cost is not prohibitive and the fast optical system makes it possible to obtain enough quality data in a reasonable time frame. The seeing at this site in Chile is excellent, and the resolution and image quality obtained make it well worth the expense, not to mention the excitement of seeing these amazing objects which we cannot see from Northern lattitudes! The user interface is very simple and customer service is superb. While you will have to throw out some subs like we all do at times, these will not come at additional cost. Best of all…they add 20% to your initial deposit if you are a CN member!

New Astronomer Quick Start Guide

Apr 01 2018 06:12 PM by aeajr

Welcome to the wonderful hobby of astronomy. The purpose of this guide is to help you become successful quickly as you master some basic skills, start to learn the sky and enjoy what it has to offer. While you can try this on your own I highly encourage you to work with a more experienced person so that your early attempts can be successful and you can advance quickly. Find a local astronomy club if you can. Besides, astronomy is more fun with friends, at least I think it is.

Why new up and coming amateur and professional astronomers around the world should endeavour to g...

Apr 01 2018 04:22 PM by James52

I have felt compelled and driven to write a small article about the all American Vernonscope Brandon Orthoscopic eyepieces. This is simply because I fell in love with these oculars over a good number of years, and I have come to the sad realization from a present day UK perspective, that so little seems to be known about them on a world scale - certainly in light of new up and coming professional and amateur astronomers alike.
Imaging/Sketching Contest
02 May 2018
Hello to all CN members, Are you interested in giving something back to the Cloudy Nights community, willing to work long hours for no pay (well there are the imaginary grog rations and the daily imaginary floggings ) and to be part of a de...
Full topic ›
31 Dec 2017
May the year be richer, happier and healthier for us all.
Full topic ›
Cloudy Nights Home