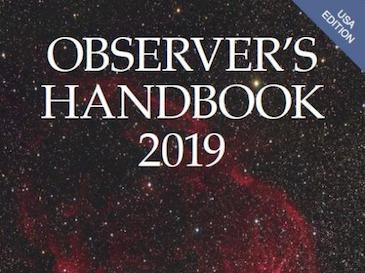 By Tom T
Tom Trusock and Denise Moser takes a look at the upcoming 2019 edition of the RASC Observer's Handbook.
A Visit to See a Giant in Utah - 1.8 Meter Mike Clements

Sep 13 2018 08:09 PM by dennisyoung

I first met Mike Clements (known to others as 1.8 meter Mike) in the early 90's. I had been delayed due to work at home for a trip to the Texas Star Party. By the time I arrived at the Texas ranch entrance, it was well after dark. As I was pulling in, I noticed a pickup truck on the right side of the road (outside of the ranch), and it had a large pole structure sticking up on the other side of it that my headlights caught briefly as I made my turn into the ranch. Unknown to me it was Mike, who had his 41 inch scope setup at the entrance of the ranch. In the early 90's it was very rare to see a 30 inch reflector, let alone over a 40 inch scope.

RESOLVING THE FERMI PARADOX

Sep 10 2018 11:40 AM by rekokich

In 1975 astronomer Michael Hart proposed the Fermi Paradox, implying a contradiction between the lack of direct evidence for extraterrestrial intelligence (ETI) and the presumed probability that they exist in substantial numbers. Recently, Oxford researchers Sandberg, Drexler, and Ord applied the Monte Carlo simulation to the Drake equation, and concluded that there is up to 99.6% probability that we are alone in the Milky Way galaxy, and up to 85% probability that no other intelligent life exists in the entire observable universe.

APM 140mm DOUBLET APO REFRACTOR

Sep 10 2018 08:44 AM by Larry Carlino

Some two dozen observing sessions and direct comparisons with instruments of known quality have convinced me that this APM 140ED is indeed an excellent telescope. It is well built, nicely finished, and it boasts very fine optical quality. In addition, its relatively light weight and short tube length allows the effective use of a mid-size equatorial or alt-azimuth mount. It has almost the punch of a 6-inch refractor in a package that is clearly more portable.
Imaging/Sketching Contest
22 Nov 2018
We wish you a blessed and happy thanksgiving. Remember whats good in your life. Remember all you have to be thankful for. And enjoy the day.
Full topic ›
Cloudy Nights Home