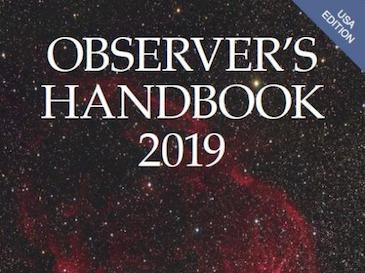 By Tom T
Tom Trusock and Denise Moser takes a look at the upcoming 2019 edition of the RASC Observer's Handbook.
Review of the APM 152 ED serial number 245

Dec 24 2018 12:42 PM by hfjacinto

So here are my thoughts. No matter how much you paid for a premium triplet, on most objects the 152MM can keep up with it. If you want to see no false color and need your ego stroked because the scope is not expensive, don't buy the APM. Get a TAK/TEC/AP, you'll feel better about yourself. If you consider the value, this scope is just an excellent buy. It's like the EON version of the SW150. You get a better focuser/case/sliding dew shield/rings/ and a much prettier scope.

THE BURGESS 24MM MODIFIED ERFLE & 10MM ULTRAMONO

Dec 24 2018 12:04 PM by wapaolini

The Burgess 24mm Modified Erfle and 10mm Ultra Monocentric eyepieces are relatively new offerings from Burgess Optical. The Ultra Monocentric has been long promised so nice to see it finally coming to fruition.

MARK SLADE REMOTE OBSERVATORY (MSRO) EXOPLANET HUNTERS

Dec 24 2018 11:48 AM by wapaolini

In 1992 the face of our cosmos changed. What had been hoped for, dreamed of, was finally confirmed. Our solar system was indeed not unique in the galaxy and there were other planets orbiting distant stars!
Imaging/Sketching Contest
Cloudy Nights Home