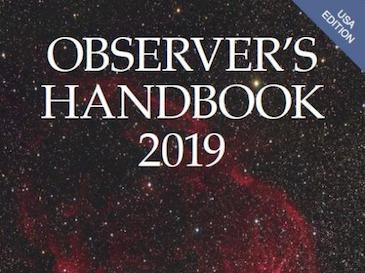 By Tom T
Tom Trusock and Denise Moser takes a look at the upcoming 2019 edition of the RASC Observer's Handbook.
My Other Telescope is an 8.4 Meter: Part II - Casting

Apr 14 2019 10:48 AM by Gork

How do you create the world's largest monolithic optical mirror? As the saying goes, "One bite at a time." It is a unique process in that it is entirely linear. No aspect of the process can be done in parallel since each step is entirely dependent upon the preceding step.

My Other Telescope is an 8.4 Meter

Apr 07 2019 07:11 AM by Gork

Upon my retirement from the Army I did the typical Law Enforcement track. It only took a year with the Sheriff's Department to realize that I just didn't want to carry a gun anymore. While looking around for a challenging alternative I ran across an ad for a "Mechanition" (Read Gofor) at the Steward Observatory Mirror Lab. I was intrigued and applied for the position.

interstellarum Deep Sky Guide Desk Edition

Feb 03 2019 11:09 AM by Ray Cash

I've long preferred to have images—and/or drawings--of deep sky objects near my atlas, observing list, and, of course, my telescope. David J. Eicher's The Universe from Your Backyard (1988) was an early, well-loved companion of mine, as was Burnham's Celestial Handbook. So was the self-published 1994 John C. Vickers' Deep Space CCD Atlas: North (and South). Vickers' CCD atlases are images only, and rather primitive ones by today's standards; but the atlases were not meant to be a compilation of 'pretty pictures'; but rather a source of black and white images of interesting deep-sky objects that amateurs might want to hunt down with their warm, moist eyes, or sub-ambient-temperature imaging equipment. Enter the above masterpiece!
Imaging/Sketching Contest
21 Apr 2019
... a very happy day. And for those who celebrate - a blessed Easter.
Full topic ›
16 Apr 2019
Lowell Observatory in Flagstaff Arizona, a non-profit astronomical and educational institute is building a new $4M public outreach observatory that will house six permanently mounted telescopes, a classroom and a telescope storage and workshop are...
Full topic ›
Cloudy Nights Home