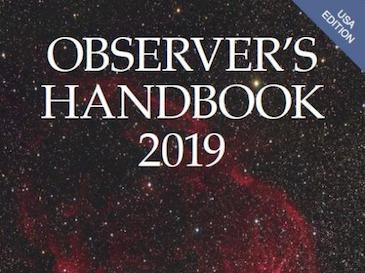 By Tom T
Tom Trusock and Denise Moser takes a look at the upcoming 2019 edition of the RASC Observer's Handbook.
York County Star Party

Sep 27 2019 11:24 AM by gwfbmd

The York County Star Party exceeded my expectations – by about 1,000%! I don't normally post online, but I let Phil know I would be speaking out about this. More astronomers need to know about this event. It is located conveniently close to home for many in the Baltimore-DC-Philly megaplex and it's a "Winner." I hope to see more of you there next year.

Celestron Regal 65ED M2

Oct 16 2019 04:17 PM by Riccardo_italy

There is at the moment a heated discussion on Cloudynights about spotting scopes. I can only confirm my initial impressions: for a dual day&night scope, a good quality spotting scope is, IMHO, a very good choice. The scope performs nicely also for astronomy, and not only for daytime use. I do not agree with people that says a spotting scope cannot be used for astronomy.

New approach for Polar Alignment

Sep 27 2019 09:49 AM by antariksha

The topic of Polar Alignment is not at all new. Lot of approaches, automation tools are available. Yet, some aspects in all the current approaches drove me towards doing some more work. The key aspects of this approach are as follows. - Ability to do the Polar alignment without polaris sited - Relatively less complexity than drift alignment - Ability to address to a good extent the atmospheric refraction to finally locate correct NCP / SCP position - A good starting point for amateurs who wish to graduate towards sophisticated tools and techniques - Ability to quickly verify if the polar alignment is intact after one object photographed or viewed, and the equipment is being pointed to another object. This point is mentioned in light of the fact that sometimes the polar alignment gets disturbed and the next object photographed shows star trails. This is especially true if payload is tweaked for next photo.
Imaging/Sketching Contest
23 Oct 2019
It's hard to write with eyes full of tears. It is with the heaviest of hearts that I must tell you all that my father, Fred Bieler, passed away on October 19th, 2019. I could go on and tell you that Fred was a vis...
Full topic ›
13 Sep 2019
The Nagler family has been an institution for the astronomy community since 1977 providing world class optics through their Tele Vue brand. Their eyepieces and telescopes deliver outstanding views and are reference standards in the field....
Full topic ›
Cloudy Nights Home