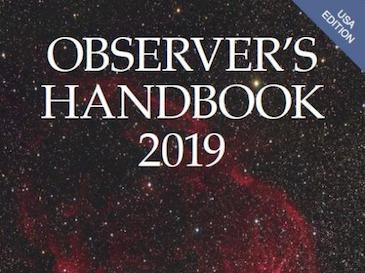 By Tom T
Tom Trusock and Denise Moser takes a look at the upcoming 2019 edition of the RASC Observer's Handbook.
Review: The Vixen FL55ss

Sep 08 2019 11:31 AM by Hesiod

Overall judge the FL55ss a good product. As a wide field astrograph is very proficient and easy to use, so would suggest it wholeheartedly, even to beginners (usually at this stages apreture does not matter, while the clever Vixen mini-refractor is very user-friendly and, at 300mm, gives a more forgiving sampling than the popular 60-80mm rebranded models).

PrimaLuceLab Eagle Review

Jul 29 2019 03:22 PM by chriscorkill

After using the Eagle for about three years I can comfortably say I would purchase this product all over again. Seeing the product in person and being able to hold it in my hand really helped with my decision to make my purchases with PrimaLuceLab. With it's ease of use, safety, customer support and conveniences, I say that this is a winner in my book. I would give this product a 9/10 stars.

My Other Telescope is an 8.4 Meter - Part III: Polishing

May 08 2019 11:24 AM by Gork

I've started writing about this aspect of fabricating the world's largest monolithic mirrors a number of times. Each time I get to about ten pages before I realize how truly complex this phase of fabrication is. So, I am going to assume, for the sake of this account, that everything works as planned and there are no side tracks. That won't be true, but if I tell the real story, I'll never get done.
Imaging/Sketching Contest
13 Sep 2019
The Nagler family has been an institution for the astronomy community since 1977 providing world class optics through their Tele Vue brand. Their eyepieces and telescopes deliver outstanding views and are reference standards in the field....
Full topic ›
03 Jul 2019
Just be careful while BBQing or lighting up fireworks - Stay safe friends
Full topic ›
Cloudy Nights Home